Today's wedding looked, at first glance, like a traditional royal spectacle: the Windsor Castle backdrop, the boys' choir, the open-air carriage ride through cheering crowds. But in a few modest but meaningful ways, Prince Harry and Meghan Markle charted their own course, suggesting that they have fresh ideas about the British monarchy and its place in society.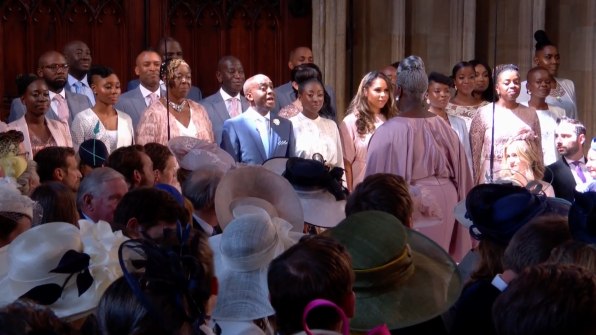 The couple invited Karen Gibson and The Kingdom Choir to sing "Stand by Me," the 1961 R&B classic, right before their vows. It was the first time a gospel choir had performed at a royal wedding.
Markle pulled her hair back under her veil into a loosely gathered bun, with a few loose pieces framing her face. The low-key hairstyle, combined with her understated makeup, gave the bride a beauty look so natural that it would have appeared equally at home on a Malibu beach.

[Screenshot: Youtube]

Harry has decided to wear a wedding ring, unlike his older brother, William, and other members of the British royal family. He and Markle exchanged bands as "a symbol of unending love and faithfulness."

[Screenshot: Youtube]

With the ceremony complete, Harry and Meghan are now set to join their guests, along with 2,640 commoners, on the Windsor Castle grounds. Of the members of the public invited to attend, 200 are from charities and organizations that the couple supports.