Cynthia Nixon touts many pressing issues in her Democratic gubernatorial campaign, and the condition of the New York City subway is certainly one of them. The city's train system–hampered with delays and infrastructural disrepair for years–has been a cornerstone of her campaign ever since she announced her candidacy two months ago.
Today, she held a rally from–where else?–the subway. At Williamsburg's Lorimer station (which I can attest is frequently overcrowded), Nixon told the crowd that the Metropolitan Transportation Authority's rehabilitation needed to be better and fast. She also unveiled a series of tweets, Instagram posts, and even apparel aimed at calling out her opponent, Andrew Cuomo, and his inability to fix the subway system.
New Yorkers: Tomorrow (Thursday) we're going to some of New York City's busiest subway stations from 7am to 9am in order to call out #CuomosMTA and address the urgent need to #FixOurSubway! We need you to show up and join us: https://t.co/mmxarstKmX. pic.twitter.com/TBHF2yzO4R

— Cynthia Nixon (@CynthiaNixon) May 16, 2018
One issue that may arise, however, is Nixon's use of the MTA's trademarks. A shirt that Nixon is now selling on her campaign website, for instance, asks "What the F?" The "F" uses the known New York City subway image: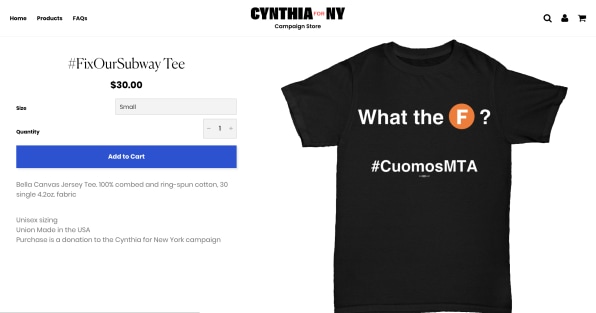 This could very well enrage the transportation authority. The MTA has been known to crack down on unauthorized use of its trademarks–including its subway lettering images. A New York Times article from 2013 describes small designers and big companies alike being legally threatened by the MTA for infringing its trademarks. These included sports teams using subway imagery, designers with MTA map images, and even bakeries that sell MTA-object-lookalike pastries.
With this history of enforcement, the shirt currently being sold could very well be considered an IP infringement. Indeed, an MTA spokesperson tells Fast Company, "As we would with any case involving the potential misuse of our trademark, we will review the matter and proceed accordingly."
Reached for comment, a Nixon campaign spokesperson offered the following statement: "Governor Cuomo's MTA should be focused on infrastructure issues, not copyright issues. What we did was a parody of the MTA, but for millions of New Yorkers, the daily disaster on the subway is no laughing matter."
For now, you can still buy the shirt. The campaign says on its website that the purchase is "a donation to the Cynthia for New York campaign." Maybe it's best to get it now before the cease-and-desist letters come.
Additional reporting from Pavithra Mohan.