Some companies may feel like investor reactions are acts of god, but acts of god can also impact investors. That's at least what Home Depot might want us to believe after it reported worse-than-expected financial results this quarter. Though the company beat on earnings per share—it reported $2.08 compared to Thomson Reuters's forecast of $2.05—revenue was lower than expectations, as was same-store sales growth.
Home Depot's chairman and CEO, Craig Menear, told investors that cold weather around the country hurt its spring business–especially its gardening business. "This clearly is a garden story for us," he said. Wall Street wasn't thrilled. Shares slumped nearly 3% before the markets opened today, and the stock is still down more than 1.6%.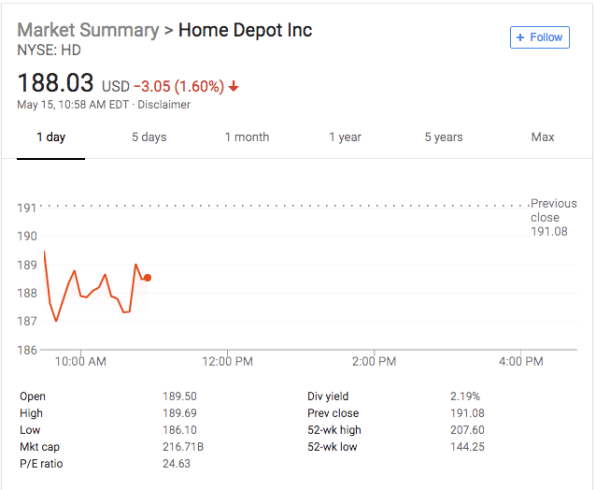 This explanation far from new for Home Depot. In February 2014, it reported a 3% drop in sales, and it cited weather as a factor. "Home Depot estimated that the company lost $100 million in sales during January because of the weather, because although its stores sell more snow-clearing equipment and heaters during storms, traffic falls considerably," wrote the New York Times at the time.
Similarly, in January 2001, Home Depot's then-president and CEO, Bob Nardelli, mentioned bad weather while discussing poor sales showings. "He blamed the weak sales on a combination of consumers' stock-market losses, record cold weather in the Midwest, rising energy costs and mounting consumer debt," reported the Wall Street Journal.
Even in the 1990s, the home improvement giant mentioned weather when growth wasn't as expected. In May 1995, the Atlanta Constitution reported that the Home Depot posted less-than-expected earnings: "Home Depot blamed the weather not the economy saying it affected more than one-third of the company's 350 stores, said [co-founder Ronald] Brill. That prompted homeowners to delay projects."
It's a known adage that you can't predict the weather, but it seems you likely now can predict the weather excuse.