On April 26, I gave up on the Brooklyn Bridge–at least until the fall. This is an annual occurrence. Whenever the first truly nice spring day hits New York, I have to change my commute.
In the winter, the Brooklyn Bridge is the cornerstone of my commute. As an all-weather urban cyclist, I like how neatly it drops me off in Lower Manhattan, just blocks away from my office. I like the newly completed on-ramp on the Brooklyn side–a long promenade for bikes and pedestrians that ends in a gradual upward slope to a glorious view of the iconic bridge, before you feel the wood slats of the promenade under your tires. When temperatures drop below freezing and days go dark at 4 p.m., the Brooklyn Bridge, with a walkway divided into a bike lane and a pedestrian lane–is a wonderful place for cyclists.
But spring and summer make the massive design failure that is the Brooklyn Bridge promenade painfully apparent. Around 3,500 cyclists and 10,000 pedestrians pass along the promenade every day. The elevated span over the auto roadway measures just 13 feet wide, and apart from a handful of feeble markings at the end points of the bridge and a faded white line down the center of the slats, there's nothing to note which half is meant for cyclists, and which for pedestrians.
This is an untenable situation, and one that has mirrors in many urban areas across the country. It's the fault of neither the cyclists nor pedestrians who have to jockey for space, but the designers who decided to cram them together to appease the largely car-centric ethos that dominates U.S. cities. Like on many urban connectors that are straining to support rapidly rising numbers of cyclists and pedestrians, the issue on the Brooklyn Bridge promenade could easily be solved by converting a lane of car traffic for more human-scale transit modes. But here, and across the country, that idea still faces resistance.
Instead, pedestrians and bikers are forced into conflict. I made the mistake of taking the Brooklyn Bridge several times last year while rushing home from work and I, usually a calm and kind person, wore my voice hoarse from swearing at people lingering in the bike lane. At one point during the first weekend of April this year, the NYPD had to restrict entry to the bridge–it had become a pandemonium worse, as one Tweeter remarked, than Six Flags or Disneyland. In photos from that Saturday, there's not a cyclist in sight. Even the New York City Department of Transportation refers to it as "Times Square in the Sky." Needless to say, the crowds do not stick to their half.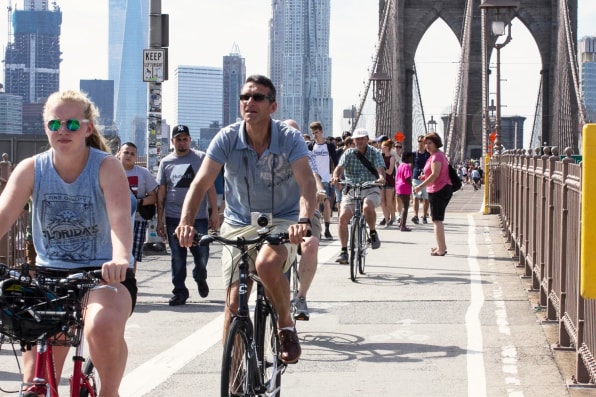 Just in terms of sheer numbers, the cyclists lose out in this situation. As Streetsblog writes: "Pedestrian crowding on the bridge has intensified in recent years, making it an increasingly unworkable bike route."
David Herman, a local cycling advocate who grew up in Brooklyn, remembers taking the Brooklyn Bridge back and forth to Manhattan, but he hasn't ridden on it in around four years. He knows some fellow experienced cyclists who have injured themselves on the bridge, and the overcrowding has made it nearly impossible to navigate. "It used to be my regular route, and it should be the best route," Herman says."It's the only direct connection between the two centers–Downtown Brooklyn is a few blocks away, and you go over the bridge and City Hall is right there." The Manhattan Bridge is farther north on both sides of the river, and in Manhattan, it directs cyclists either out of the way and north, or right onto Canal Street–a known danger zone for all transit modes–if you need to get downtown.
Even as the city has cleaned up the entrances to the Brooklyn Bridge, adding protected bike lanes on the Manhattan side and a car-free on-ramp in Brooklyn, the bridge itself is unchanged. And that, to Herman, is a huge problem. "I'd like to be able to take my son for a ride over the bridge, but if I'm not going to go because I'm not comfortable, there's no way I'm going to have him go," Herman says.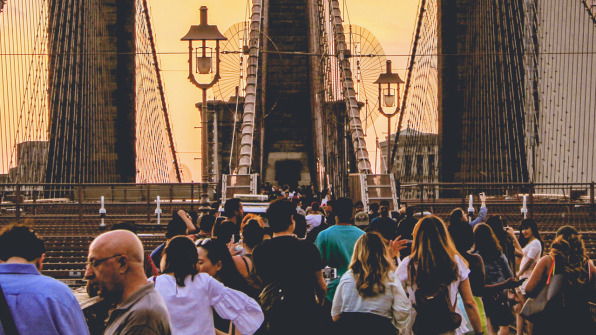 The dilemma of the Brooklyn Bridge, perhaps more than anything else, foreshadows the future crisis of our cities. Around 66% of the world's population will live in cities by 2050. New York City will grow to 9 million people. And at the same time, people are still clinging to their cars. Private vehicles and ride-hailing services like Uber are creating congestion on city streets that will become unmanageable with population growth. Some places–San Francisco, Los Angeles, New York–have already reached the breaking point. The operation of vehicles in New York accounts for around 29% of the city's total greenhouse gas emissions. For cities to become truly future-proof, they need to begin de-prioritizing vehicle traffic and building better infrastructure for bikes and pedestrians now. (Full disclosure: I also volunteer with Transportation Alternatives, a local nonprofit that advocates for these kinds of cycling infrastructure upgrades)
New York City is already seeing the negative effects of failing to address the annual pile-up on the Brooklyn Bridge. While cycling rates overall are steadily improving in New York City, in large part thanks to better infrastructure, the number of people crossing the East River by bike plateaued in 2017, and actually dropped 13% over the Brooklyn Bridge. The DOT intends to launch a feasibility study for widening the bike and pedestrian promenade and creating a separate bike lane in the process, but even if the bridge proves structurally sound enough to support the upgrades, construction likely wouldn't wrap until 2023. For Herman and other cyclists, that's not soon enough–he's launched a petition to put more pressure on DOT to complete the study or consider other options for accommodating more bike and pedestrian traffic.
Converting a lane of car traffic over the Brooklyn Bridge for bikes would separate bike and pedestrian traffic, and allow both to flow much more easily and at greater volumes. But while the DOT did consider the idea, it was scrapped almost immediately, due to concerns about traffic pileups in the downtowns of Brooklyn and Manhattan, which frame the bridge.
This is exactly the wrong line of thinking for cities to be taking now. On bridges, bike and pedestrian access is especially essential. In cities that span rivers or major bodies of water, "bridges that lack pedestrian and bicycle accommodations can force substantial detours or sever routes entirely, discouraging or eliminating the option to walk and bike for transportation," according to a report from the Pedestrian and Bicycle Information Center. The authors of the report recommend that cities undertaking infrastructural improvements to their bridges automatically add space for bikes and pedestrians.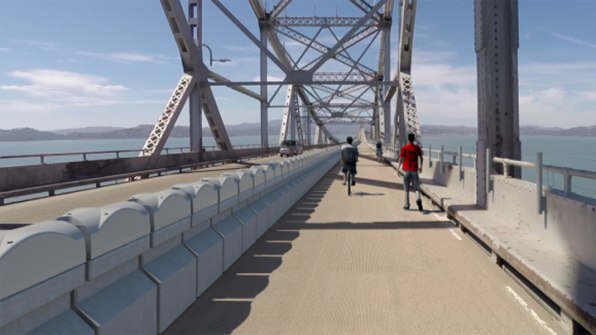 Removing a lane of car traffic makes conditions more difficult for drivers, which will, in the long run, de-incentivize driving on the whole. Similarly, adding a "congestion pricing" tax for people attempting to drive into cities would also limit car traffic. Policymakers in New York, and many cities across the U.S., are dragging their feet on ideas out of fear of angering their constituents who drive. The city of Charleston, South Carolina, hit a dead end trying to convert a lane of car traffic for cyclists on a bridge over the Ashley River, and in the Bay Area, the epicenter of vehicle congestion in the U.S., policymakers are working to eliminate a bike and pedestrian path that was planned for the shoulder lane on the Richmond-San Rafael Bridge. The rationale for both of these decisions is similar to that which is stalling progress on the Brooklyn Bridge: They don't want to inconvenience drivers.
There's really no polite way to say this: They'll just have to deal. As Curbed's Alissa Walker recently wrote, cities can't claim to be progressive on climate if they're still making room for cars over bikes and pedestrians. Infrastructure and policy decisions–from congestion pricing to eliminating parking and driving lanes to make room for cyclists and pedestrians–should be painted as progressive and corrective (which they are) instead of inconveniencing (which they might be for a short while, but drivers will adjust).
The Brooklyn Bridge is one of the most iconic structures in New York. "That this landmark bridge is unusable for people most of the day is unacceptable," Herman says. Modernizing this structure to prioritize sustainable transit options would not only send the signal that New York City is ready to truly position itself as climate leader (beyond the mayor's claims to sue fossil fuel companies)–it would create ripple effects that would help drive down dependency on cars and support biking and walking. And potentially, it would position New York as an example other cities like Charleston and Richmond can follow to reanimate their own bridge project. Otherwise, we can continue to stare in envy across the Atlantic at Paris, which is toying with the idea of building futuristic, car-free bridges at three points over its iconic river Seine.