Tragic news: Klout, the once-famous service that measured the influence of individuals on social media such as Twitter using a 1-100 benchmark called the Klout Score, will be shuttered by its owner, Lithium Technologies, on May 25. We'll probably all survive. But Klout's impending demise is a reminder that it was once one of the internet's principal obsessions, though not at all in the way its creators presumably intended.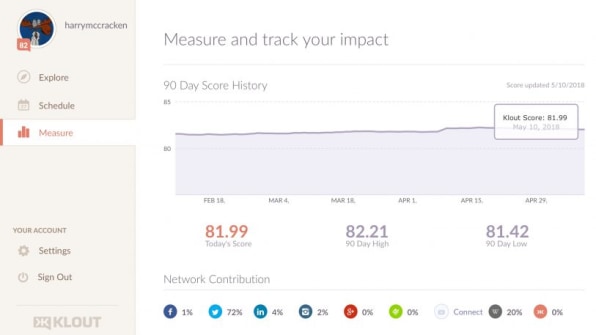 There was a time when Klout was taken at least semi-seriously, at least by some: Fast Company named it as one of our Most Innovative Companies in 2012 and published an article that year broaching the question of whether Klout scores should be a factor in hiring decisions. (The answer: Maybe.) The service also inspired imitators such as Kred. For almost all of its life, however, it was most notable for the humor (and, occasionally, anger) it inspired. It wasn't much of a business, but in its own weird way, it mattered. The service pivoted several times and gradually faded away, though its founders managed to sell it to Lithium in 2014.
Full disclosure: I confess that when I met an early Klout employee at a party and he told me I had one of the top 1,000 Klout scores—out of everybody on earth, people!—I was, very briefly, proud. But like you, I haven't thought about Klout in years. Hearing of its sad fate sent me scurrying to its site, where I learned that my current Klout Score is 82.
As a frame of reference: Chelsea Clinton is a 79, Elon Musk is an 88, and Rihanna is a 93. And then there's Donald J. Trump, who is a 94 with the following areas of, um, expertise: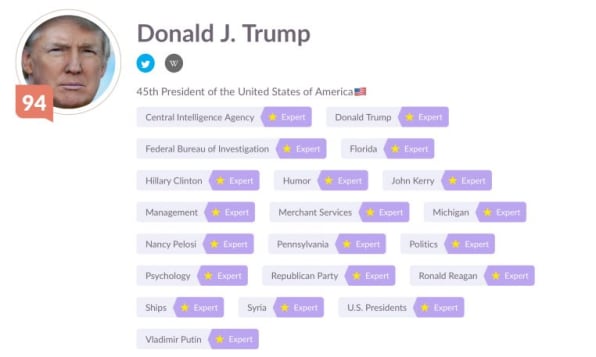 ("Merchant Services?")
Though Klout never achieved its aspiration of becoming a standard tool for measuring influence, it's still one of the websites you'd want to put in a time capsule to help the citizens of the future understand our era. And that's an accomplishment. Right before it shuts down on May 25, let's all go in and determine our final scores for posterity.