Democrats on the House Intelligence Committee have released a new trove of data containing thousands of Russian-bought political ads on Facebook and Instagram. According to NBC News, the troll farm behind these ads spent around $100,000 and ran more than 3,000 ads between 2015 and 2017. 
The ad buys seemed to be focused on a wide variety of demographics. Many targeted the Black Lives Matter movement, for example, while others sought out people interested in "patriotism." Some of the ads seem hastily made and feature bizarre, broken-English text. For example, this one targeting liberals and libertarians: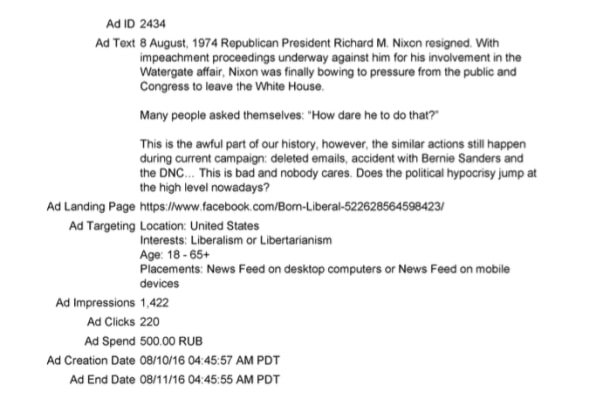 Other ads contained formal calls to action, including requests to fill out online surveys: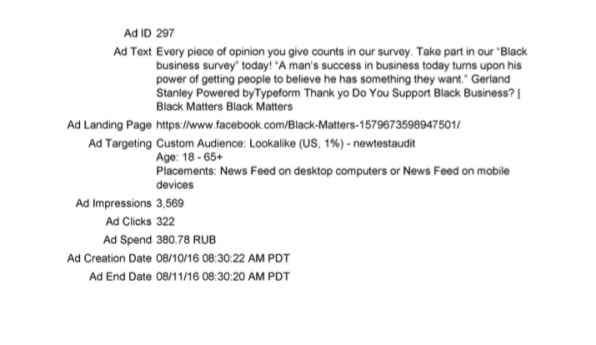 Overall, these ads targeted vast swaths of the American public and tried to focus on divisive issues–including racial divides, police advocacy, and gun rights. Many focused on recent tragedies, including the killings of unarmed black people like Freddie Gray and Tamir Rice. Fast Company previously reported on a selection of the ads released by Congress in October, and on the spread of under-the-radar Russian content on Instagram.
The House Intelligence committee says this latest data release does not include 80,000 instances of "organic content shared on Facebook" by the troll farm. That, says the group of Senators, will be released at a later time.
You can find the new advertisements just released here.