Since its launch in 2015, Universal Standard has attracted legions of fans to its fashion-forward clothes, which come in a size range–from 10 to 28–that isn't often known for high-quality fabrics and smart tailoring. With a "show, don't tell" approach to body positivity that eschews talk about self-acceptance and empowerment in favor of gorgeous photography of curvy women in beautifully draped dresses and well-fitting jeans, the upstart brand has had an outsize impact on the plus-size clothing industry. Now it's positioning itself to shake up the straight-size market as well.
Today, Universal Standard is introducing an extended range of clothes, making all of its items available in sizes 6 to 32, with a goal of scaling them from 0 to 40 in the next few years. The effort is part of cofounders Alexandra Waldman and Polina Veksler's larger mission to break down the barriers separating women of different sizes. "Plus-size women read all the same fashion magazines that straight size women do," says Waldman. "They just haven't seen themselves represented in them."
Over the past few years, high-end fashion designers such as Marchesa, Christian Siriano, Zac Posen, Cynthia Rowley, and Michael Kors have started making clothes in larger sizes. Mall brands such as J. Crew, Loft, and NY&Co have been expanding as well. For many plus-size women, this has been a huge leap forward: Finally, the fashion industry is acknowledging the full 67% of American women who are size 14 and over.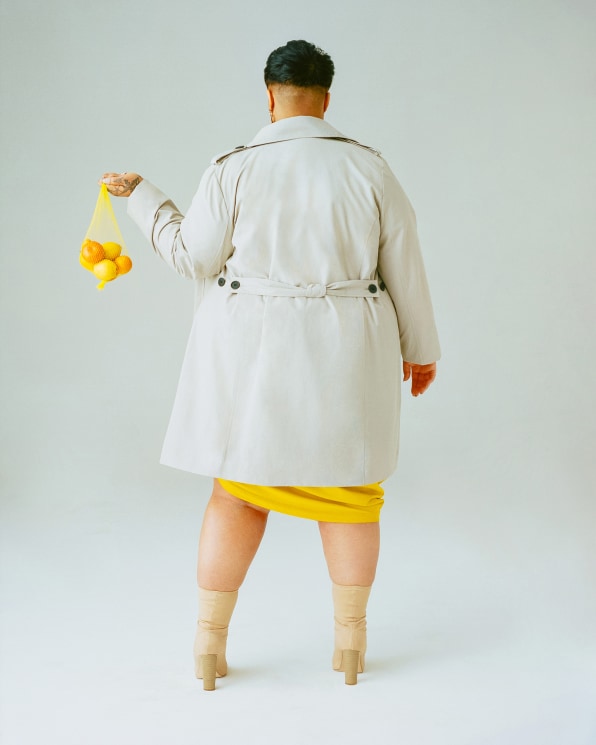 But such inclusivity rarely goes the other way. There hasn't been much demand for plus-size brands to move into smaller sizes. This makes sense: Despite recent efforts by a crop of fashionable startups that includes clothing brand Eloquii and subscription service Gwynnie Bee, the plus-size industry has a reputation for clothes that are not particularly stylish or well-made. "It's like the industry thinks that plus-size women want to look like we're perpetually on the way to a baby shower," jokes Waldman, who launched Universal Standard to give women like herself better options. "And you always have to be careful because there's a good chance that you'll burst into flames running down Fifth Avenue, just from your thighs rubbing together," she says, referring the fact that many of these garments are made from cheap, flammable polyester.
Universal Standard's ability to break through with a new audience rests on its founders' fixation with achieving the perfect fit, regardless of size. Waldman and Veksler, who previously worked in finance and had no prior fashion experience, first saw the opportunity for a high-end, plus-size brand four years ago. They pooled their savings and spent the next year carefully designing eight garments that Waldman had long dreamed of finding: well-made jeans, asymmetrical dresses with the perfect fall, and simple sweaters made with top-shelf wool, among them. They built out a supply chain, identifying factories where they could pick their ideal fabrics, and took the time to fit each item to real women of all sizes, making tweaks to the cut and drape–an expensive and labor-intensive process–to ensure that the garments were flattering on all body types.
When the first inventory came in, they stored it in Waldman's one-bedroom apartment in New York City. "We had to learn everything from scratch," Waldman says. "The fact that we didn't know anything really helped us because many brands experience pitfalls when they try to do what everyone else is already doing. We had to be inventive."
That initial eight-piece collection sold out within a week. Since then, Waldman and Veksler have expanded the collection to 100 pieces, with weekly drops, and pushed into workwear, activewear, and petites (for women under 5-foot-4 who wear size 12 and up). Their clothes are now sold on both the company's website and at Nordstrom.com. After discovering that many plus-size women don't invest in expensive clothes because they expect to lose weight, the founders also created a groundbreaking return policy called Fit Liberty, which allows shoppers to get replacement sizes within a year of purchase if their weight fluctuates.

This careful understanding of customers' needs has earned the brand a remarkably loyal and vocal following. Universal Standard fans regularly post pictures of themselves wearing the brand on Instagram, along with the company's hashtag #NowYouCan. The passionate customer base, in turn, helped the company secure a recent $7 million Series A round from boldfaced investors like SoulCycle founder Elizabeth Cutler and Gwyneth Paltrow. Universal Standard is now using that money to fund its push into smaller sizes–even if that risks alienating its original fan base.
In February, the brand published a kind of manifesto on Instagram. "Plus-size fashion is over," it declared, explaining that soon there would no longer be a distinction between plus- and straight-size clothing. Some customers felt betrayed that Universal Standard would take a dig at an industry that had worked hard to fight for body positivity and draw attention to a sorely underserved customer.
"I'm so sad at this," a user with the handle RachyDee81 wrote. "[Universal Standard] was something that the plus size community had all to ourselves, actual stylish clothes made of actual good materials, actually tailored for us. Was tailoring clothes for the plus size community just not making enough money or something?"
"This was a sacred space," a user called jemvt wrote, in response to another Universal Standard post on the size expansion. "When Banana or J Crew or Ann Taylor or Madewell go to a size 32, then it would be ok for US to go to a 6. Universal Standard has been our space…It was really special to have clothing made in gorgeous materials and styles in larger sizes only."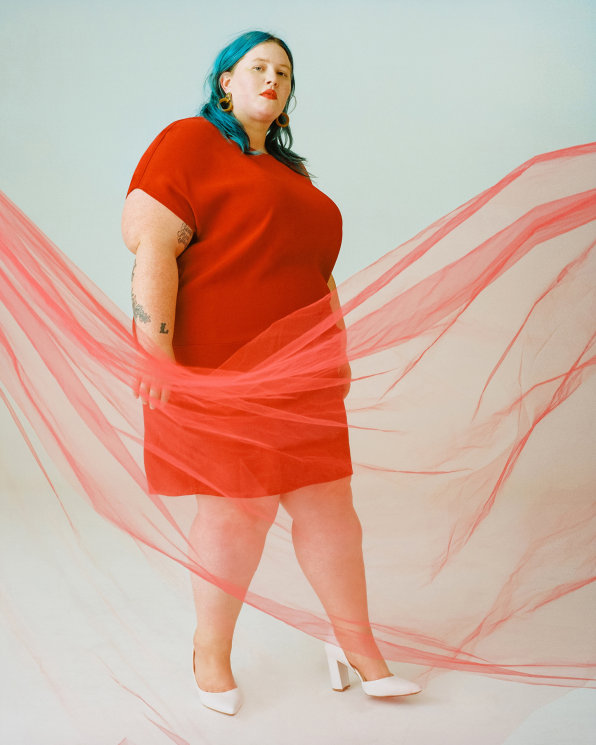 Waldman and Veksler are facing such criticism with a firm sense of conviction: As they see it, the fundamental problem with the apparel industry is that it artificially segregates women based on whether they are larger or smaller than a size 14. Waldman says this seemingly arbitrary separation is particularly egregious when women go shopping together in groups. People with different sizes have to shop at different brands. Or even on different floors, if they're visiting a department store.
"I felt like I would get an ulcer just thinking about shopping," Waldman says. "I was choosing from the best of the worst, because what was available to me was in a completely separate category from mainstream fashion. It's not just separated by size; it is completely different in style and its quality."
Waldman believes this partly has to do with the industry's bias against plus-size women. "Bigger bodies are not considered to be as fashionable," she says. "They are not as appreciated as smaller bodies and there is this assumption that smaller bodies are easier to dress."
But there are also logistical reasons for this separation. Most of the existing apparel manufacturing infrastructure was designed for smaller women, so mainstream factories often don't have the expertise to size up garments. If you just proportionally increase a size 6 shirt into a size 26, the sleeves become enormous. And yet even if a woman puts on weight, her arms don't get any longer. "When you are grading from a size 6 to size 8, you can see how the formula makes sense, because the body topography doesn't really change that much," Veksler says. "When it gets to the bigger sizes, this grading does not work and people haven't adjusted that way of doing things. It's just efficient for them to stick to the formula: They press a button and then clothes get made."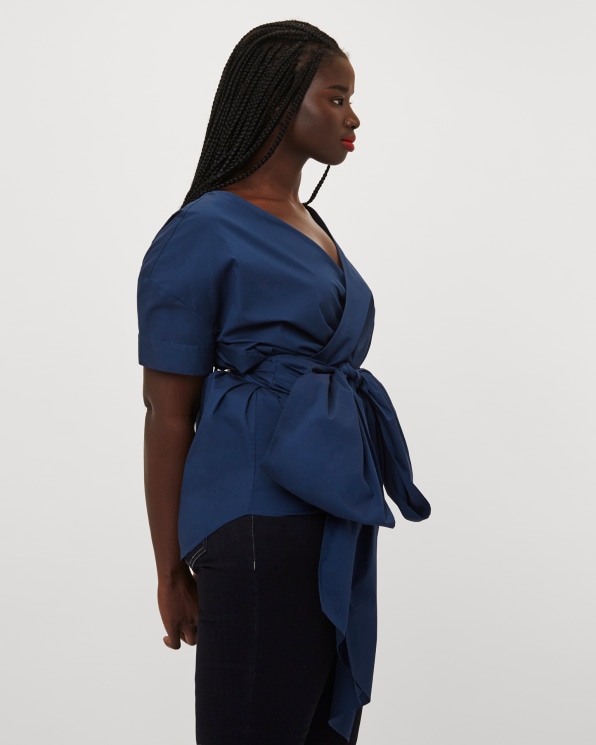 There are additional technical considerations. The founders discovered that many looms, for instance, don't make bolts of cloth wide enough for larger garments. "You could technically cut it into tiny jigsaw puzzle and put it all together," Veksler says. "But you would need to make seams in strange places. You would be making an inferior garment and, quite frankly, that's exactly where this woman has lived for her entire existence."
These obstacles have resulted in brands treating plus- and straight-size women as two distinct populations–a situation that reinforces the belief that larger women are less valuable customers. Waldman and Veksler believe that there's a great opportunity for a brand that adjusts its manufacturing to meet the needs of all women. But there's also a sense of purpose to their investments. "We're trying to get rid of the last acceptable form of prejudice," Veksler says.
Not every Universal Standard customer will see it this way. When angry fans commented on Instagram after the initial announcement, the founders took the time to respond personally. They promised to continue to provide their plus-size customers with exceptional attention to detail, but they did not back down. "Whenever you take on something big, you have to expect resistance," Veksler says. "In some ways resistance is a good thing because it shows that what you're doing is revolutionary."