Flying cars are coming, so says Uber. The troubled ride-hailing giant has been pushing the wild goal of testing an electric air-taxi program in at least two American cities in 2020, with regular service starting in 2023. Yet only now are we getting our first glimpse of what the vertical-takeoff-and-landing planes might look like.
Earlier today, Uber debuted its combo helicopter-airplane reference design for contractors building the craft. Now Brazilian aircraft maker Embraer is the first to show its concept for a final craft. (Uber is opening its network to multiple providers, with five currently signed on.)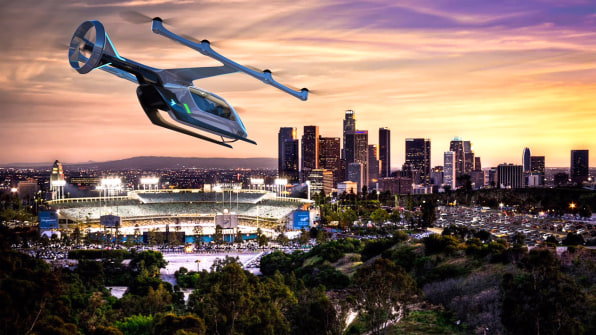 Following Uber's guidance, the craft has high-mounted wings fitted with multiple small helicopter-like rotors (eight, in this case). They allow the craft to ascend and descend from tight locations like rooftops. At higher altitudes (1,000-2,000 feet) a propeller in the back of the craft takes over, allowing it to fly like an airplane—which is faster and more energy efficient than staying in helicopter mode.
---
Related: Here Are The Most Amazing Flying Car Designs Featured At Uber's Elevate Conference
---
Like all concept cars, the design that Embraer debuted today may look different once it hits the air. But with just a few years to get going, Embraer probably won't have time to change much.