Facebook CEO Mark Zuckerberg opening his keynote at the F8 developer conference on May 1: "It's not enough to build powerful tools. We have to make sure they're used for good."
Microsoft CEO Satya Nadella during his keynote at the company's Build developer conference Monday: "Privacy is a human right." And: "These advancements create incredible developer opportunity and also come with a responsibility to ensure the technology we build is trusted and benefits all."
Judging by what's being said at the tech company developer conferences so far this year, Big Tech is feeling the need to reassure both developers and consumers that it's a force for good–not just profit–in the world.
Many in the general public and in regulatory circles have begun to wonder, and with good reason. A recent Harris poll found that among the world's 100 most visible companies, Apple fell from the second most-trusted company in 2016 to No. 29 in 2018. Part of the reason may be the "Batterygate" flap. Google fell from No. 3 in 2016 down to No. 29 this year. This may be related to political ads posted on YouTube by Russian agents in 2016. Facebook–which not only provided an open platform for fake news and Russian propaganda during the 2016 election, but let the personal data of 87 million users fall into the hands of a sketchy political ad targeting firm–came in at No. 51.
Many internet users are just now beginning to understand the extent of the personal information that tech companies like Facebook and Google routinely harvest to target ads. That's partly because the companies in question haven't been terribly forthcoming about it.
The Washington Post's Elizabeth Dwoskin and Hayley Tsukayama report today that Google CEO Sundar Pichai, too, plans to sound notes of corporate responsibility during his keynote address at the start of his company's I/O developer conference on Tuesday. Google, the Post says, will announce new controls in Android that will help people and families better manage the time spent on mobile devices.
Apple CEO Tim Cook may hit some of the same themes at the company's WWDC developer conference in early June. That keynote may reference Apple's efforts to run the company on green energy. Cook might again stress Apple's focus on protecting the privacy of user data, and not monetizing the data as others do. Apple has introduced some parental controls in iOS but, depending on what Google announces, may be under pressure to announce more robust controls that keep people–especially kids–from abusing their iPhones. (Tony Fadell, one of the creators of the iPhone, thinks it should.)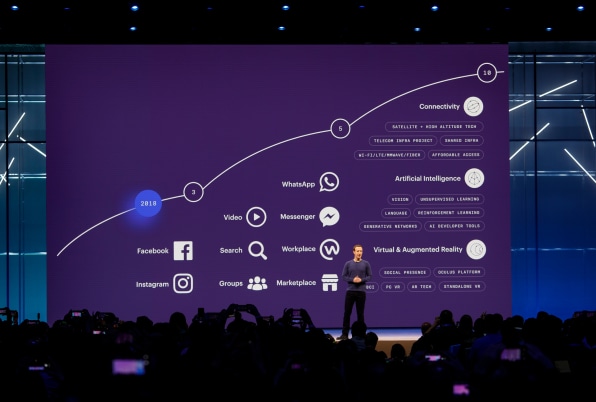 Mea Sorta Culpa
Actually, Mark Zuckerberg didn't spend very much time on addressing user privacy and corporate responsibility at F8, and people who were there tell me his comments on the subject sounded rote. Zuckerberg seemed to merely check that box, then move on to discuss Facebook's newest ways of fulfilling its vision of "connecting the world." The truth is, Facebook may value the "sharing" of personal data (and effective ad targeting) more than it does user privacy. In the past when it has stepped over the line, and it has many times (remember Beacon?), the company's leadership typically grows contrite, apologizes profusely, and makes some token changes; but in the end user privacy doesn't materially improve.
The reputations of Microsoft, Google, and Apple may suffer for their proximity to Facebook, putting them all in the same Silicon Valley Big Tech bucket with Facebook. This may give them a reason to speak more openly about things like privacy and corporate responsibility. These companies may also have more room to talk, since they've not gotten in the same kind of trouble as Facebook has in the last 18 months.
All of these companies are working on complying with the "right to be forgotten" guarantee in the new GDPR privacy rules that will come into effect later this month for European users. But they may want to present an image of corporate responsibility to ward off new regulation containing a similar guarantee for U.S. consumers.
It could also be that the tech companies want to start getting the public ready for the ubiquitousness of AI in modern life. "As pervasive as tech is we have to take a more philosophical look at its role in society," says Technalysis Research chief analyst Bob O'Donnell. "This is an existential moment where we have to come to grips with this and what it means for our lives.
"Because of all of those things the tech industry is under a much closer scrutiny by governments and regulatory bodies all over the world," O'Donnell adds. "There's real potential for a backlash because of how far reaching tech is now."