It was just a few months ago that Facebook announced it was tweaking its newsfeed algorithm to favor more authentic interactions. The social network wanted people to see more of what their friends and families were sharing, and less of what the publishers were shoving down everyone's throats. This led to significant (and warranted!) hysteria about the impact on news publishers. We're just a few months out now, and the impact is anything but clear.
Facebook chose this algorithm change in the face of mounting criticism. As information came to light about the company's inability to curb misinformation and fake news, the social network thought it wise to try to clamp down on publishers' virality. This move seemed like a redux of 2014, when Facebook wanted to crack down on clickbait, which had a significant negative impact on Facebook-focused destinations like Upworthy. Given Facebook's distribution power, it makes sense that publishers today would fear any sweeping algorithm change.
But according to data from NewsWhip, the traffic apocalypse has yet to happen for major publishers. In terms of engagement, the top three sites in April 2018 were FoxNews.com, CNN.com, and NBC.com. The previous month, it was CNN.com, NBC.com, and FoxNews.com. Both CNN and NBC saw a slight dip in their engagement, but Fox News saw a huge boost—more than 1.5 million engagements month-over-month.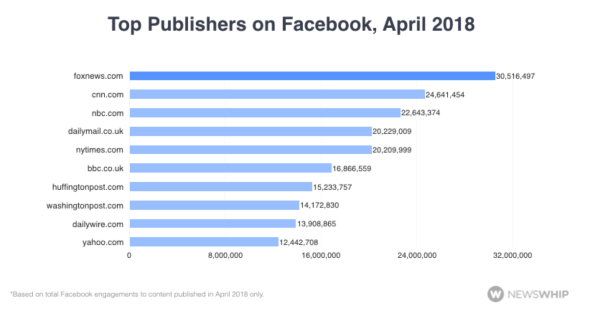 Does this mean that Facebook's new algorithm favors more conservative content? Not really. Every month, publishers' popularity ebbs and flows, and conservative content over the last few months has actually been doing well on Facebook, despite what the pundits like Diamond and Silk might have you believe. In January of this year, Fox News was once again No. 1 when it came to engagement, and the Daily Wire made the top 10 for both January and February.
Ultimately, what these new numbers show is that the big Facebook algorithm apocalypse may have been less drastic than expected. The usual players seem to remain on the top–some with increased engagement. It could be that the full impact of the newsfeed changes has not yet been felt, or maybe it's just that Facebook users will continue to share the same kinds of content, whether it's heightened and magnified by the Facebook overlords or not.