Deadpool has managed to lure 7-Eleven into its first-ever augmented reality experience, which is so Deadpool.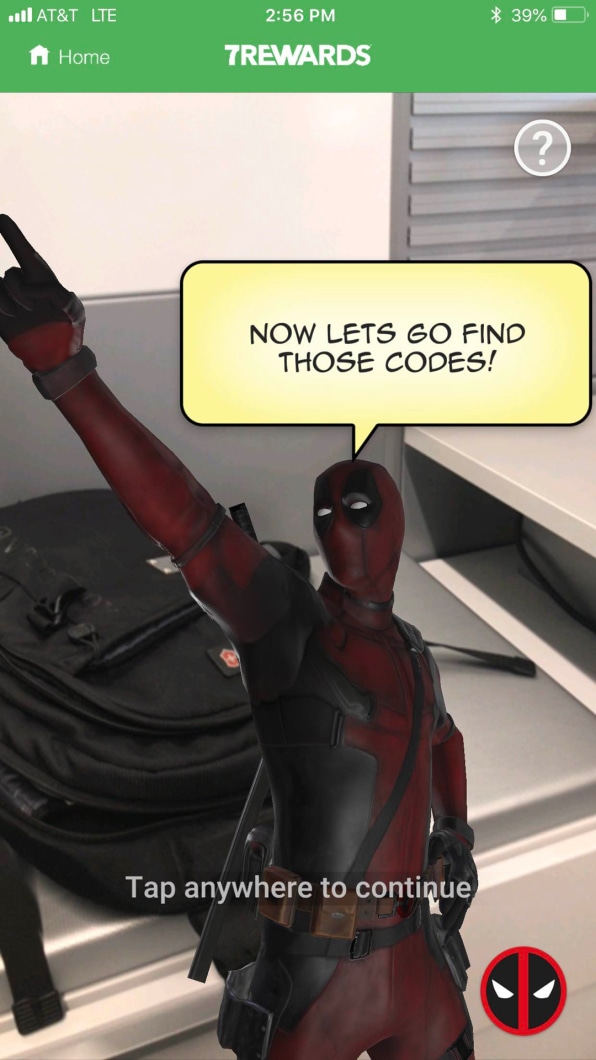 If you have the 7-Eleven app (and why wouldn't you?), here's all you need to do to have Deadpool harass you while you're trying to fill your souvenir Deadpool cup with a new Red Dawn Monster Mutant-flavored Slurpee:
Tap: Tap the camera icon on the home screen of the 7-Eleven app, and Deadpool will appear to guide you through the experience.
Selfie: Take a selfie and watch the mad scribbler take over with his red marker.
Seek: Here a zapcode, there a zapcode. Scannable codes throughout the store unlock new activities and 7Rewards bonus points, which can save you some real world cash.
The app isn't just good for a one-night stand of good clean AR fun: It changes every week, so the next time you're on a late-night Trolli Sour Brite Tiny Hands candy run, pull up the app again—because you never know where Deadpool will literally pop up (in an AR kind of way).
If you're worried that your family and friends won't believe that you hung out with Deadpool at a 7-Eleven, don't despair. You'll be able to prove it later, thanks to a functionality that lets you save and share the AR experience.
You can download the 7-Eleven app here.