Oxygen Media, which recently rebranded as the channel for true crime fanatics, is launching a new augmented reality app that lets viewers get in on the gory, gruesome fun of forensics.
The new iOS app, called "Forensic Detective: Inside the Crime Scene," was built using Apple's ARKit 1.5 and takes full advantage of the new vertical plane-detection technology. If you're unfamiliar with the tech, it lets the game know where the walls are in a user's room, so clues and evidence can be placed anywhere on those surfaces, like gunshots or blood spatter appearing on your bedroom wall without, you know, actually murdering anyone. It helps create a full room-scale interactive environment that turns any room into a crime scene, no felonies required.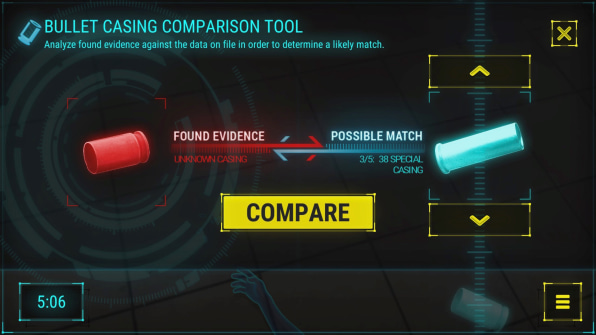 The app lets wannabe detectives piece together clues, like analyzing the height of the gunshots, studying the ballistic evidence, and comparing blood samples in order to bring a killer to justice. The use of vertical planes makes it all the more immersive.
"ARKit 1.5 gave us the ability to weave in vertical plane detection as part of the game's narrative," said Matt Marsters, mixed reality strategist at Neo-Pangea, the company that built the app. "It's a real differentiator, making the user experience exceptionally rich since the app can render full-scale 3D thanks to spatial recognition. It's a bit like having an 'Escape the Room' experience right in your pocket."
"Forensic Detective" is launching exclusively on iOS and will be available in the App Store later this month. Having tested this out, albeit briefly, I can say the app is a whole lot of fun for true crime fans. Plus, it lets you justify binge-watching hours of CSI or any of Oxygen's true-crime marathons as training for cracking this case wide open.