While working as an international reporter, Beenish Ahmed would sometimes prepare for reporting trips by reading a novel about the place she was scheduled to visit. Ahmed, a self-described book nerd, knew that international fiction offered a different perspective than the news. She later realized that sharing these books might also be a way to get other readers more interested in headlines in Asia or South America or Africa.
In a new monthly subscription box called The Alignist, Ahmed offers a different novel from a different country each month. "I had, and still have, this sense that it's sort of hard to get people to feel deeply connected to international stories, to have a reason to click on those stories . . . The idea behind it is to give people an in to care, and a point of connection, which I think novels offer," she says.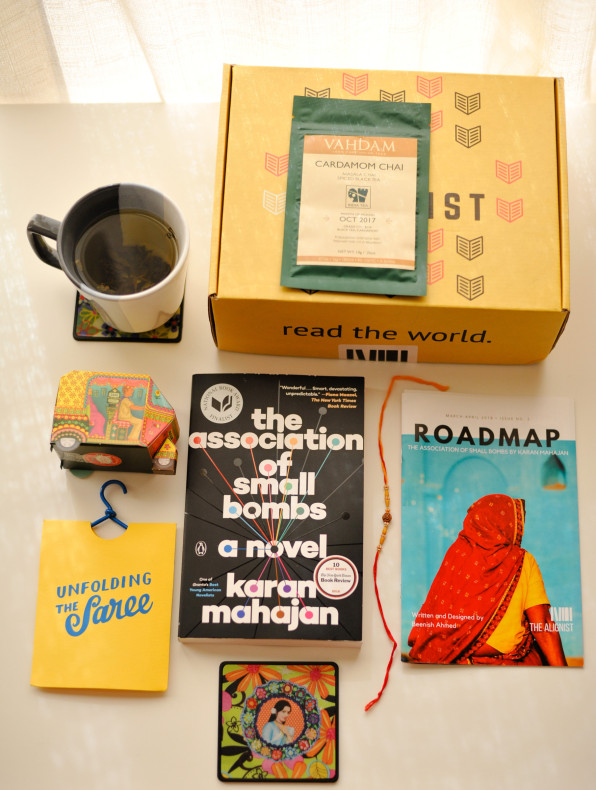 The most recent box included The Association of Small Bombs, Karan Mahajan's award-winning novel about a 1996 bombing in Delhi, India, and the trauma that followed victims' families. A small roadmap offers context on the book, from the history of Kashmir to the growth of local landfills and antibiotic resistance. When readers finish the book, a Q&A with the author and an expert delves further into the issues.
One version of the box also offers ethically sourced goods related to the book–in the case of The Association of Small Bombs, that included a foldable paper rickshaw, a packet of cardamom chai tea, and a poster from an Indian designer explaining the history of the sari. The box also included recipes for Delhi-style kabobs and street food called aloo tikki.
"I want there to be this moment of discovery, in the way that you have moments of discovery when you're traveling and you start to put the pieces together of what you're seeing and learning and experiencing and tasting," she says. "I really want there to be those moments of connection between reading a novel and then engaging with those objects."
Including the objects also supports local artisans. An upcoming box about Syria–with the novel No Knives in the Kitchens of This City, about living in Aleppo in the lead-up to the Syrian Civil War–includes ethically sourced Aleppo soap from artisans there, along with artwork from Syrian refugees now living in Lebanon.
The project is only a few months old, but readers are telling Ahmed that it has started to shift their perspective, and help them look outward at a time when Americans are increasingly absorbed in national news. "They now have more desire to read about this place because they have a bit of a foundation of understanding, because I think curiosity grows from curiosity," she says. "If you don't have that initial kind of level of insight or understanding, then you're going to feel a little bit alienated from the news."