The flashiest addition lets businesses build augmented-reality experiences within their Messenger bot presences, using Facebook's AR Studio tools to overlay computer-generated graphics on live imagery captured by a smartphone. The companies that created some of the first examples include Nike (virtual sneakers), Asus (a smartphone), Kia (a Stinger car you can plunk in your own driveway), and Sephora (virtual makeup effects).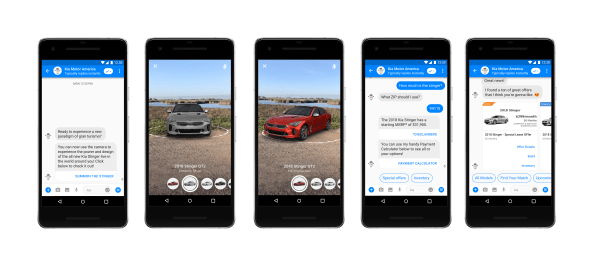 All of these are pretty simple and depend on novelty as much as anything to be interesting, but Facebook messaging VP David Marcus told me Messenger's new features address what marketers need right now. "Right now AR is used mostly for entertainment, but it's really hard for brands," he says. The AR creation tools are free to use, but Marcus adds that brands will tend to buy ads on Messenger and Facebook to drive consumers to experiences, thereby providing a path to monetization for Facebook. The company is currently working closely with a few partners but plans to open up the AR capabilities in self-serve form.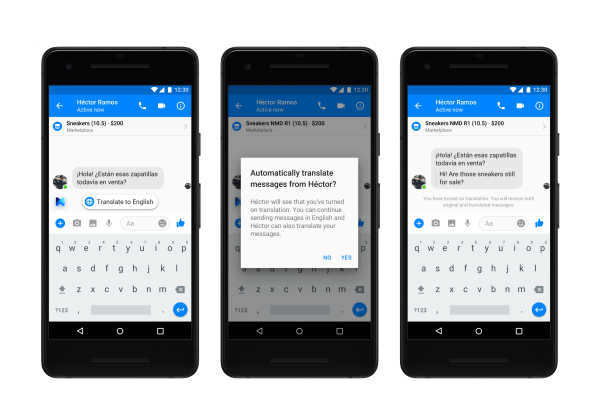 Messenger is also getting a dash of built-in translation: Its AI feature will translate between English and Spanish to let people using Facebook's Marketplace feature discuss transactions across languages. Additional translation features are in the works.
Along with its news, Messenger is sharing some stats relating to its announcements from last year's F8. Today, there are 200,000 developers on the Messenger platform and 300,000 active bots. And each month, businesses and consumers use Messenger to exchange 8 billion messages.