A new shot has been fired in the war of the crowdfunding platforms.
Today Kickstarter executive Julio Terra published a Medium post, "Indiegogo's Odd Numbers," that essentially accuses the rival platform of taking credit for campaigns that began on Kickstarter, before the campaign owners transferred them to Indiegogo.
Terra, who is Kickstarter's head of technology and design community, provided an example of a campaign where the vast majority of the money had been raised on Kickstarter, not Indiegogo, but that fact is only revealed if you hover your mouse over a question mark icon next to the "total funds raised" number on the Indiegogo page. (Terra claims to speak on behalf of himself, not Kickstarter; but Kickstarter's PR rep sent me the link to the essay.)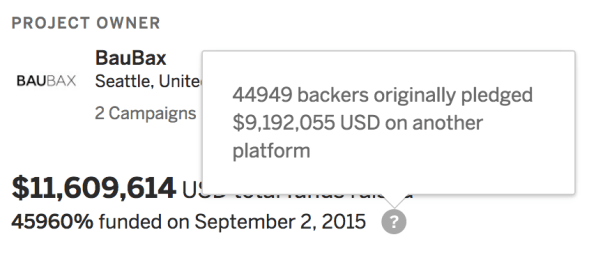 What's going on here? It's not uncommon for entrepreneurs to jump platforms, and, as I reported recently, Indiegogo positions itself as a place where startups can raise additional funding after they've completed a discrete campaign on Kickstarter. (The figures I quoted in that article are for sums raised solely on Indiegogo.)
Terra offers the example of San Francisco-based backpack maker Peak Design, whose Indiegogo page reports $7,232,484 raised since September 8, 2016. But $6,565,782 was raised on the company's Kickstarter campaign, a fact only revealed in a pop-up footnote, explaining that the amount was originally raised "on another platform." Along with Peak Design's bag, three other projects (BauBax jacket, ZeTime smartwatch, and Taga 2.0 Family Bike) that Indiegogo lists in its Top 10 funded list raised the majority of their money, between about 50% and 90%, on Kickstarter.
An Indiegogo spokesperson told Fast Company that the hover-over mechanism makes "pretty clear" how the funding breaks down between Indiegogo and other sites. The spokesperson said Indiegogo has not received any complaints from backers or entrepreneurs about the practice.