A brick-and-mortar powerhouse like grocery giant Kroger might not appreciate being called a "legacy" enterprise, but that's the reality IFTTT is pitching as it tries to turn its popular-but-geeky internet switchboard service into a viable business.
IFTTT, which launched in 2011, can connect products that aren't designed to work together. You might use the service to automatically log Spotify songs in a Google Drive spreadsheet, sync your Instagram photos to Dropbox, or change the color of your smart light bulbs if it's going to rain that day. (Its name is an acronym for "if this, than that," a nod to the kinds of conditional statements used by programmers.)
While IFTTT's service is free to 14 million registered users, for the past two years the company has charged businesses to join the platform and list connections (or "applets") inside their own apps. Now, IFTTT is raising $24 million to hire more people, including a larger sales team, as it tries to rope in larger firms that aren't tech businesses at their core. If a company such as Kroger or Target wanted to take on Amazon's in-home delivery service, for instance, it might use IFTTT to link up with existing smart locks and security cameras for opening the door and ensuring a safe drop-off.
"We're really trying solve what I think is the biggest problem in relation to all of these legacy, existing businesses: being forced to change their relationship with their customer, their business model, and what it is they're known for," says Linden Tibbets, IFTTT's cofounder and CEO.
"A Little Bit More Like Amazon"
Despite its obvious usefulness and loyal cadre of fans, IFTTT has struggled for years to land on a business plan. The last time the company raised money–a $30 million Series B round in 2014–it was positioning itself as an "operating system" for myriad connected devices, especially in smart homes. The idea was to appeal directly to consumers, and Tibbets had floated the possibility of selling premium subscriptions to power users.
That approach never materialized, as Tibbets and company realized IFTTT's customers should actually be the hardware and software makers connecting to the service, rather than the consumers who depend on those connections. The motto he's been using for the past couple years is "PayPal for access," describing a kind of trustworthy liaison between disparate products.
Tibbets stresses that IFTTT isn't looking to help companies launch their own online services. But as more companies take technology seriously, IFTTT wants to help them connect with the vast array of online services that already exist. Although I'm the one who brings up Kroger during an interview, he doesn't hesitate to describe how IFTTT might allow the grocery giant to "behave a little bit more like Amazon," using in-home deliveries as a hypothetical example.
"Imagine if Kroger had all the skills and all the connections that a user or consumer might find valuable, and they can make that offering to their users–that's what IFTTT is building," Tibbets says.
Automotive companies are another example. By working with IFTTT, carmakers could offer drivers more connected features, such as being able to check their schedule, get media recommendations, and manage their smart homes from the road. (BMW is an early partner, with IFTTT providing dashboard information and using vehicle data for reminders and notifications.) While Apple, Google, and Amazon all provide similar automotive features via offerings such as CarPlay and Android Auto, car manufacturers are wary of ceding too much of the experience to tech giants. IFTTT wants to provide the same sort of connections to other services that a big tech company might offer, but in a way that keeps automakers in control.
"Automotive servicification is creating a perfect storm of challenges: self driving, ride sharing, and AI-based assistants," Tibbets says. "I have a huge amount of empathy for the businesses faced with these challenges. They certainly don't want to become just an Alexa [device] on wheels."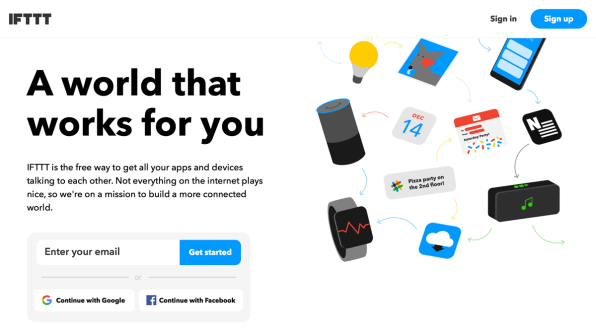 "Foundational Layers"
IFTTT's newfound focus might be reflected in its latest batch of investors. The $24 million round is being led by Salesforce Ventures–which boasts of being "100% invested in enterprise cloud companies"–with participation from IBM, Chamberlain Group, and Fenox Venture Capital.
Still, Tibbets says IFTTT isn't taking anything away from consumers who depend on the service today. At most, users may need a bit more programming knowledge to create more than just simple "if this, then that" triggers. (Users can already write some JavaScript to create filtering conditions, such as one that prevents things from happening at certain times of the day.) Tibbets has long insisted that the applets consumers write help define what companies can do with the service.
"We continue to believe everything we're doing is foundational layers toward what we'll eventually become," Tibbets says. "Your applets, your ability to create those applets–that stuff's not going anywhere."
Other startups have built automation services similar to IFTTT since it launched in 2011, but none are pursuing quite the same strategy. Zapier is more of an internal workflow tool for businesses, and has become profitable with the kind of premium subscription model that IFTTT shied away from. Stringify focuses on home automation for consumers, and was acquired by Comcast last September. In a sense, IFTTT is somewhere in the middle, pitching itself to businesses as a consumer-facing brand that they can hook into.
IFTTT's major challenges, then, are more about execution than competition. Some of the possibilities Tibbets describes, like building a home delivery system on Kroger's behalf, can't be done today. Currently, IFTTT only has the building blocks, and Tibbets says you have to "squint your eyes" to see the full-on integrations that his company now wants to build.
To that end, IFTTT recently hired its second and third salespeople, and Tibbets says the company's headcount could double from the current 30 employees. And while he doesn't rule out an acquisition by the right company, he says IFTTT has "plenty of time" to control its own destiny.
"A lot of what we've done over the years," he says, "has really been about building a foundation for this opportunity."