On a recent night at a pop-up dinner in San Francisco's Civic Center neighborhood–with a menu including seared mushroom red potato tostada and roasted broccoli with honey sriracha, some of the guests had paid $55 for a ticket for the multi-course meal. Other people, who are homeless, paid nothing. They sat together and talked, eating food prepared by people who are also homeless.
The startup nonprofit behind the dinner, Farming Hope, wants both to provide new job training for people who are trying to work their way out of homelessness–so they can later land jobs in the Bay Area food world–and to bring people together around food in a different way.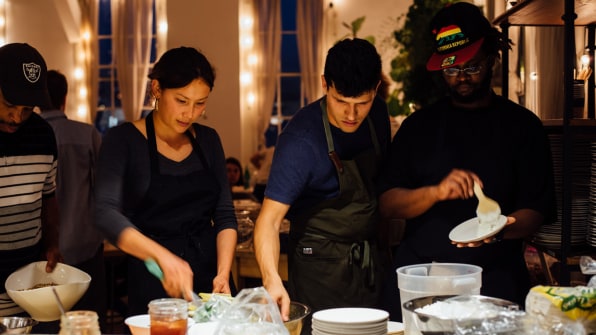 "We want an environment where it's not just a restaurant where no one who's very poor is coming to eat, and it's not just a soup kitchen, where it's only homeless people eating donated food as quickly as possible," says Jamie Stark, one of the cofounders of Farming Hope. "It's a nice environment where people want to be, where there's a unique mix of people, and where some of that empathy and understanding and human-centered thinking can spread."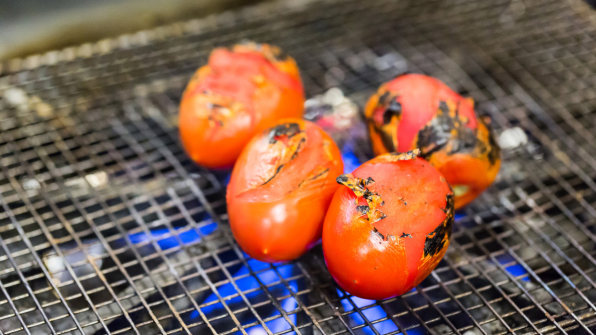 Stark and cofounder Kevin Madrigal met as students at Stanford, where both had an interest in food as a tool for social empowerment and social change. They incubated the nonprofit in a summer business incubator at Stanford's design school. In January 2017, they began working with their first cohort of employees in San Francisco–people who wanted to find jobs and begin to move out of homelessness.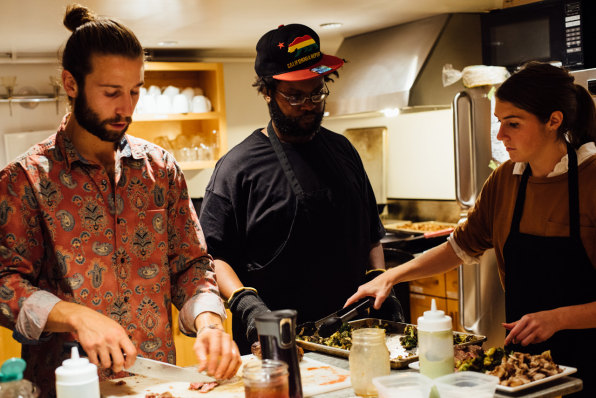 As they initially began to design the nonprofit's approach, they interviewed people experiencing homelessness and identified a key component–to feel needed. "Homelessness is not just a crisis of economic poverty, it's also a crisis of social poverty," Stark says. "So kind of rebuilding that sense of being needed in a community is incredibly important if you're actually going to do transformational justice work, and get people into a different space and into the life they want to live." Helping homeless people work with food and serve it to others, they realized, would be one way to address that need.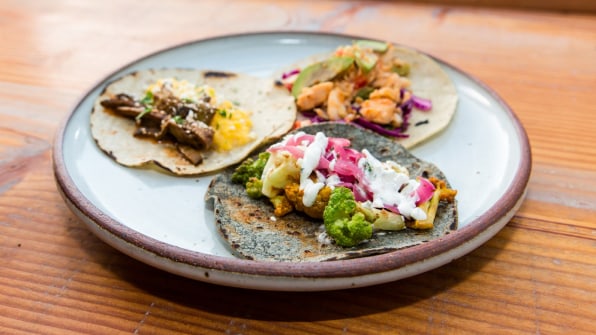 The program teaches participants to grow some of their ingredients, working in community gardens–including a rooftop garden on a local homeless shelter–and then offers training in cooking and serving restaurant guests. They quickly pared the training course down to three months to match the length of time that someone can have a bed at a homeless shelter.
"When we started last January, we were having guys doing really well with us–and then they would lose their beds and be off in the streets and they would drop off, because they didn't have the stability," says Stark. "So we really realized we had to work faster and better identify the folks who were very ready to get into employment, but they needed a job on their resume, they needed the confidence and the money, and somebody who could write them a letter of recommendation before they could get there. And we needed to push them to do this in a short enough timeline where they wouldn't have everything upended when they had to move yet again."
After the program, the nonprofit will help participants apply for a jobs. In the video below, one person who went through the program talks about the job he got with Whole Foods. Of eight participants in the startup program in 2017, four went on to get long-term, full-time employment.
Working at the pop-up dinners helps rebuild confidence, Stark says. "If you are working your way out of poverty and you're cooking and you see people applauding for you at the end of dinner because your butternut squash soup was so good and they liked that you put grapefruit in it, you get to think differently about yourself and your abilities," he says. Equally important is the possibility for the dinners to shift how diners think about homeless people–both those who are dining with them and those who prepare the meal.
A meal, the founders say, is the perfect opportunity to create a new kind of social space that challenges assumptions people might have had when they came inside. "I think that's where we could start to be a gathering place for the kind of very diverse, wide network of what needs to happen to actually come close to ending homelessness and reduce it," says Stark, who sees the meals as a way to gather people from government, the tech startups that have offices in neighborhoods struggling with homelessness, and other neighbors, including those who are homeless. "Food's a good way of getting people there."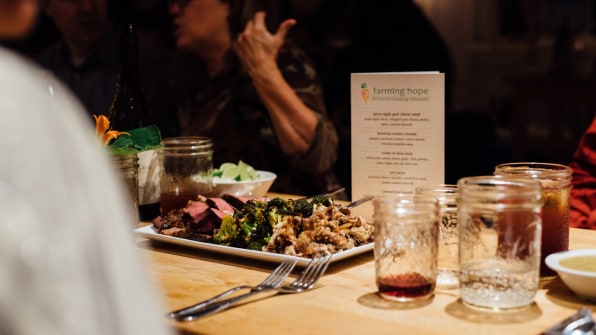 Ticket sales to the pop-up dinners, and a recent series of pop-up taco nights, help cover some of the costs of operation, and a new cafe, which the nonprofit hopes to launch in San Francisco, will cover more. The Roberts Enterprise Development Fund, a venture philanthropy that supports employment-focused social enterprises, also supports the organization with business advice and training.
Farming Hope is currently focused on just San Francisco, though it has another small pilot in San Jose and is interested in expanding to other cities–or becoming a model that others can follow. It also hopes to inspire more businesses to hire the people that come out of its program.
"We as a community have to recognize this is an emergency, and we have to be working hard to get these neighbors to where they want to be," says Stark. "If they were unemployed and unhoused because of a flood, we would be getting together and figuring things out for them. This is also an emergency, and we also need to act on it, and we also need to be building out the networks where these possiblities can exist for our neighbors. I think this is the way to do that."
---
Correction: The article has been updated with more accurate information about the relationship between Farming Hope and the Roberts Enterprise Development Fund.