Finding the right pillow is hard. Brands often have separate pillows for back sleepers or front sleepers. But how do you know which one you are since you're–you know–asleep? Or what if you start by sleeping on your side then discover that you're on your back every morning?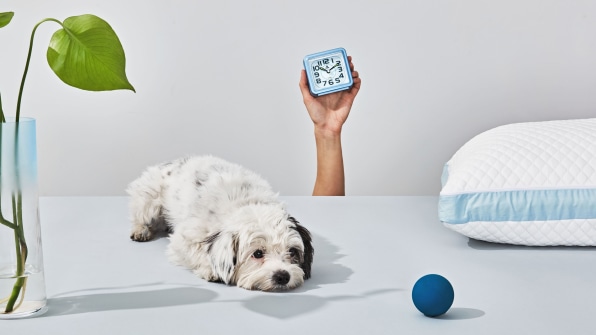 Enter Pluto. It's a recently launched startup that creates customized pillows. When you go to the website, you fill out a quick questionnaire about your body, sleep habits, and preferences. (These answers stay confidential so you don't have to worry about creepy third parties knowing these intimate details.) Then the brand uses this information to build a pillow that is optimized for both support and comfort.
The pillows themselves have two parts. First there's an inner core, made from foam that provides structure and support. (Pluto alters the exact height and density of the pillow based on survey responses.) Then there's the outer cover, which is soft and made from polyester microfiber, again adjusting the thickness to each customer. The external surface is made from a cooling material that prevents your head from overheating.
This new system is currently patent pending, and in total, there are 25 different variations to meet the needs of different people. The pillows are assembled by hand in the United States. They cost $89, and come with a 100-day trial, and a three-year warranty.
I took the survey and tested the pillow, and found that it did, indeed, provide exactly the right combination of support and softness for me, which helped me fall asleep easier and stay asleep longer. This is was important to me because, as I've previously confessed, I'll do pretty much anything for a good night's sleep.