Calling all Bruce Springsteen fans. If you have an extra few hundred thousand dollars, then I recommend you boogaloo down Broadway to Sotheby's–or just visit the website.
This June, the auction house will sell an original handwritten manuscript of The Boss's worshipped anthem "Born to Run." The piece of torn, lined paper (it ain't a beauty, but hey it's alright) showcases Springsteen's surprisingly good handwriting. The lyrics show how Springsteen worked to figure out the correct verbiage for the 1975 song that would eventually rock New Jersey and the world.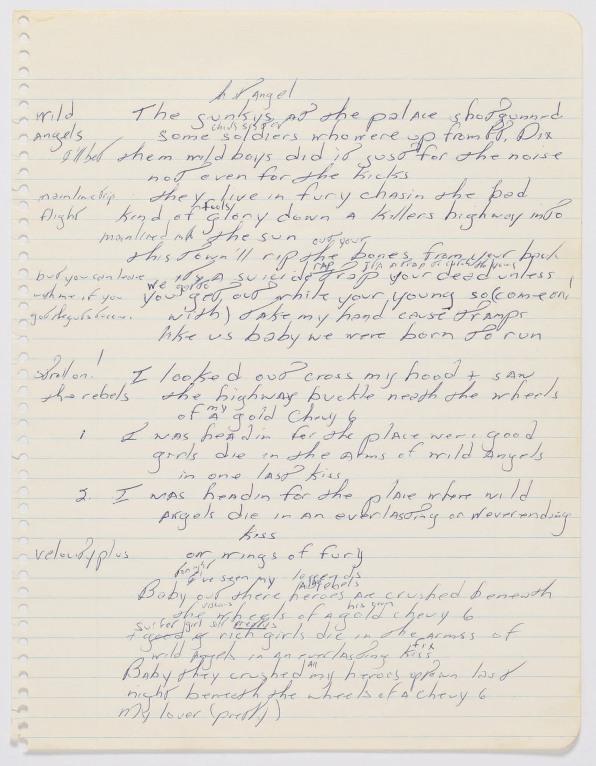 This early version of the song includes mostly lyrics that didn't make the cut. One line, "rich girls die in the arms of wild angels in everlasting kiss," sounds like it could have been ripped from Lana Del Rey today. (Although, I would argue that the best Del Rey songs absolutely crib a certain prose style that Springsteen perfected.) All the same, one of the most famous lines–"this town'll rip the bones from your back … it's a suicide trap"–is written clearly in this document.
This same manuscript went to auction in 2013, and sold for $197,000. Today, Sotheby's expects it to go for as much as $300,000. It seems Springsteen demand is high given his huge recent success on Broadway, and the seller probably knows this.
The paper scrap will be a featured item at Sotheby's upcoming Books & Manuscripts auction. This biannual sale event is one the auction house's oldest–and it's the first one to move exclusively to online. So now any deep-pocketed Springsteen (or book and manuscript) lover, won't have to show up to the physical auction house. Previously, people could bid online, but now the entire sale will happen virtually. Sotheby's tells me online bidding is already quite popular.
So if you've got some extra dough, why not bid on the piece of paper? And if you don't want the lyric scrap, I will happily accept it. You can meet me tonight in Atlantic City.