Last year, Amazon CEO Jeff Bezos's net worth ballooned by $35.1 billion. Also last year, the median Amazon employee made $28,446. Do the math, and Bezos made 1.2 million times his typical employee in 2017.
That's not the ratio Amazon reports in its annual proxy filing, released yesterday. There, the company calculates median pay vs. CEO compensation using Bezos's salary—a comparatively modest $1,681,840. Based on that figure, Bezos made just 59 times his median employee.
The difference highlights the shortcomings of the compensation reporting requirement, enacted for public companies following the 2008 financial crisis. Billionaire entrepreneurs like Bezos rarely receive sky-high salaries; instead, their wealth is tied up in their stock holdings. The $35.1 billion that Bezos accumulated based on Amazon stock increases is not liquid in the same way that his employees' payroll checks are, but his new net worth does have an immediate effect on his buying power. Over time, he'll be able to cash out as he pleases.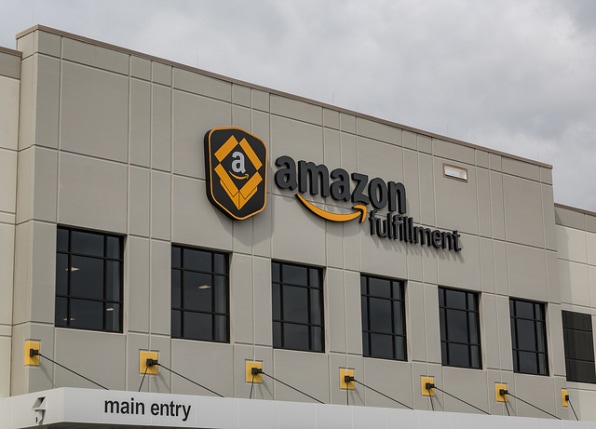 The gap between Bezos and his workers also highlights the company's dependence on the army of low-paid workers who fulfill online orders across dozens of distribution centers. While many employees at its Seattle headquarters make upwards of $100,000 a year, the bulk of Amazon's workers work alongside robots at these warehouses across the U.S. And according to various analyses, they are often paid below-average wages.
The Intercept reported on Thursday that one in three Amazon warehouse employees in Arizona depend on food stamps, or Supplemental Nutrition Assistance Program (SNAP) benefits.
In Arizona, new data suggests that one in three of the company's own employees depend on SNAP to put food on the table. In Pennsylvania and Ohio, the figure appears to be around 1 in 10. Overall, of five states that responded to a public records request for a list of their top employers of SNAP recipients, Amazon cracked the top 20 in four.
(Incidentally, Amazon, which is projected to deliver 50% of the country's online orders by 2021, will begin accepting orders through the SNAP benefits program later this year.)
In the shareholder letter that accompanies the proxy filing, Bezos credits a culture of "high standards" for contributing to Amazon's success. "The high standards our leaders strive for have served us well," he writes. By way of example, he cites Amazon Prime, now at over 100 million paying customers globally.
Amazon's accomplishments are impressive, to be sure. But it's hard not to wonder what would happen if its billionaire leader took a "high standards" approach to his employees as well as his customers.
Update: An Amazon spokesperson issued the following statement:
The median pay data in our proxy includes part-time, full-time, and seasonal jobs in over 50 countries. In the U.S., the average hourly wage for a full-time associate in our fulfillment centers, including cash, stock, and incentive bonuses, is over $15/hour before overtime. That's in addition to our attractive benefits package that includes comprehensive health, vision and dental insurance, retirement, generous parental leave, and training for in-demand jobs through our Career Choice program.