You remember FILA, the heritage Italian sportswear brand that was all the rage in the '90s, whose red, blue, and white logo was worn by everybody from your middle-school buddies to rap stars.
FILA is trying to engineer a massive comeback. It is relaunching its most famous shoe, the Mindblower, a chunky sneaker known for its oversized, warped logo. It's also collaborating with a range of artists and designers, from Kinfolk magazine to Marcus Troy to Pink Dolphin, who will each put their unique spin on the shoe.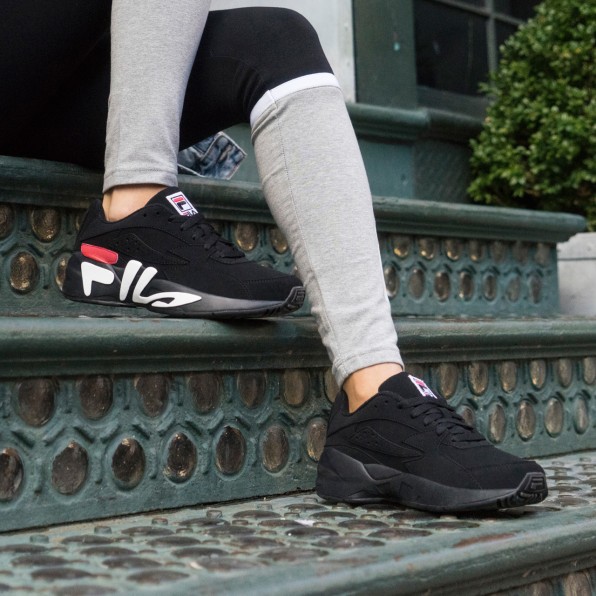 Louis W. Colon III, the brand's VP of Heritage and Trend, says FILA wanted to tap into the nostalgia surrounding the brand by recreating an iconic shoe from its archives. But Colon says his goal is not only to engage older consumers who once had a fondness for the brand, but also to bring new consumers to the brand. "We're doing this by speaking to consumers in totally modern ways, from social media to popups," he says.
Between April 20 and May 3, FILA will open a Mindblower Pop-Up at 107 Grand Street in New York, where the new Mindblower shoe will be released. The shoe will launch with Mindblower-inspired graphic tees, hoodies, jackets, fanny packs, and baseball caps. This will be the brand's first retail experience in New York in over a decade. The idea is to make the space interactive and Instagram-friendly, playing into the idea of "blowing your mind" by using optical illusions to trick the eye.
Besides New York, FILA will launch similar pop-ups in Tokyo, Japan, and Seoul, Korea, and have a microsite focusing on this new collection.