By design, ESPN's new app and stand-alone streaming service won't harm its cable TV business.
ESPN+, which launched last week for $5 per month (or $50 per year), is more of a supplement than replacement for the cable channel, mainly offering sports like rugby and boxing that don't get much play on ESPN proper, along with some original programming and items from the network's back catalog. If you want to watch major sporting events like Monday Night Football, or popular studio programs like Pardon the Interruption, you must still subscribe to ESPN via a bundle of TV channels. ESPN's freshly redesigned apps are a constant reminder of this reality, with many of its programs requiring pay TV authentication.
ESPN's reluctance to blow up the TV bundle business is understandable. Although homes with ESPN have dropped by about 13 million since 2011 according to Nielsen, 87 million subscribers were still receiving the channel at the end of last year. ESPN gets an average of $7.86 from each of those homes according to SNL Kagan, and that's before factoring in ad revenues. While ESPN executives have talked about shifting more cable programming over to its streaming services, it's not going to happen overnight.
Still, it's possible to imagine a better version of the app that ESPN released last week, one that appealed more to cord-cutters and cord-nevers without blowing up the company's existing business model. After spending some time with the new ESPN app and ESPN+, a few ideas come to mind: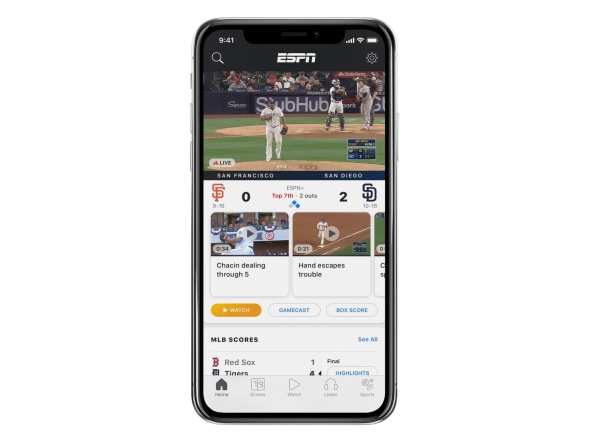 1. Round-The-Clock News And Highlights
Unless you're a pay TV subscriber, ESPN's TV apps (currently on Apple TV, Fire TV, Chromecast, and Roku) make a chore out of catching up on sports news. You can click around for individual news clips, and ESPN can auto-play multiple videos in succession, but most clips are only about a minute long with no sense of continuity as you bounce between them.
ESPN should take a cue from CBS, which launched a free round-the-clock streaming news service a couple of months ago. CBS Sports HQ offers live, anchored sports coverage with highlights, analysis, and a persistent ticker for scores and headlines. For cord-cutters, it's a great app to throw on the TV when you're not sure what to watch or just want to catch up on the news. ESPN rival Fox Sports has dipped its toes into this area as well, offering a linear news and highlights channel through Pluto TV's free streaming app.
ESPN's app already offers a wealth of highlights and commentary, and the organization has plenty of knowledgeable folks who could anchor a live streaming news service. All ESPN needs now is the willingness to pull those pieces together into something cohesive.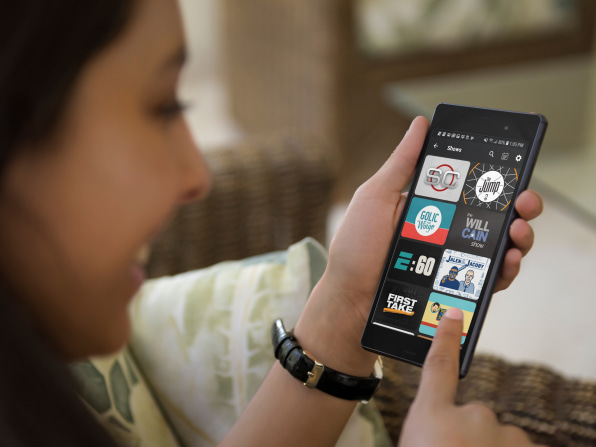 2. More Highlight Reels
Speaking of highlights, ESPN's new app could also become a destination for folks who just want to see sports' best moments. How about a new program–either on ESPN+ or purely ad-supported–that acts as an extension of SportsCenter's Top 10? This could include not just major sports, but the offbeat ones that ESPN+ offers, along with classic highlights from ESPN's archives.
Such programming could be a powerful lure for people who don't pay for cable, and particularly younger viewers who've demonstrated a shorter attention span for sports. A report last year by McKinsey's Dan Singer noted that fans who watch more than a half hour of sports highlights per day are three times more likely to subscribe to a streaming sports service. ("Highlights are the gateway to subscription video," he wrote.) Yet among millennials, the most popular way to watch those highlights is on YouTube. ESPN should be trying to claim more of that viewership for itself so it can convert more viewers into paid subscribers.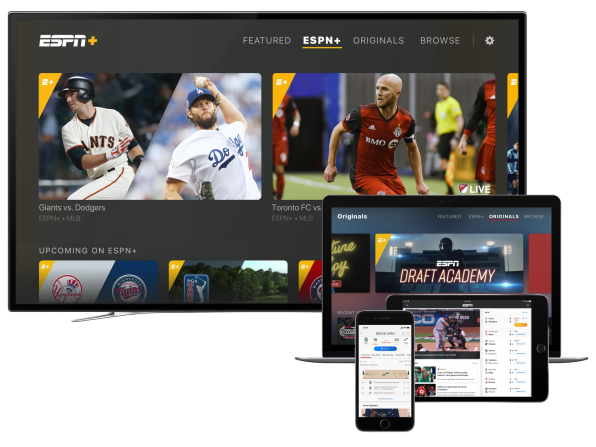 3. Easier Access To Streaming Bundles
Let's say you're among the estimated 9% of U.S. consumers who's never had a cable subscription, and you download the new ESPN app on a Fire TV Stick or Apple TV in hopes of watching Sunday Night Baseball. When you click on the link to watch the game, all you see are instructions to visit a web page and enter an authentication code, which in turn requires you to log in with your pay TV provider. Don't have a pay TV provider? No baseball for you.
This seems like a missed opportunity to refer viewers to the numerous streaming bundles that include ESPN and offer pay TV authentication, including Sling TV, PlayStation Vue, DirecTV Now, Hulu with Live TV, and YouTube TV. Instead of just throwing up an authentication page, why not offer a list of those bundles and their respective prices, along with ways for users to sign up on the spot? Educating people on how to watch ESPN without cable could be one of the company's best ways to keep subscriber numbers up.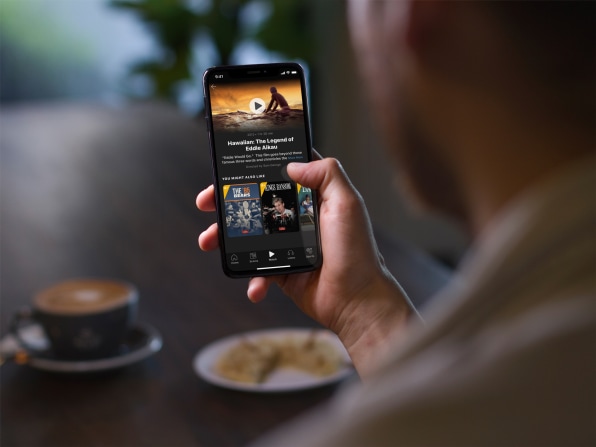 4. Subscription Rebundling
For ESPN+ subscribers, ESPN plans to offer a "Marketplace" of additional subscriptions, starting with MLB TV, and with NHL TV next season. Still, there's not much reason to sign up for these services through ESPN instead of directly through the leagues, which offer the same prices for all-team coverage, and even cheaper rates for single-team passes.
ESPN's add-ons might make more sense if they came at a discount. Add MLB TV, and save a couple bucks a month. Add NHL TV on top of that, and save a few bucks more. Tie it to a TV bundle with ESPN's regular channels and get an even bigger discount. In the same way that Amazon bundles its own entertainment services through Amazon Prime, and that Hulu and Spotify are now teaming up on discounted subscriptions, ESPN could become its own bundler of sports programming.
The company is already hinting at moving in this direction. "There is a demand curve for sports," Kevin Mayer, the chairman of a new direct-to-consumer division at Disney, said last week. "I don't think a monolithic subscription is necessarily the best way to fulfill that demand. There are a lot of people who want to buy a single sport, a single weekend, a single city, a certain event."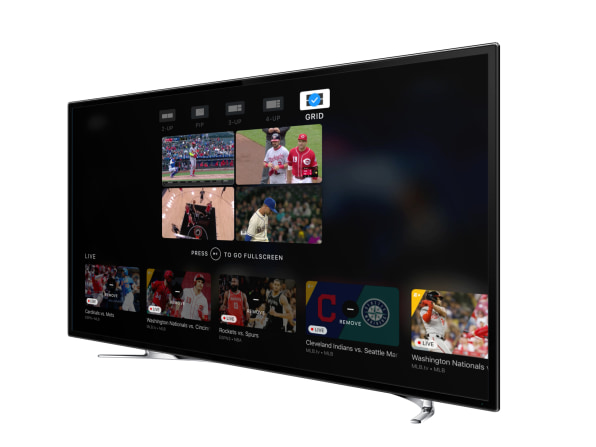 5. On-Demand Games
Speaking of single events, ESPN could also start selling access to individual games–or even parts of games–on-demand. Maybe you won't spend $5 per month for an ESPN+ subscription, but if you're a boxing fan, would you pay a few bucks to watch the Khan vs. Lo Greco fight this weekend?
This might sound like a crazy idea, but other companies are already preparing to do it. Last month, the NBA started testing 99¢ access to the fourth quarter of basketball games. Time Warner's Turner also plans to sell live sports on a per-game basis with its Bleacher Report Live service this summer.
None of these measures will provide cord-cutters with what they really want, which is the ability to subscribe to ESPN (and any other cable channel) as an unbundled à la carte service. But that option is unlikely to materialize anytime soon, especially with streaming bundles offsetting the decline in cable and satellite TV.
At the same time, ESPN's new app and streaming service won't do much to bring in new audiences that aren't paying for TV bundles to begin with. So far, the company has been playing defense; now it's time to play a little more offense.