For most organizations that have been around for more than a century, staying relevant in the lives of their consumers may present a challenge. That hasn't been the case for Planned Parenthood. Women fighting for autonomy over their bodies has been a persistent struggle throughout its history.
"The actual idea of Planned Parenthood is that your body and your pleasure are your own–and that has been the idea of Planned Parenthood for 101 years," says Dawn Laguens, executive vice president and chief experience officer of Planned Parenthood. "Sadly, that's still a very radical idea, as we've seen through the Me Too movement, through all of the attacks by this administration, by the fact that many women still can't have access to the basic healthcare that they need, that they are shamed and stigmatized for being sexual."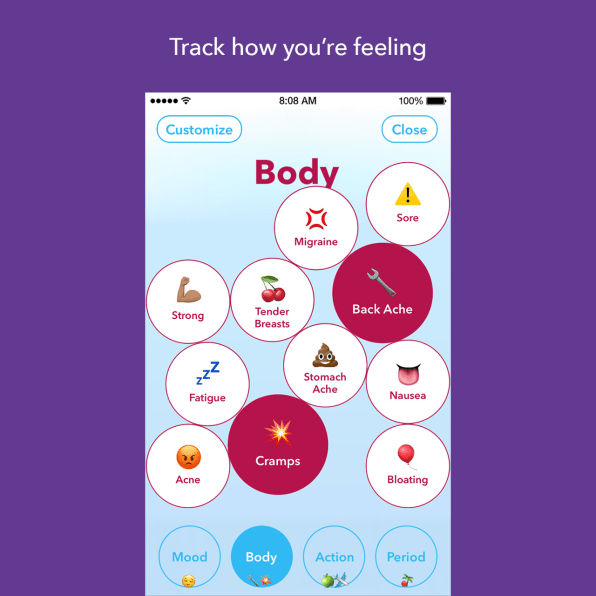 How Planned Parenthood is getting its mission across has evolved to include everything from VR experiences to period tracking apps to chatbots. For Laguens, it's not necessarily a question of if Planned Parenthood can stay relevant, it's how they're actually doing it. And seeing as how Trump's administration is hell-bent on dismantling key elements of women's healthcare, building a digital arsenal is a must.
Last April, the Trump administration announced that it would curtail Title X, a program that secured low-income patients in getting the most qualified providers, in lieu of promoting abstinence or fertility awareness methods (i.e., the rhythm method), which is used by less than 1% of reproductive age women. Nebraska governor Pete Ricketts recently signed legislation that blocks Title X, effectively removing affordable healthcare for more than 8,000 Planned Parenthood patients in his state.
---
Related: This Is How Planned Parenthood Is Gearing Up For Its Hardest Fight Yet
---
It's unlikely Nebraska will be the only state to evoke such measures, or that the Trump administration has any plans to ease its crusade against women. But as polarizing as Planned Parenthood may seem, Laguens is adamant in pointing out the overwhelming amount of support they also receive and how the organization is adapting to keep it that way.
"It is a common notion among media and political elites that somehow it's a 50/50 proposition or that maybe a lot of people don't like Planned Parenthood. In every survey over 70% of people say they favor Planned Parenthood," Laguens says. "We're real in their lives–we're just a topic in this other group of people's lives."
In addition to initiatives like Business for Birth Control, a campaign launched in October that focuses on businesses pledging to continue offering birth control despite rollbacks from Trump's administration, Planned Parenthood has been leaning more on tech to be a meaningful presence in the lives of the women it serves.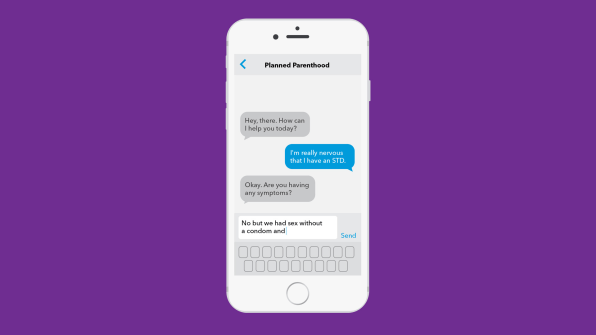 Planned Parenthood's Chat/Text program, a service that allows users to text or instant message with a health educator, hit 1 million conversations in April, but Laguens is hoping to up that number with a chatbot they're working on that will available 24/7.
Planned Parenthood is also leaning into the VR space, having produced, Across the Line, and experience aimed at giving a first-hand account of a patient crossing petition lines as she enters a health center for an abortion.
"Once you've been threatened with eternal damnation in the lake of fire and called a wicked Jezebel feminist, among the nicest things they say, you actually have a lot more empathy for somebody who's trying to get an abortion," Laguens says. "And so we're trying to use that even with police and people in law enforcement to at least have empathy and understanding for what people are facing."
Keeping that VR momentum going, they're also working with researchers at MIT and Stanford, as well as Facebook and Oculus, to create immersive programs for young people that deal with issues like consent negation.
"It's not about like, oh isn't this cool?" Laguens says. "It's about what are the real-life applications where this can improve care and improve decision making and improve the lives that people are going to have."
Laguens also mentions they're experimenting with Facebook Spaces, Facebook's VR app that uses avatars to create a personalized environments with friends and family, to see if its more conducive to having tough or awkward conversations related to sex.
"Fewer than half of parents have ever talked to their teens about how to use a condom," Laguens says. "So there's a lot of talking that's not happening and we know sex ed is so pathetic in so many places. 'Have sex and you'll die'–that's kind of their messages, rather than [sex is] a good thing but do it right for yourself and others."
"If parents and kids met in Facebook Spaces," Laguens continues, "could they have equal or better talks with each other if they're meeting as avatars rather than uncomfortableness?"
Of course, much of Planned Parenthood forging into the tech space has been under the helm of president Cecile Richards, who announced earlier this year that she would be stepping down after serving for more than a decade.
---
Related: Three Tactics Cecile Richards Employs To Power Planned Parenthood
---
"The thing about Planned Parenthood is it's been here for 101 years and we've had many great leaders. And each of these people brought their unique stamp and propelled the organization forward. Part of what made them great was not just their leadership but their 'leaver-ship,' which is they knew when to leave," Laguens says. "They built the team and the resources and they left at the top, not on the way down. I believe that this will be our greatest year ever. Not because without Cecile but because of what she has put in place and what we will carry forward and a new leader will pick up."