The death of Elaine Herzberg, who was hit by one of Uber's autonomous test cars in Arizona in March, has forced a rethink of the entire self-driving industry. All aspects of the technology (and the propensity for human error) have a ways to go. But the nighttime crash has focused interest on lidar, laser-scanner technology that can see in the dark.
Several lidar makers are challenging industry leader Velodyne, but a startup called Luminar boasts unique tech that may now be affordable. Luminar uses an infrared laser wavelength (1,550 nanometers) that doesn't affect human eyes, says CEO and founder Austin Russell, allowing the beam to be more powerful without posing risk to bystanders. He claims that Luminar's sensor can spot an almost completely dark object (with 5% reflectivity) from 820 feet away.
"So, for example, a tire on the road, a black car, a person in very dark clothing," says Russell.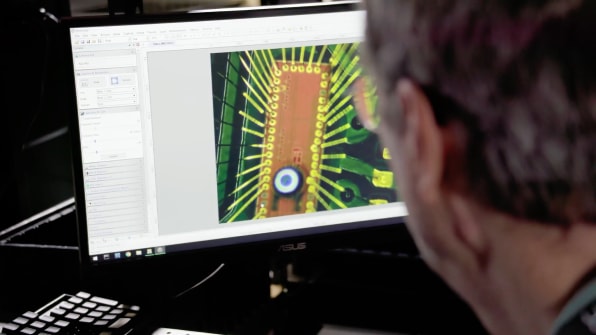 But a silicon receiver can't read Luminar's laser; it requires an exotic material called InGaAs, indium gallium arsenide. "Previously it cost us thousands of dollars to produce that receiver," says Russell. "Now we've gotten it down to just $3." In a magnified photo of the receiver, the pricey InGaAs portion is a blue dot mounted on a chip about the size of a grain of rice.
Luminar provides sensors to Toyota Research, and Russell claims to have multiyear deals with three other companies "of similar stature." By the end of the year, it aims to produce 5,000 units per quarter at its Florida factory. Velodyne plans to make about a million sensors per year in a fully robotic California facility.