If a health clinic in rural Rwanda needs blood for an emergency transfusion, doctors can text or call a distribution center, and around half an hour later a drone will show up with plasma and platelets. The system, which is the first of its kind in the world, has been in place for the last 18 months. This year, the startup behind it, Zipline, will likely begin testing its drones in the United States.
In the coming weeks, the FAA is expected to approve several drone pilot projects run by state and local governments, which will take drones a step closer to mainstream use. As states partner with companies like Zipline, they'll gather data on a variety of types of flight that are currently only allowed under special waivers, that allow for drone flights that violate current rules, like that a drone can't fly beyond a pilot's line of sight or be flown over people.
Medical delivery drones could be particularly helpful in rural America, where dozens of hospitals have closed since 2010 and hundreds of others are at risk of closing. Nearly half of rural providers already have a negative operating margin. As rural residents–who tend to be sicker than the rest of the country–have to rely on the smaller clinics that remain, drones could ensure that those clinics have access to necessary supplies. Blood products spoil quickly, and outside major hospitals, it's common not to have the right blood on hand for a procedure. Using the drones would be faster, cheaper, and more reliable than delivering the supplies in a van or car.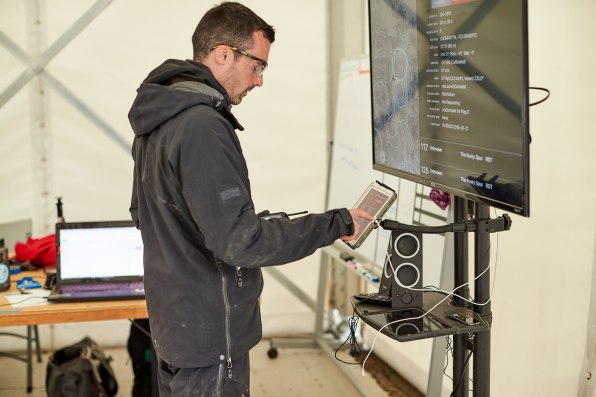 "There's a lot that [the U.S.] can be doing better," says Keller Rinaudo, CEO of Zipline. "And that's what we think is ultimately the promise of future logistics and automated logistics. It's not delivering tennis shoes or pizza to someone's backyard. It's providing universal access to healthcare when people need it the most."
Because the company now has fairly significant experience in Rwanda–flying nearly 200,000 miles and delivering 7,000 units of blood to date–it can use that data to help make the case to U.S. regulators that similar flights in the U.S. will be safe. "The challenge is that there's a chicken and egg problem where the FAA has been saying for years, 'Hey, we want to give permission to fly autonomous vehicles in the U.S., but we need thousands of hours of safe flight data showing that it can be done safely,'" says Rinaudo. "The industry has been saying, 'We want to give you thousands of hours of safe flight data, but we need permission to fly first.'" Zipline was early to market with a viable product, and able to convince Rwandan regulators to pioneer it, so it now has enough experience to make a strong case to the FAA.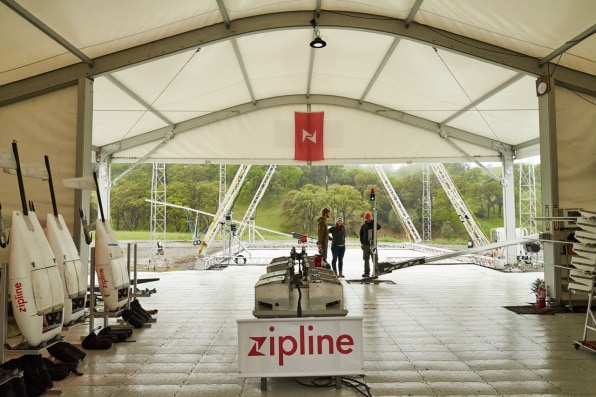 The company recently redesigned its entire system to make it faster and able to serve more people each day, which will be critical in the U.S., where the population is nearly 30 times greater than Rwanda. "In larger countries, you're going to need distribution centers and logistics systems that are capable of doing millions of deliveries a day rather than hundreds or thousands," he says.
The redesigned drone, a small fixed-wing plane called the Zip, can now fly at top speeds of 128 kilometers an hour, four times faster than the average quadcopter drone. A redesigned launch system can now send out a delivery within a minute of receiving a request, versus the 10 minutes it previously took. A single distribution center can now make 500 flights in a day rather than 50, serving 10 million people. The planes will soon begin delivering vaccines and other medical supplies in addition to blood.
If the FAA approves pending proposals as expected, Zipline will begin working with a small group of states to lay out safety plans, and then begin flying by the end of the year. The FAA pilot program will last three years, though a company like Zipline could potentially get approval to begin larger-scale commercial operations well before the pilot ends.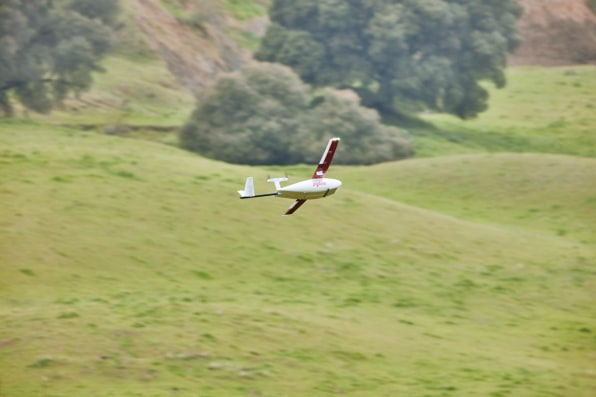 Just as it might have been unexpected that Rwanda was first to launch a nationwide drone delivery program, some of the state partners are also unexpected, Rinaudo says, rather than those most known as technology hubs now. The company can't name all of the states involved in advance of the coming FAA announcement, though one is Nevada, which already has an established history of testing drones (Creech Air Force Base, where military drones are controlled, is also in the state).
"This is where we want a new part of the Nevada economy to go, where we want to put focus in, and create a new workforce of jobs and an entirely new industry in Nevada," says Brett Kanda, director of business development at the Nevada Insitute for Autonomous Systems, a nonprofit that works on behalf of the Governor's Office of Economic Development. The state will work with several other drone delivery companies and isn't focused only on medical delivery.
Zipline also recognizes that its own systems could be used for other types of deliveries, though it has no plans to shift away from healthcare. "In the long run, we're building fundamental infrastructure, and so it really wouldn't make sense to build infrastructure and say we're only going allow cars of this color to drive on the road," says Rinaudo. "But that said, healthcare logistics is a way bigger market and a way bigger problem than most people realize. Globally it's a $70 billion industry. The reality is that there are billions of people who do not have reliable access to healthcare and a big part of that is logistics. As a result of that, 5.2 million kids die every year due to lack of access to basic medical products. So Zipline's not in a rush to bite off a bigger problem than that."
He expects to steadily scale up in the U.S., similar to what happened in Rwanda. "When we launched in Rwanda we served just one hospital for three months and that was so powerful–doctors loved the service, it was obviously saving lives–we then expanded to two more hospitals and then two more and two more," he says. "This is how all technology can and should start. I think it will just be a steady scaling up of impact."