For World Wrestling Entertainment, being one of the most popular and lucrative entertainment sports companies in the U.S. isn't enough. The WWE has made inroads abroad mainly through distribution deals, but there are larger plans on the horizon to truly live up to that first "W" in its name.
In 2017, the WWE posted $801 million in revenue, the highest in the company's history. Video views across digital rose 32% to 20 billion, helping WWE maintain its perch as the second-most viewed YouTube channel (the first being Indian music company T-Series). And, according to the market researcher NPD Group, WWE beat out Star Wars and Marvel for the top-selling action figure property in the U.S. last year.
Attempts at replicating that level of success internationally have been in the works with WWE shows and the company's streaming platform WWE Network available in more than 180 countries. But there's still considerable ground to cover before WWE becomes the global powerhouse it wants to be.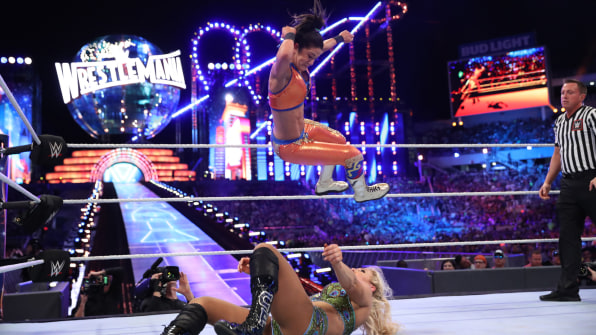 WWE has built its ravenous fanbase by accurately predicting where audiences will devote their attention. When WWE CEO Vince McMahon bought the Capitol Wrestling Corporation from his dad in 1982, he had the vision of making what was once a regional outfit into something much bigger. McMahon turned wrestling into a cultural force in the 80s and 90s by becoming one of the pioneers of pay-per-view. That massive success only snowballed into ratings magnets like Raw and SmackDown, as well as the WWE Network. Launched in 2014, WWE Network was one one of the first OTT platforms from a major network and has grown from 816,000 paid subscribers to 1.4 million.
But, as WWE co-president George Barrios says, there are limits to the WWE Network's current potential for global domination: "It's only in English. By design, it's a U.S. product that we made available through the beauty of IPTV. But we know that if we localize the network we can drive another layer of growth."
Of WWE Network's 1.4 million paid subscribers, around 1 million are in the U.S. However, when it comes to total video consumption–including across WWE's YouTube channel–around 70% of that comes from overseas. The math proves there's demand, and WWE's vision is to supplement dubbed or captioned versions of its U.S. shows with more localized content.
"When we launched [WWE Network], it was a huge risk for us. So we had to manage how much we were going to invest," Barrios says. "We knew that there were a lot of folks outside the U.S. who would still subscribe even though it's a U.S. product. We've got about 400,000 subscribers outside the U.S. even though it's a U.S. product. It's this decision around managing priorities and investment. We're going to localize–it's just a matter of when."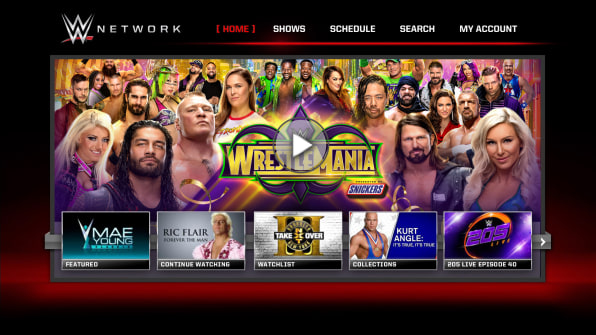 That said, WWE isn't solely relying on upping its presence abroad through digital and distribution deals. Since live events are at the core of its business, bringing WWE events to new audiences IRL has become a key factor in its global growth strategy.
WWE recently announced one of its keystone events, Royal Rumble, is coming to Saudi Arabia for the first time in April. Also, NXT, WWE's brand for up-and-coming talent, is heading to the U.K., Belgium, and France this summer. To that end, an important element to expanding internationally is making sure the wrestlers in ring reflect the people in the crowd.
There's been no shortage of wrestlers with ethnically diverse (and highly problematic) personas. In wrestling's earlier days, those personas were broadly drawn caricatures that are now considered unquestionably racist. Muhammad Hassan (portrayed by American Marc Copani) was a terrorist. The Mexicools rode into the arena on a lawnmower waving the Mexican flag. Kamala (portrayed by American James Harris) was a loincloth-wearing headhunter from Uganda.
WWE has gone the more subtle route as of late with wrestlers like Bin Wang, WWE's first signed talent from China. He does not parade in stereotypical costumes, nor has his character been created around hackneyed racial perceptions. Wrestlers like Bin Wang train at the WWE Performance Center in Orlando in the hopes of becoming a full-fledged WWE Superstar. Barrios says talent recruitment is one thing, but a long-term goal is to set up similar facilities worldwide.
"Localization isn't just voicing over or subtitling content around the world. Our storytelling over the decades, it's become more nuanced. Maybe 30 years ago, not a lot of nuance. As the percentage of international talent in that pipeline gets bigger and bigger, I think [having more nuanced talent becomes] organic," Barrios says. "When you infuse that many cultures from around the world, I really do believe it'll happen naturally. It will be less about us having to write it. The characters and the personalities evolve onto themselves."
In Barrios' opinion, WWE becoming even more of a global powerhouse is really a matter of time. For example, WWE has had a presence in India and China for 25 and 10 years, respectively. Even though those countries may not see as many live events as the WWE holds in the U.S., being visible in those markets is important to WWE's strategy for global dominance. And Barrios says user data from WWE Network, along with social analytics, have become a guidepost of sorts in knowing which market is ripe to tap into. It's actually what helped plan NXT's European tour after the countries where people were watching that content the most on WWE Network were pinpointed.
It's a long game that Barrios and his team are willing to play because as they see it, wrestling is a sport that's as universal as they come.
"In Joseph Campbell's Monomyth's The Hero's Journey, he said if you look across cultures and across time, whether it was the Iliad, all the way to Star Wars, it's the same story. It's the hero's journey. [At WWE] it's John Cena going through the hero's journey," Barrios says. "The second thing is the ring. Our context is a sporting environment. But it's the one that is understood across cultures and across time. So whether it's the ancient Greeks or a Bangladeshi village today, everybody in the world knows what a ring is. So the secret is we're telling a universal story in a universal context."