Extra! Extra! Have you heard the news? Actress and soon-to-be-Royal Family in-law Meghan Markle has … a gray hair. Marie Claire noticed this and thought it worthy to write about.
The fashion magazine tweeted "Meghan Markle Has A Single Gray Hair," and included a zoomed-in close up with a fluorescent square, which pointed out the strand in case anyone missed it. And, unsurprisingly, people online were taken aback by such a non-story.
Marie Claire has since deleted the tweet; the story remains up, albeit without the close-up shot.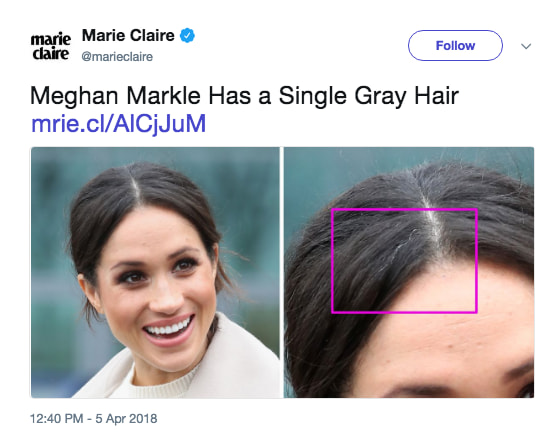 The article, it must be said, is very sympathetic toward Markle's lone gray hair. It deemed the head protrusion "glorious because, same." Whatever that means!
Here are a few of the responses to the initial tweet.
Whoever pitched this "story" needs to never pitch another story again.

— Taylor Bishop (@Taylor_FOX21) April 5, 2018
delete your account

— luscas (@luscas) April 5, 2018
r u ok

— marisa kabas (@MarisaKabas) April 5, 2018
It's true that Markle's hair has made headlines before, but not because of a cosmetic difference that could only be noticed by squinting just so. Critics on Twitter are clearly wondering why a beloved fashion magazine would dedicate an entire article to one single un-dyed hair. And, same.