Jennifer Rozbruch clearly recalls when her grandmother began to lose her memory to dementia. It was 2013, and Rozbruch was completing her masters in design at the School of Visual Arts in New York City, and her mother was primarily caring for her grandmother. "My mom was able to connect with her in ways that other people couldn't through music from her youth, telling stories from her early life, and looking through photos with her," Rozbruch says. "I saw how much her mood and her manner changed when she was engaged in this way. She went from barely communicating and having no short-term memory to being able to sing the rest of a song's lyrics on her own."
For her SVA thesis, Rozbruch decided to translate her mother's breakthrough into design. Her iPad app, GreyMatters, arranges significant music, photos, and stories from throughout someone's life in a user-friendly storybook format. It's the winner of the apps category of Fast Company's 2018 World Changing Ideas Awards.
In the app, a family member can upload photos, music, and memories specific to a loved one suffering from Alzheimer's or dementia, and also lets them access pre-loaded pop culture content from past decades–like Duke Ellington music or Katharine Hepburn film clips–to situate them in a familiar context.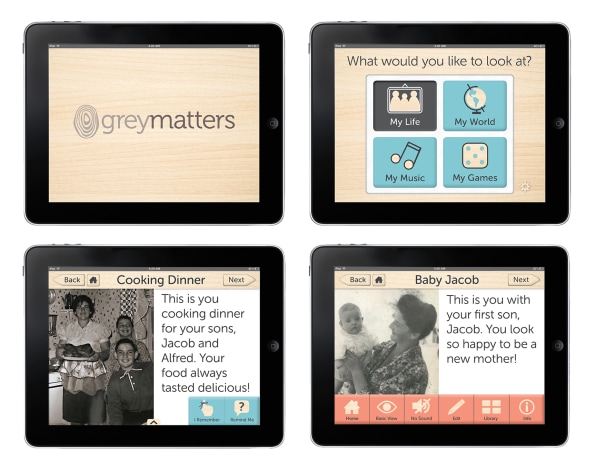 The curated GreyMatters timelines help people with dementia to access memories, but they also provide caregivers with a way to structure their interactions that alleviates some of the stress of not knowing what to do or what to say in the moment.
The app has had 8,000 downloads since it debuted, and is about to get a significant update. While up until now, all the content on GreyMatters had to be uploaded and organized through a single iPad, she's introducing a family-sharing feature that will allow any family member to add content to timelines, and interact with each other via the app. If a brother and sister are in different cities, for instance, both will be able to contribute to their parents' timeline. "People have been using photo albums and scrapbooks for a long time," Rozbruch says. "This streamlines everything, and makes it easier for people to tap into memories with their loved ones."