The joke didn't even make sense.
Over April Fools' weekend, Warby Parker tried to get a few cheap laughs by announcing a fake partnership with the fast-food chain Arby's that would be called–you guessed it–WArby's. The love child of this unholy marriage would be the Onion Ring Monocle, "the crispy, yet corrective, product at the intersection of food and fashion."
Warby Parker launched the joke with a video designed to look like a clip from the evening news, featuring founders Neil Blumenthal and Dave Gilboa. "We're Warby, they're Arby's," Blumenthal says, bringing his two hands together. "WArby's."
The motto for this campaign was "A partnership no one thought possible or necessary." It's hard to disagree.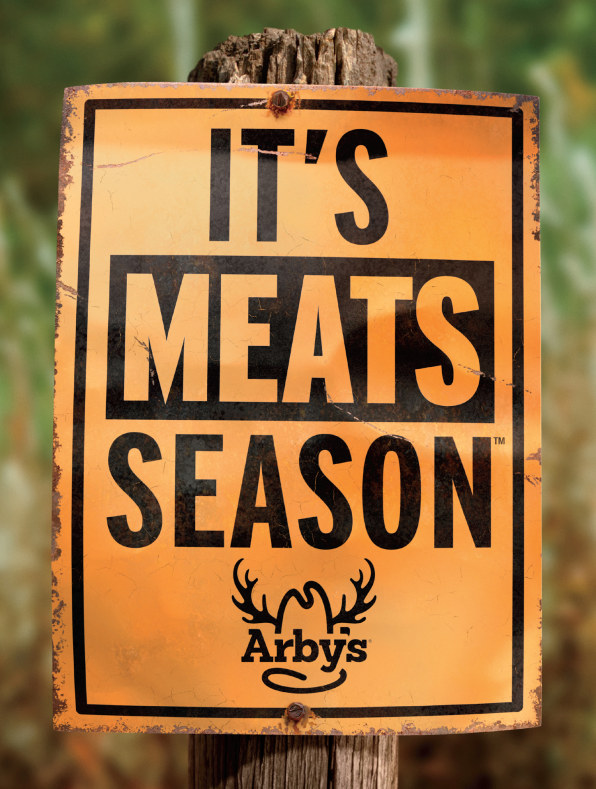 Warby launched in 2010 with the goal of disrupting the eyewear industry by selling inexpensive frames online, allowing consumers to bypass the optician. But part of what made it so popular was its branding, which embraced literature and art in a way that was perfectly calibrated to appeal to urban millennials. Meanwhile, 53-year-old Arby's goes out of its way to target people in red states. The fast food chain tells Fast Company that it is very popular among the 20 million Americans who hunt recreationally, which is why in September 2016, it launched a series of hunting-inspired ads and a venison burger.
The two brands, which stand for totally different values, clearly pumped money into this joint project. They created  limited-edition apparel, like shirts, totes, and hats, that featured the brands' joint logo which were sold at the Warby Parker New York store, Arby's on 23rd Street, and a microsite. There was also a food truck that gave away Onion Ring Monocles among other co-branded food products. The companies said they would make a special donations to Visionspring and No Kid Hungry to celebrate the partnership.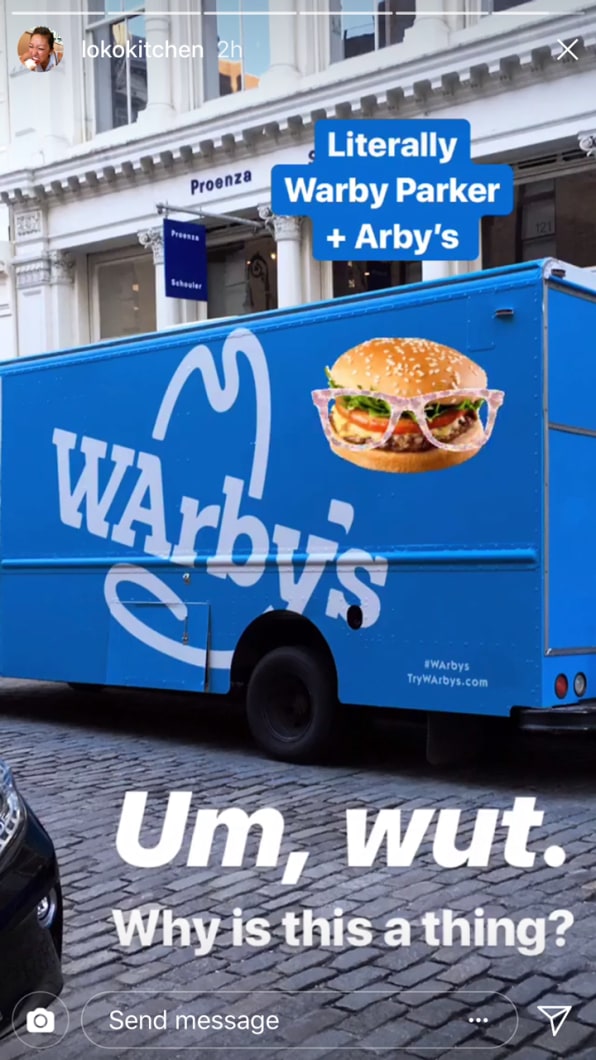 Warby Parker's PR firm also emailed the media last week, prompting a collective cringe among journalists at the Fast Company offices. But we weren't the only ones who didn't think the joke worked. There was little social media pick up about #WArbys, and among those who bothered posting, many focused on what a monumentally dumb idea it was.  
It's worth asking whether this is the final nail in the coffin of Warby Parker's cool.
Literary References, Hip Alliances
The company's name, Warby Parker, was derived from two characters in Jack Kerouac's journal, and stores were designed to look like libraries. The brand has collaborated with some of the best designers of our time, including Virgil Abloh, Louis Vuitton's newest menswear designer, and Maiyet, a luxury brand that highlights artisanal craftsmanship.
Back in 2015, Warby Parker's former director of creative services, Sasha Tulchin, explained to Fast Company that a great deal of thought and care had been poured into the brand's identity. "A lot of subtleties go into a brand," she said. "The Warby Parker voice is witty, intelligent, informative, playful, delightful. We are not trite, pretentious, sarcastic, long-winded … Every time we create a piece of copy, every time we create something new for marketing—every time it's either in our office or externally projected—we do it with these filters."
Today I received an email announcement from @WarbyParker that I thought had to be from The Onion. Such a monumentally bad idea in this moment. Please tell me it's an April Fool's joke accidentally sent early. Either way: not funny. #warbyparker #arbys #BoycottIngrahamAdverts https://t.co/fawerr2tUh

— christina ????⛑????❄️ ???????? ⚾️ (@norlaskan) March 31, 2018
So it seems bizarre that the brand would obliterate years of careful brand building with a cheap joke that hinged entirely on the fact that two companies have similar names. In terms of brand identity, Arby's doesn't share much with Warby Parker. The fast-food giant's ads are designed to be direct and product focused. If Warby Parker aspires to personify a clever guest at a dinner party, Arby's is more interested in being the jovial dad who invites his buddies over for the football game.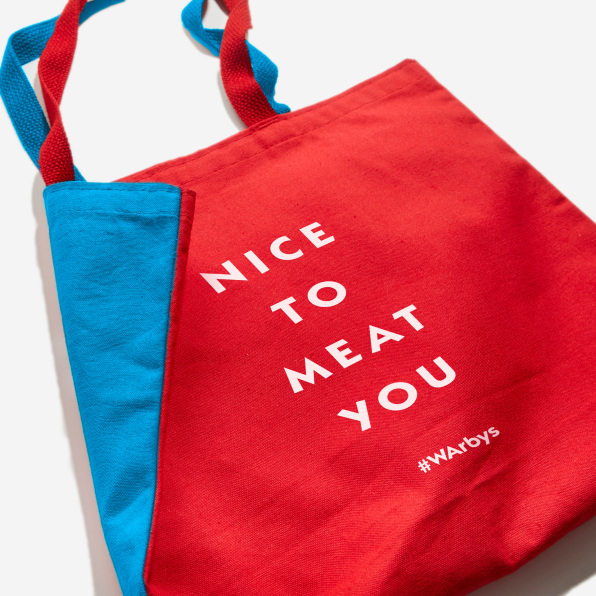 It's possible that the stunt was a misguided effort to appeal to a wider audience. According to The Information's analysis of public filings, Warby Parker generated revenues in the range of $320 million to $340 million last year. The publication argues that this is significantly lower than the amount necessary to support its valuation of $1.75 billion and that Warby Parker may be feeling the weight of pressure from investors like T.Rowe Price and Baillie Gifford, which have poured millions into the company.
But an ill-conceived joke like this one will only alienate Warby Parker's existing fans, and it isn't likely to win over the Arby's crowd. For a brand under pressure to rake in massive amounts of revenue, dad jokes are probably not the best approach.
Update: An earlier version of the story said there were pop-ups for this April Fools activation. That was incorrect: Existing Warby and Arby's stores were outfitted to celebrate this event.