Facebook sees virtual reality as very much a social experience, an extension of people's normal social-networking activity. That's why it has put a lot of effort into developing Spaces, its social VR system that allows multiple users to get together virtually to play games, talk, look at photos or videos, make art, and more.
One of the things that will help people feel comfortable in Spaces, the company believes, is having avatars they feel truly represent them. In the first iteration of these avatars, they could be made to resemble users, but still maintained a rough, cartoony look. But over the last year or so, Facebook has been improving the technology that underpins its avatars to make the digital personas feel much more personal. Today, it is unveiling an entirely revamped customizable avatar system, built from the ground up with help from experts in film animation, game character design, math, and graphics.
"In VR, when you're with someone else, it's magic," says Mike Booth, Facebook's creative director for social VR. "You feel like you're really there. And we wanted to push on that feeling of being with someone you care about, laugh with, and can look in the eye."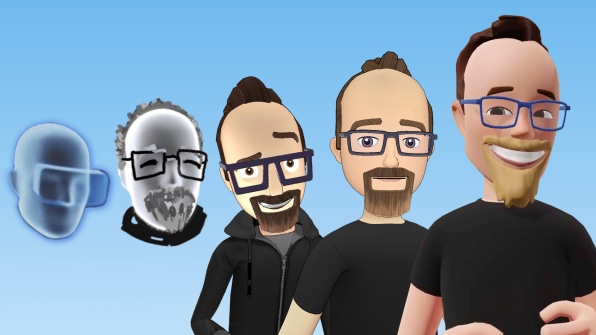 With Facebook's first Spaces avatars–which were driven manually by arm gestures or thumbstick controls–there were limited choices for how to customize them, especially when it came to hair color and eye shape. Booth's team also felt like the avatars' movements weren't lifelike enough.
The new avatar tool adds hundreds of options for customizing an avatar's appearance, including a wide range of new head shapes, hairstyles, and facial features. And for the first time in Spaces, users will also be able to modify their avatar's body type. Further, the avatar system has been re-tooled so that body movements appear more lifelike. Finally, the Spaces team incorporated some machine learning techniques that will offer users better avatar suggestions at the beginning of the process.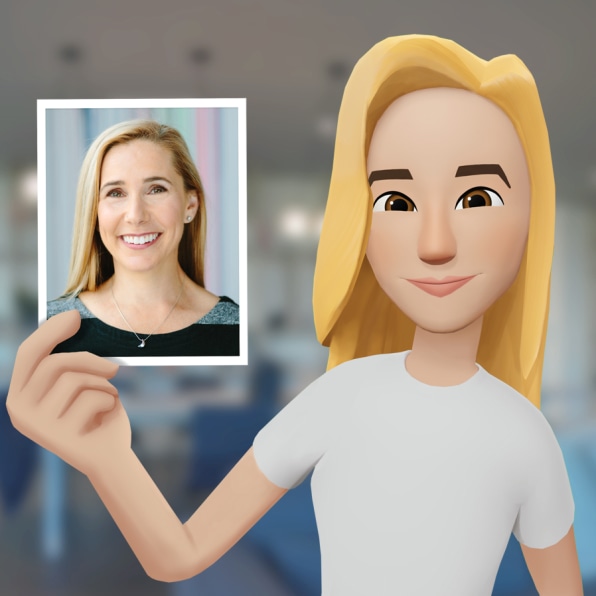 Customizable Faces
In the first version of Spaces avatars, the position and size of everyone's eyes, nose, and mouth was the same for everyone. All of that is now addressable, explains Booth—including the shape of the head.
Another new element is the way avatars' faces will emote when a user smiles or frowns. For example, an avatar's cheeks will redden a tad if you frown.
Spaces isn't yet anywhere close to offering photo-realistic avatars, but one of the main goals of the new system was to let users easily generate representations of themselves that they and their friends would recognize and relate to. As before, it suggests one of five photos of you from those on Facebook in which you're tagged, and then it uses the one you pick as a starting point. Unlike before, though, the system now utilizes tools that you might see in a Pixar film, things like sub-surface scattering, or subtle lighting, that can help make the avatar look more personal, Booth says.
Yet while there's more realism than before, he adds, that's not actually the goal. Instead, it's that the avatars appear to have more richness, quality, and expressivity.
According to Erich Owens, the engineering manager for Facebook social VR, the avatar system now features a number of new underlying technical improvements. Among them is a new approach to how to build an avatar skeleton that features rigging, joints, and inverse kinematics—all for more realistic body movements.
The avatars are also "super customizable," Owens says, which means users have the ability to modify the eyes, nose, and jaws.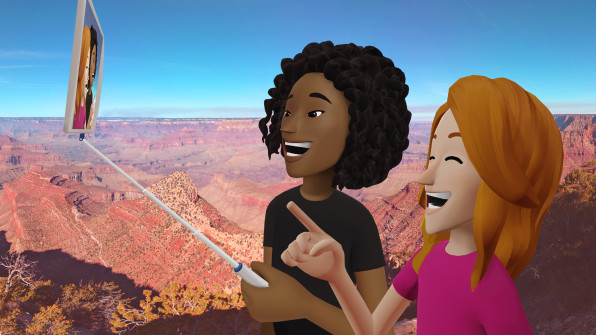 Lindsey Olivares, the art director for social VR, says one of the goals with the new avatars was to give users a toolbox, like the one that animators at Dreamworks, where she had worked, used to design characters.
The social VR team also implemented artificial intelligence and machine learning techniques, Owens says, which aid in customization and can lead to the avatars reflecting a user's eye color, hair shape and texture, and even how thick his or her lips are.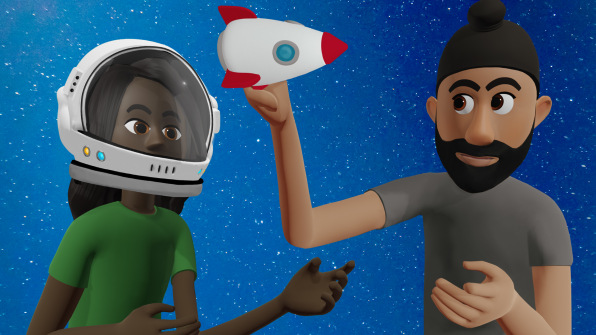 As Facebook seeks to inspire more people to use Spaces, upgrades to make its avatars more approachable and representative are a good step. Taken alone, though, they likely won't make a huge difference. That's going to take people understanding why they should spend time with friends in virtual reality, and a whole lot of education on how to use it. Only time will tell if such efforts will be successful.