There's a scene in the Cartoon Network's new show Craig of the Creek that its creators Matt Burnett and Ben Levin say has had meaningful impact for certain viewers: the 10-year-old titular character running home to have dinner with his siblings and parents.
What is a perfectly normal moment for any character in a show carries added resonance in Craig of the Creek, given the fact that Craig and his family are black.
Craig of the Creek follows Craig and his best friends Kelsey and J.P. as they go on a series of misadventures around their neighborhood's creek. For adults, the show is a love letter to the carefree days of youth when a vibrant imagination and the outdoors were all that were needed for a solid afternoon. On the surface, Craig of the Creek is another well-executed gem from Cartoon Network's slate of shows that treat animation more as a medium for storytelling, rather than a one-dimensional genre. However, what makes Burnett and Levin's creation even more special is their attention to inclusion and positive representation of minorities.
"We've seen a lot of positive reactions to [the show], especially moments like in the credit sequence where we see Craig just having dinner with his family," Levin says. "People have pointed that out, like, 'this is so refreshing to see on television.' We're looking to show those little moments. They're not big political statements, but they can mean so much to people."
Film and TV have seen incremental gains in having more women and minorities. But a subsection of those statistics to consider is how many are leading roles, and how are these characters represented? There have been a number of black cartoon characters in kids' shows, but so often they're relegated to the role of a sidekick, e.g. Susie Carmichael on Rugrats, Libby Folfax on The Adventures of Jimmy Neutron, or Gerald Johanssen on Hey Arnold! Having shows with black lead characters that don't feed into harmful stereotypes do exist (The Proud Family, Static Shock, Doc McStuffins), but they're certainly not as common.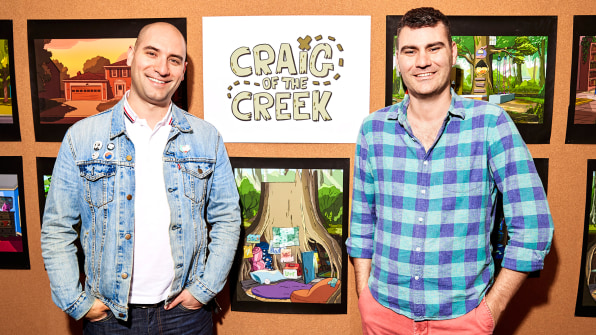 "It's great to see people really enjoy seeing themselves in a space where there's not a lot of opportunities for it," Levin says. "And it inspires us as we're making this show to include those little moments about being a black kid or being in a black family."
It's not just Craig and his family who are represented, the show is also mindful of having diverse background characters (there's a girl in one episode wearing a hijab), as well as portraying girls who are just as rough-and-tumble as the boys. Burnett and Levin are no strangers to creating characters and storylines that exist on a broader spectrum of inclusion, having been writers on Cartoon Network's Steven Universe, a show that's widely praised for its LGBTQ-friendly subtext.
"We saw first-hand [working on Steven Universe] how much representation mattered to people and how important it is for people to feel seen. And so when we had the opportunity to create a show, we wanted to make something fun that the kids would love but would also have a positive impact," Levin says. "In animation, you're creating the world from the ground up. So every character is a decision in its own way. So as we've gone through the show, we talk about ways that we can provide representation as we create characters."
That representation in the show is reflected in Burnett and Levin's team that includes black storyboard artists and writers who serve as consultants of sorts to make sure Craig of the Creek strikes the right chords.
"We worked hard to put together the team that would help shape the show, a very diverse group of voices to add something that we needed that we couldn't do on our own," Burnett says. "That was always our goal when we decided to create the show, to work with a huge range of people and get their voices heard on TV."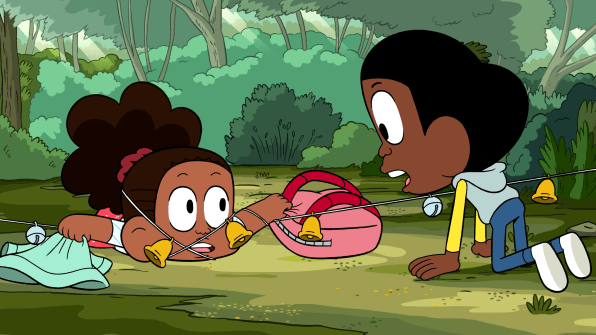 For example, storyboard artist Tiffany Ford and writer Jeff Trammell basically developed Craig's father as a composite of their own fathers, corny dad jokes and all. And Lamar Abrams, who worked with Burnett and Levin on Steven Universe, was brought on to help create Craig's grandmother, an activist who loves to run, and has a penchant for wearing "incendiary sweatshirts," according to Levin.
As diverse and inclusive as Craig of the Creek is, it's, of course, not just for black audiences. Burnett and Levin wanted to create a show that's universal for kids while simultaneously shining a spotlight on an underserved community in animation.
"We made this show because we really wanted to connect to something that every kid experiences, but we really also wanted it to feel specific in a lot of ways," Burnett says. "The world that we created is a combination of our crew's experiences, and we deliberately tried to bring in a diverse number of voices to help us build it and reflect the diversity that's in the world. It's really important to us and something that we're hoping resonates with the audience."