The New York Times just published its annual diversity report, detailing the gender and racial breakdown of its staff. It shows that female representation has increased–in both leadership and overall–over the last three years. But the company hasn't made much progress when it comes to hiring more people of color.
For instance, for both the entire company as well as the newsroom, the share of people of color in leadership saw a decline from 2016 to 2017. Not only that, but on the editorial side, though the number of people of color in leadership roles rose from 2015 to 2016, that total dipped back down in 2017. This means that the number of nonwhite people in leadership roles in the newsroom has remained essentially stagnant for three years.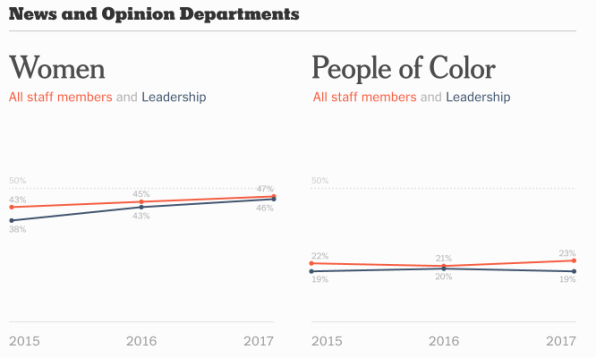 Though the newsroom overall saw better representation of people of color, the leadership dip is a concern. Readers expect leading media organizations like the New York Times to present a diversity of viewpoints–and that depends on the people at the top representing a concert of perspectives and backgrounds.
In its release, the Times admits that "improving that [people of color] trajectory is a focus for us." I sure do hope that's true.