26-year-old pop artist Hayley Kiyoko just may be the ultimate young millennial pop artist.
Musically, her influences pull from both what she calls "cheesy" mid-2000s pop–The All-American Rejects, Michelle Branch, Avril Lavigne–and classic parental fare like Elton John and Stevie Nicks. She's also part Japanese and born and raised in Los Angeles, where she developed a certain kind of laid-back confidence that comes across even in a 30-minute interview. And, as you'll see immediately upon googling her name, Kiyoko openly identifies as gay.
Her first big single, 2015's "Girls Like Girls," contains the memorable line: "Girls like girls like boys do, nothing new." Though that may indeed be nothing new, Kiyoko herself brings a fresh approach to pop, one that is unafraid to take jabs at heteronormative tropes. Her debut album Expectations is no high-minded art pop. Instead, Kiyoko takes mainstream pop as it is, infusing it with sensitivity and sly asides.
On the album cover, for example, we see Kiyoko gazing upon a woman like she's a masterpiece. She's the one doing the looking, so the moment feels intimate and curious as opposed to male gaze-y. That kind of sincere moment is becoming Kiyoko's calling card. "I loved the concept of sitting there and looking at this woman and embracing her beauty. Nobody does that in that sense without oversexualizing it," Kiyoko says. "I love women, but I also respect them."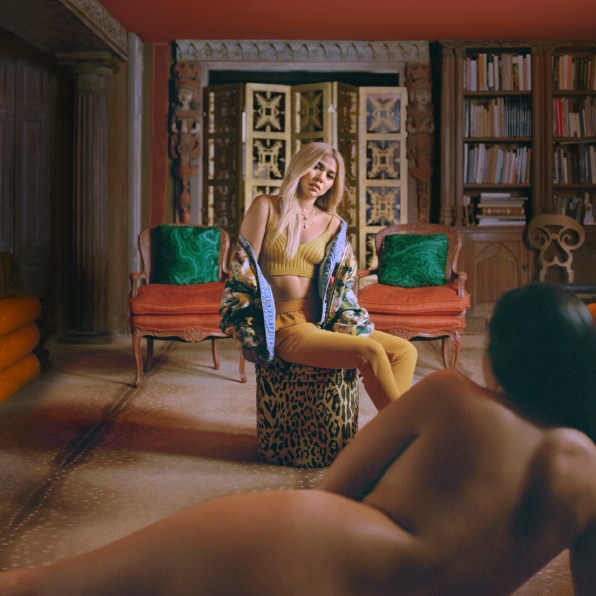 Kiyoko has been on the come up since "Girls Like Girls," but she has a (relatively) long history of singing and acting including multiple projects with Nickelodeon and Disney Channel, such as 2010's Lemonade Mouth and a guest arc on the Selena Gomez's breakout vehicle Wizards of Waverly Place. She also sang in a pop group called The Stunners nearly a decade ago alongside fellow up-and-coming R&B/pop artist Tinashe.
Since 2015, however, Kiyoko has taken on more adult projects, including a guest role in season two of HBO's Insecure. She's released two EPs, This Side of Paradise and Citrine, that served as testing ground for how she wanted to sound on Expectations. "Citrine was the first time I was really honest [in my music]. I think that opened the box," Kiyoko says. "Now, Expectations is the first time I'm writing about the present. I'm finally catching up with my life."
The aptly titled Expectations feels almost like an entry in an "expectations vs. reality" meme. There's a contrast between what's real and what's imagined–a dichotomy felt on songs like the quietly sultry "Sleepover," a rumination on the experience of having an unrequited crush on a girl who just sees her as a friend.
And like any pop artist worth her salt, visuals are at the forefront of Kiyoko's music. When she was first starting her career, she had $5,000 to either spend on a remix (the conventional route to exposure) or a music video.
"I was funding everything myself and I was unsigned. At first, I was like, what's the point of doing a music video when nobody is going to watch it?" Kiyoko says. "But I really wanted to do this music video because it was a story that was part of my life. And my manager and I decided, eff it, let's just do the video because it's gonna be good and maybe it'll be different."
The music video follows the story of two girls who turn their friendship into a romance but are then physically attacked by one of the girls' boyfriend. Luckily, it has a happy ending, and the video soon went viral because of its representation of queer relationships and violence against LGBTQ people.
"I was really nervous to put [the video] out, but then the views started climbing, " Kiyoko says. "I remember when we hit 500,000 views–I was playing for 15 people in Landing, Michigan that night." She signed with Atlantic Records four weeks later.
She's since directed each of her music videos, from "Girls Like Girls" to the recent "Curious." Along the way, she's developed an easygoing L.A.-fueled aesthetic of muted bright colors and hazy romance. She's often inspired by her favorite movie, The Place Beyond the Pines. "I love how dynamic it is and how dreamy is, but it's kind of scary? Slightly? It's got that suspense, but it's also romantic," Kiyoko says.
Her directorial eye is at its best when capturing small, meaningful moments, like in the "Curious" video, when Kiyoko passes by a girl who's been stringing her along, the sentiment coming off as both teasing and sad. "How many times have I walked by someone and they go to grab my hand while they're standing next to someone else?" Kiyoko says. "But then they're saying they don't want to be with me. I'm like, really? Can you not be rude?"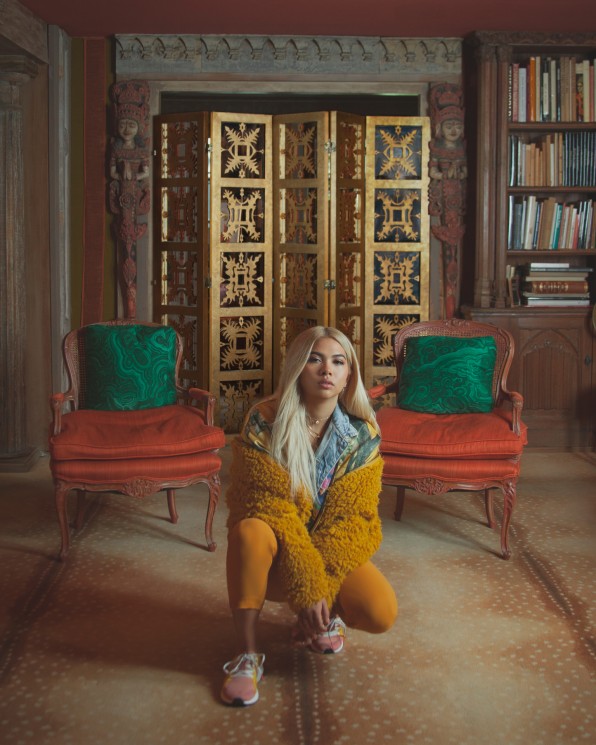 Though the media headlines often center around her sexuality, Kiyoko is cognizant about that tension queer musicians face between being an advocate and getting pigeonholed into a narrative that's just about being gay and not as much about her work.
"Going into this industry, I didn't want labels. I didn't want some of the headlines that I get," she says. "Then there was a turning point because I was like, damn, I can't be neutral because there is no one stepping up and leading the pack and being that person. There's no one who is being extremely bold with this and helping change these labels. I was like, I have to be that person because I'm in a position that I can do that."
Ultimately, though, she envisions a future where her music video drops won't be qualified by the fact that they have gay love scenes. "I think that's everyone's goal, no matter who you are, we all just want to be us. But it takes time in the world we live in," Kiyoko says. "You have to do what you have to do to open up that stereotype and just keep saying, 'This is what it can also be. This is what it can also be.'"
Kiyoko adds,"Hopefully by my second album, we're gonna be having a totally different conversation."
Kiyoko's debut album Expectations is out Friday, March 30.