It's no secret: President Trump doesn't care for Amazon very much. While most everyone in the world is focused on Facebook and its alleged data malpractice, Trump seems instead to be focusing on Jeff Bezos and his e-commerce empire.
A new report from Axios cites an anonymous source who has seen Trump wonder aloud if the government could "go after Amazon with antitrust or competition law." Those close to the president have reportedly told him that the company is hurting brick-and-mortar retail, as well as destroying other businesses. And he surely agrees. Since becoming president, Trump has taken to Twitter numerous time to voice his displeasure with Amazon and Jeff Bezos:
Is Fake News Washington Post being used as a lobbyist weapon against Congress to keep Politicians from looking into Amazon no-tax monopoly?

— Donald J. Trump (@realDonaldTrump) July 25, 2017
Amazon is doing great damage to tax paying retailers. Towns, cities and states throughout the U.S. are being hurt – many jobs being lost!

— Donald J. Trump (@realDonaldTrump) August 16, 2017
Since news hit this morning that Trump has been actively looking for ways to go after Amazon, the company's stock dropped. It's currently down nearly 5%–one of the biggest drops it's seen in over a month.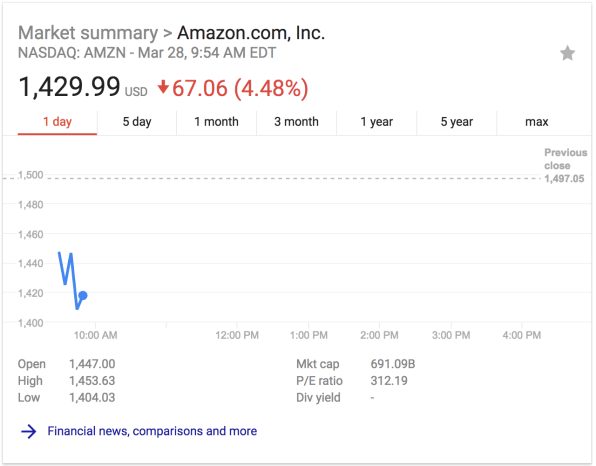 We'll have to see if Trump tweets about Amazon soon–and what effect that will have.