Grindr is now offering users a chance to get notifications reminding them every three to six months to get tested for HIV. The hookup app, which is primarily used by men who have sex with men, will also direct users who opt into the feature toward nearby clinics, which Grindr is inviting to advertise on the platform for free.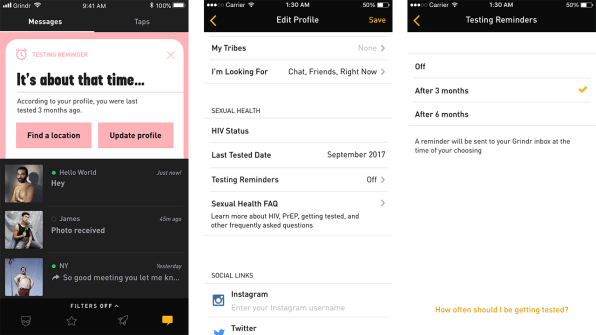 The move is aimed at addressing a major public health concern: One expert told the New York Times, which reported yesterday on the new Grindr feature, that an estimated 107,000 gay and bisexual men in the U.S. aren't aware they are HIV+. Grindr hopes its friendly, pink-tinted notifications will destigmatize the testing experience and encourage more users to know their status.
Jack Harrison-Quintana, the director of Grindr for Equality, the company's social impact arm, tells the Times that Grindr doesn't plan to sue competing hookup apps that may choose to roll out similar features of their own. But Sean Howell, founder of the gay social app Hornet, points out to Fast Company that his platform got there first: In early 2012, Hornet invited users to voluntarily disclose their HIV status (Grindr added a similar option roughly a year ago), which prompted reminders to get tested again when it's time for a check-up.