Atlanta city computers, including some used by the public to pay city bills and access court information online, have been struck by ransomware, the Associated Press reports. Mayor Keisha Lance Bottoms has advised the public and city workers to monitor their bank accounts, as the city works with the FBI and Department of Homeland Security, as well as Microsoft and Cisco, to investigate the attack.
At a press conference, Bottoms said she wasn't sure if sensitive data had been impacted, but "because we don't know I think that it would be appropriate for the public just to be vigilant in checking their account and making sure your credit agencies also have been notified."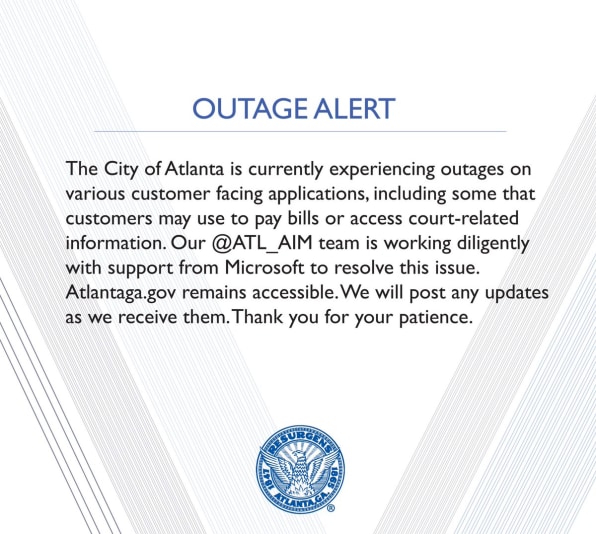 At least some data has been encrypted by the attack, but the city's public safety department, water department and Hartsfield-Jackson Atlanta International Airport, among the world's busiest, aren't affected, officials have said.
Mayor @KeishaBottoms holds a press conference regarding the security breach. https://t.co/h1WlcyUc6x

— City of Atlanta, GA (@Cityofatlanta) March 22, 2018
WXIA, the city's NBC affiliate, reported a screenshot indicated the ransomware demanding $6,800 in bitcoin per computer, or $51,000 to "unlock the entire system."
It's far from the first time ransomware has struck government computers: Last year's WannaCry outbreak, now attributed to North Korea, famously impacted hospitals and government systems around the globe, and numerous smaller-scale attacks have impacted local governments, police departments, and other agencies.
Security experts have worried that the U.S. government is unprepared for a range of other foreign-state cyberattacks too. Earlier this month, the FBI and Dept. of Homeland Security officially named Russia as the perpetrator of ongoing attempts to penetrate and tamper with the country's nuclear, water, and other critical systems.