John R. Bolton, the hard-line former U.S. ambassador to the United Nations who President Trump has tapped to be his national security adviser, shares a couple of controversial connections with his new boss.
In 2014, Bolton's super PAC became one of the first groups to hire Cambridge Analytica to work on Republican elections, and since then has paid the embattled data company more than $1.1 million for "research" and "survey research," according to campaign filings.
More specifically, a copy of the contract obtained by The New York Times describes Cambridge's services to be "behavioral microtargeting with psychographic messaging." The data, said Christopher Wylie, the ex-employee who has become a source for recent reporting on Cambridge, said the PAC knew that the data and models were derived from Facebook.
One ad produced by the firm for the 2014 campaign of Thom Tillis, the Republican senator from North Carolina, was "aimed at people who scored high for conscientiousness, and were thought to respect hard work and experience," said The Times.
The controversial firm—at the center of a growing scandal over a mountain of harvested Facebook data and boasts of playing dirty tricks in elections around the world—counts right-wing mega donor Robert Mercer as its main backer and received $5.6 million from the Trump campaign in 2016. Mercer, who was also Trump's largest patron, has donated $5 million to Bolton's super PAC.
Carrie Levine at The Center for Public Integrity described the super PAC's spending, citing campaign finance filings,
So far during the 2018 election season, Bolton has announced his super PAC will spend $1 million boosting Republican Senate candidate Kevin Nicholson in Wisconsin. Nicholson is challenging incumbent Sen. Tammy Baldwin, a Democrat.

Bolton's super PAC spent roughly $2.5 million during the 2016 election cycle to support the bids of Republican U.S. Senate candidates, according to Federal Election Commission filings. The press release announcing support for Nicholson said that "Ambassador Bolton looks to increase those contributions for the 2018 midterm elections."
In a statement, a spokesperson for Bolton's Super PAC told Fast Company, "With respect to any allegations of impropriety, the John Bolton Super PAC was completely unaware of anything Cambridge Analytica did until recent press reports. Furthermore, the John Bolton Super PAC hasn't worked with Cambridge Analytica on any independent-expenditure effort since 2016."
The new national security adviser also isn't the only Trump official with ties to the Mercers. Aside from Jared Kushner, who helped oversee some of Cambridge Analytica's work on the 2016 digital campaign, the list of Mercer ties includes, the Center notes, counselor to the president Kellyanne Conway, White House Director of Legislative Affairs Marc Short, and Nick Ayers, the vice president's chief of staff.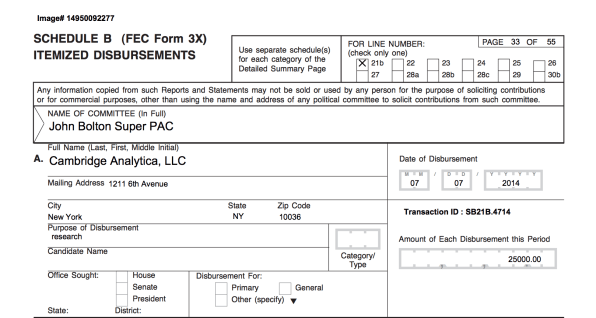 And, former Trump adviser Steve Bannon—an ex-beneficiary of Mercer's largesse—was a vice president, board member, and investor at Cambridge Analytica until he became chief executive of the Trump campaign in the summer of 2016.
Cambridge was established with Mercer money in 2013 as a spin-off of SCL Elections, a U.K. firm, in order to work on behalf of conservative candidates in the U.S. At the Financial Times Future Of News conference today, Bannon claimed that he "didn't know" about the Facebook data mining operation.
Amid the growing scandal, Cambridge's CEO was suspended by its board of directors on Monday. The company has denied any wrongdoing and contrary to claims, insists that it had deleted the harvested Facebook data that it paid a researcher to collect in 2014.
Bolton will replace Lt. Gen. H. R. McMaster, the Army officer President Trump picked as his national security adviser last year. Officials told the Times that McMaster's departure—which comes ahead of a meeting between Trump and North Korea's leader, Kim Jong-un—was a mutual decision and amicable. They also said it was not related to a leak on Tuesday of materials related to Trump's phone call with President Vladimir Putin of Russia, which warned Trump "DO NOT CONGRATULATE" Putin on his recent electoral victory. The effort proved futile.
This post was updated on March 24 to include new detail from The Times.