The video ends before the collision itself, but it may be still be disturbing to some:
The video includes footage from a camera facing the outside of the car, with crash victim Elaine Herzberg appearing to be obscured by darkness until just before the collision, when she's visible wheeling her bicycle across the street. Herzberg doesn't appear to see the oncoming SUV. Footage from inside the car shows its supervising driver, whose facial expressions appear to confirm that she only spotted Herzberg at the last moment. The driver appears to be looking down for much of the footage, though it's difficult to determine whether her eyes were actually averted from the road.
Tempe Police Vehicular Crimes Unit is actively investigating
the details of this incident that occurred on March 18th. We will provide updated information regarding the investigation once it is available. pic.twitter.com/2dVP72TziQ

— Tempe Police (@TempePolice) March 21, 2018
It's unclear to what extent the darkness would have impaired the vehicle's sensors. "While darkness can limit the vision of the cameras, radar functions equally well in day or night," Bloomberg reported yesterday. "Lidar actually functions better in the dark because the glare of sunshine can sometimes create interference, said Raj Rajkumar, a professor of electrical and computer engineering at Carnegie Mellon University who works on autonomous vehicles.
To Rajkumar, there's little doubt that "lidar would certainly have detected an obstacle." Any shortcoming would likely be ascribed to classification software "because it was an interesting combination of bicycle, bags and a pedestrian standing stationary on the median," he said. Had the software recognized a pedestrian standing close to the road, he added, "it would have at least slammed on the brakes."
Friends of Herzberg have had harsh words for Uber, including calling for the company to be "shut down," The Guardian reports. Herzberg had "struggled with homelessness" but was starting a new job, according to the report.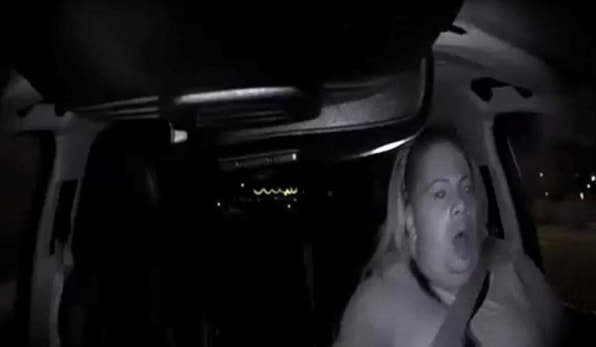 Uber responded in a statement: "The video is disturbing and heartbreaking to watch, and our thoughts continue to be with Elaine's loved ones. Our cars remain grounded, and we're assisting local, state and federal authorities in any way we can."
The Tempe Police Department and National Transportation Safety Board continue to investigate the crash, and Uber has halted its self-driving car tests for the time being.