A decade ago, facing growing complaints about the number of its cups ending up in the trash, Starbucks promised that it would make 100% of its cups reusable or recyclable by 2015. But today, most of its paper cups are still going to landfills. A second goal, to serve 25% of its drinks in reusable containers by 2015, was quietly lowered to 5% in 2011. It didn't reach even that goal: only 1.4% of drinks are served in reusable containers now. The company also uses millions of Starbucks-branded green plastic straws.
At the company's shareholder meeting today, Adrian Grenier, the actor, filmmaker, and leader of a campaign against plastic straws that successfully advocated for a straw ban in Starbucks' hometown of Seattle, is presenting a shareholder resolution asking the company to develop a more aggressive plan to meet its original goal of 100% recycling rate for its cups, and to scale up and report on a comprehensive, global sustainable packaging policy.
"I've seen firsthand the impact of plastic on our oceans," Grenier tells Fast Company. "But one of the most ubiquitous types of plastic is those green plastic straws. One thing that I've been really interested in is how you identify where plastic comes from and who's responsible, and with the plastic green straws, it's very clear. We know where those come from."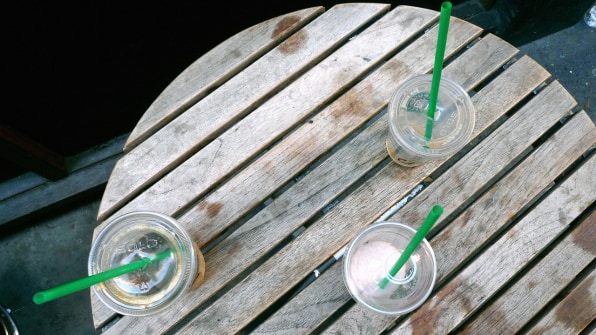 When straws are littered, or blow out of trash cans and into drains, they can become part of the 8 million tons of plastic trash flowing into oceans each year. A straw might end up skewering a penguin's stomach, or breaking up into pieces of microplastic that a fish might eat, and later, a person might consume when eating the fish. (Scientists estimate that the amount of ocean plastic will triple between 2015 and 2025.) The nonprofit behind the shareholder resolution, As You Sow, says that Starbucks uses 2 billion plastic straws each year.
Cups are an even bigger challenge. The nonprofit cites an estimate that Starbucks uses around 4 billion cups annually; a Starbucks release pegs the number even higher, at 6 billion. After setting its goal in 2008 to move to cup recycling, the company pushed to find better cup designs, but faced challenges. It does now have a paper cup that can be recycled and others that can be composted–but the bigger problem is that few cities have the right infrastructure to process either kind.
"We quickly ran into various infrastructure issues on the other side," Colleen Chapmen, Starbucks' vice president of global social impact, tells Fast Company. "You could have an extremely environmentally friendly cup, but at the end of the day, if it's not taken in by a recycling infrastructure or a composting infrastructure, you're not doing your job."
The company is also working to increase access to recycling and composting. Yesterday, it announced that it would spend $10 million to launch a challenge to develop a new cup that could either be composted or recycled, realizing that some cities will have one option and not the other. In the U.K., it's testing a charge on paper cups to nudge people to use reusable mugs. It has also offered a discount for customers who bring reusable mugs for decades. More than 60% of Starbucks locations now have in-store recycling, though much of this is for recycling its plastic cups used for cold drinks, not paper coffee cups, and many customers take their coffee and cups out of stores. The company is working on developing alternative straws, and recently started using a redesigned lid for cold brew coffee that eliminates the need for straws completely, and could be expanded to other cold drinks.
Activists argue that none of this goes far enough. The funding to support a redesigned cup, which is going to an existing organization called the Closed Loop Fund, is relatively small, and not focused on the bigger problem of infrastructure. "I'm not sure you need to look at developing dramatic materials," says Conrad Mackerron, senior vice president of As You Sow. "We've got to figure out how to really fix the recycling system or really fix the composting system from that side. That's much higher levels of investment. They need to go to their peers to get them to all give $10 or $20 million. That would move it."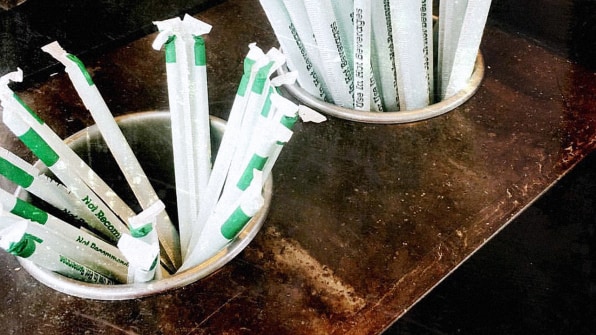 The challenge is not limited to the U.S.; according to one report, Starbucks opens a new cafe in China every 15 hours. "We're not even doing well recycling Starbucks in the United States," Jane Patton, managing director of the Plastic Pollution Coalition, told Fast Company when we spoke about a push for plastic-free aisles in supermarkets. "But they're going into countries that have waste management structure that are very dissimilar from ours, and every time they open the doors of a Starbucks, I think of it like a firehose–like they're spraying plastic into the street and into the system." The Plastic Pollution Coalition, along with other organizations, will present a petition with roughly 890,000 signatures at the meeting asking Starbucks to solve its packaging problem.
The percentage of customers choosing reusable mugs when they drink coffee inside stores could also likely increase with more effort. "They say they do it, but just walk into a Starbucks and see if they ask you for a ceramic mug–no one does that we're aware of," Mackerron says. "The staff does not like this. They consider it a hassle, they consider it annoying, slows down their morning. [Starbucks] didn't really motivate their employees to say this is important."
The problem of straws, the activists say, could be fixed more quickly than cups. In the U.K., a large chain called Costa Coffee has already committed to get rid of plastic straws. Starbucks says that when it tested paper straws in a pilot last summer, consumers didn't like them, and it needs to develop a better alternative. But paper straws do exist now.
"At a certain point, [Starbucks] is going to have to make a bold decision with some integrity and leadership, not always hiding behind the idea of immediate profit or customer experience," says Grenier. "What about 'ocean experience'? What about all the beach cleanups that we do on behalf of people that are not taking responsibility for the plastic in the ocean? What about the turtle experience? What about the customer experience when we have to eat the plastic in fish?"
Starbucks, which says that "the planet is our most important business partner," could lose its reputation as an environmental leader if it doesn't act more aggressively, Grenier says. "I think there's going to be a very strong competition for the millennial mind, people who are demanding more corporate responsibility, and I think companies are starting to respond–McDonald's, and other bigger companies are starting to lurch ahead of Starbucks and that leadership."
At a meeting at Starbucks headquarters, he says he was struck by a quote on the walls that talked about doing the right thing in the face of the masses, and sticking up for your values. "I'm just really listening to those words and doing my part to make positive change for what I care about," says Grenier.
---
Correction: This article has been updated to reflect that Mackerron would like companies to give $10-20 million to help solve waste issues.