"Tut is the king of all exhibitions," says Stephen Flint Wood, IMG's SVP of Arts and Entertainment Events. "There's always been a fascination from when the tomb was first discovered."
The entrance to King Tutankhamun's tomb was first discovered in 1922, and the pharaoh has indeed held a place in both the public imagination and popular culture ever since, appearing in everything from Tintin comics to Steve Martin's hit novelty song to Young Indiana Jones. Now comes the museum event King Tut: Treasures of the Golden Pharaoh, which debuts at the California Science Center in Los Angeles on March 24th, the first of a planned 10-city exhibition timed to the centennial of archaeologist Howard Carter's discovery.
Although Tut has made a splash with U.S. visits before, most recently in 2005 in partnership with National Geographic, this time the pharaoh of all Egyptian pharaohs (at least in the modern imagination) has a Hollywood agent. The preeminent stager of big-ticket museum exhibits, Exhibitions International, was recently acquired by IMG, the sports and entertainment agency that is a subsidiary of the Hollywood talent and media company Endeavor. That means that Tut will be an early case study in how to elevate a live museum experience the same way it has tackled fashion events such as New York Fashion Week.
IMG acquired Exhibitions International late last year from John Norman, who started the business in 1998 after being inspired by a confluence of history and Hollywood. He was in St. Petersburg, Florida when he noticed lines forming around the Florida International Museum as people waited to get into an exhibit devoted to the Titanic. The blockbuster film with Leonardo DiCaprio and Kate Winslet had just come out and the country was in a collective Titanic tizzy.
At the time, Norman was working as a concert producer, touring with stars like Janet Jackson and David Copperfield. As he watched eager fans file into the museum, he did some quick math. The exhibit had sold 850,000 tickets. At $20 apiece, that meant it had generated almost $20 million . . . from a show that didn't need to be packed up and put on the road every few days. Not to mention that museum artifacts didn't make a fuss about the quality of the catering or whether they'd gotten enough sleep.
Then and there, Norman made a career pivot and partnered with the museum to take Titanic on a multiple-city tour. He also started Exhibitions International, which turned museum exhibitions into blockbuster events, with as much care put into the theatrics of the show as things like ease of ticket buying and audience "flow." Over the years, the company has applied this formula to exhibits such as Pompeii: The Exhibition, Mummies of the World, and Diana: A Celebration.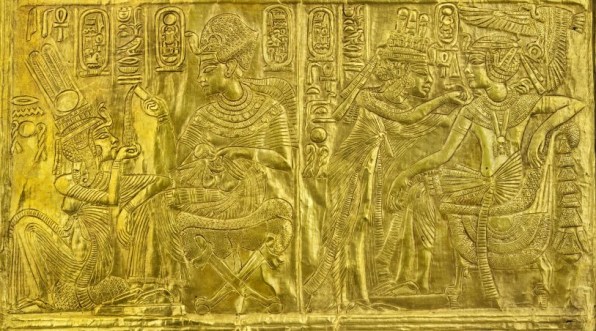 As head of IMG's newly formed exhibitions division, Norman is able to tap into the company's vast resources and relationships and explore new avenues for expanding the Tut footprint. Through IMG, FedEx recently came onboard as a partner and will be transporting the nearly $1 billion worth of treasures around the country. In addition, Norman already has meetings lined up with film and TV agents at Endeavor to talk about potential Tut projects. "That's one of the synergies that we anticipate being able to explore," Norman said last week, standing in front of one of the prize artifacts of the Tut exhibit—a life-size, wooden replica of the pharaoh that stood guard outside of his tomb. "They know which projects are in the pipeline years from now to which we otherwise would never have had access."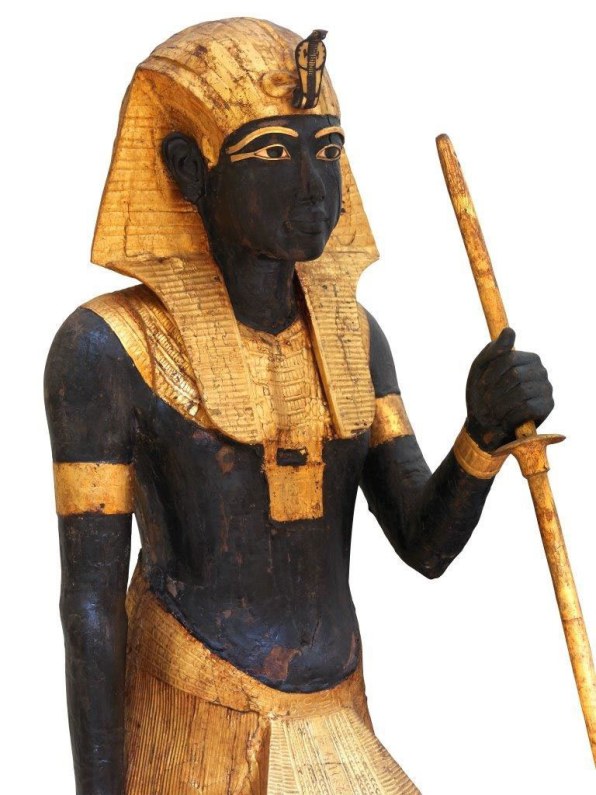 Even without a companion movie (yet), the Tut exhibit promises more spectacle than previous ones, including the one that Norman previously helmed with NatGeo. Most notably, Treasures of the Golden Pharaoh takes the visitor through the afterlife experience with Tut, visualizing it through objects from his tomb. The exhibit combines technology, music, and animation in novel ways. "We've used a lot of technology in the exhibition," says Wood. "It's a very theatrical experience." There is a CT scan table, for example, where people can examine the leg injury that led to Tut's death at 19 (it's presumed that he fell from a high level, perhaps a chariot, and then bled to death). Each gallery space has music specifically composed for that space. An opening film grounds the viewer in the time and place of ancient Egypt and provides context for the rest of the exhibit.
The L.A. show has already sold more than 100,000 tickets, mostly through word of mouth. Tut may be making some pop-up appearances around Los Angeles this year, and naturally, there are King Tut Instagram, Twitter, and Facebook accounts. IMG has also partnered with Marriott and Princess Cruise Lines to offer travel deals and events such as Egyptian tasting sessions (aboard a Princess ship) as a way to attract crowds beyond Los Angeles.
The main draw, though, is the sheer volume of artifacts that have been procured. Treasures of the Golden Pharaoh features far more artifacts—150 in all—than previous shows. Many of them have never left Egypt before, such as a pair of gloves worn by the boy king; his gold sandals; and a childhood throne. Norman says his relationship with the Egyptian Ministry of Antiquities helped him increase the number of items permitted to leave the country. "I said, 'We really need to take advantage of this 100th anniversary," he recalls. "It only comes once. We should do a 10-city tour all over the world and instead of 50 objects, which is what they've allowed out in the past, I just picked 150 out of the air. Before it was like, '50 is absolutely it.' But I said, 'This has to be the exhibits of all exhibits. It has to have the most objects, and it can't be, 'Well, we have 60 and before we had 50.' I said, 'We have to have multiple times that number.'"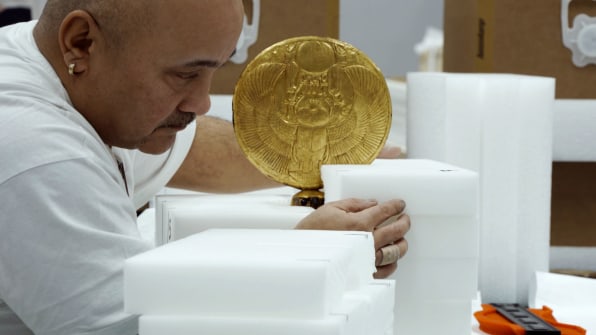 Negotiating which objects could leave, based on their health and delicacy as well as national import, was more difficult. Some, such as the famous mask that was found on Tut's mummy, remain in Cairo. But Norman is delighted to be bringing things such as the guardian statue, which he says in Egypt is in a museum pushed up against a wall. He points to the amazing detail on the gold garment that Tut is wearing, and the way, when you look at the statue from the side, it perfectly silhouettes his backside and legs.
He smiles. "No one has ever seen the back before."