Of course Nicole Byer, hilarious host of the fail-friendly cooking show Nailed It, has not seen many cooking shows herself.
Part of Nailed It's addictively watchable shtick is that the contestants are inexperienced bakers, so why not throw a neophyte host into the mix as well? It's not just the contestants and host who are newbies, though. Netflix's latest original cooking show is catching a lot of cooking show-agnostic viewers, too.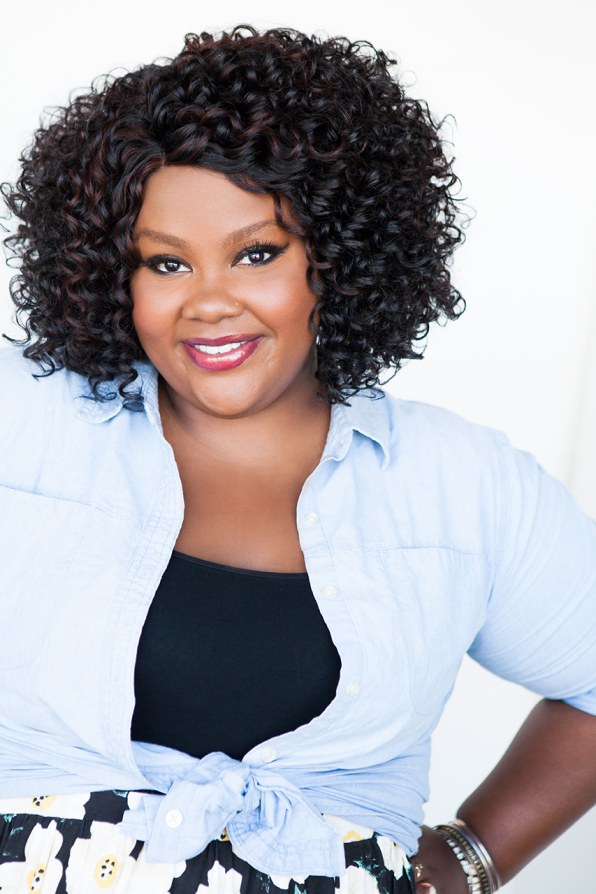 Nailed It is a cooking show for people who don't like cooking shows. It bears all the soft-focus trappings of the typical fare–dainty music, goofy sound effects, contestants beating eggs while trying to beat the clock–but it's self-aware almost to the point of parody. The show gives its rookie bakers complex, internet-beloved assignments like emoji cupcakes, while Byer evaluates their flailing attempts to recreate them. (World-renowned chocolatier Jacques Torres is also on hand for guidance and chiding.) What ultimately emerges from the oven is a funny, relatable bake-a-thon that never takes itself too seriously. It's pretty much Cake Fails: The TV Show, but with $10,000 on the line.
Although Byer had only seen Chopped and Cupcake Wars Kids before being asked to host the show (she's more of an HDTV kind of person), she glommed on to the concept right away.
"People failing is very funny," she says. "People falling down is very funny too, so it's almost like people falling down while baking."
The contestants do fail reliably often on Nailed It, but the mockery they incur isn't mean-spirited. There's encouragement and commiseration interwoven between laughs. Byer and Torres simply hang back and quietly narrate the contestants' mistakes in real time, whether it's forgetting to add flour or not cutting cookies into a cookie-shape before baking them. The cohosts are sometimes bewildered by these omissions, but mostly they're enthralled. Mistakes mean the final product is going to be extra janky.
When the contestants present their ecce homo-like recreations side by side with the originals–a self-portrait face cookie, for example, with Cheetos for lips instead of frosting–they're laughing along with the hosts. Since they're not professionals, everyone is in on the joke.
"I genuinely love disasters," Byer says. "I like ugly things, so it's easy to find the positive in something that looks wild."
Although the premise is certainly a deviation, and most other cooking shows don't reward their winners by firing a cash cannon at them, what truly sets Nailed It apart is its host.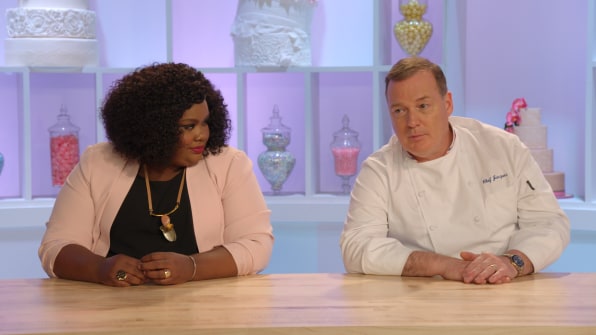 Nicole Byer is a raunchy stand-up comedian with a lilting, sing-song voice and zero filter. She was a breakout talking head on MTV's Girl Code and Ladylike, dispensing heroically frank advice on life and love to grateful teens. She later starred in the short-lived, Lonely Island-produced sketch series Party Over Here, along with her own semi-autobiographical MTV show Loosely Exactly Nicole. Anyone who has heard her off of primetime TV, though–say, on Why Won't You Date Me?, the podcast where she interviews/interrogates guys she's hooked up with–might be surprised to see her on a PG-rated program like Nailed It. According to her at least, it shouldn't be that surprising.
"I used to be a nanny so I know how to be family-friendly. I just choose not to be," Byer says. "But kids like me. I'm like a big ole cartoon character."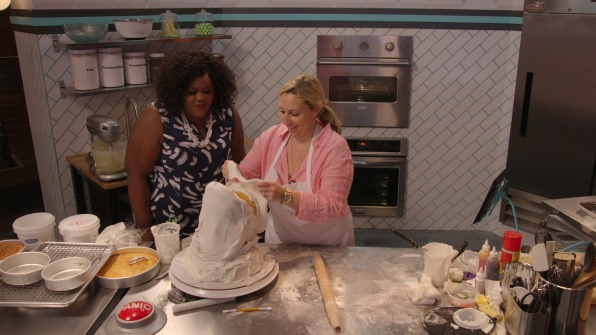 When it came time to start filming, the show's creators offered Byer no real direction beyond the premise, giving her the leeway to be herself and find the show's rhythm organically. It's a feat she navigated by simply chatting up contestants until something funny emerged, and getting to know her cohost Jacques Torres. ("He is the sweetest man I think I have ever met," she says.) Adding to the show's charm is the chemistry between Byer and the chocolatier, who gradually develop a breezy banter over the show's six episodes.
There is only one aspect of the show that emerged organically but is regularly tossed in the recycling bin.
"I make so many dick jokes I can't even tell you. So many," Byer says. "They were focused on making the show family-friendly, but when you're on set for 12 hours, your true colors come out, and I love a good dick joke."
Sounds like the perfect ingredients for an R-rated gag reel.