In 2013, the patent for finasteride, the active ingredient in male-pattern-baldness medication Propecia, expired. This might seem an unlikely development to send ripples across the nimble, young world of startups, but within a couple of years, a handful of entrepreneurs were zeroing in on hair loss as a zone ripe for disruption. Among them were Steven Gutentag and Demetri Karagas, ex-Google employees who were losing their own hair.
Finasteride was there for the taking, but it had deeply entrenched associations with a host of unsexy things: emasculation, aging, infomercials, and even the president of the United States. (Sample headline from the past year: "Why I Would Never Take Propecia, President Trump's Hair Growth Drug.") As Gutentag and Karagas set about launching Keeps, a subscription service with finasteride- and minoxidil-based products, they knew they would have to reframe hair loss as a normal, preventable issue for young men, rather than a shameful inevitability for the middle aged. They needed, says Gutentag, a brand "that would resonate and be approachable to the average guy."
If Keeps had launched a decade ago, its founders might have had to solve these problems in-house–or through a traditional advertising campaign. Instead, they tapped Red Antler, an 85-person company with a hyperfluid set of capabilities that all fall under the umbrella of "branding agency." Founded by JB Osborne, Emily Heyward, and Simon Endres–former advertising professionals with experience at agencies like Saatchi & Saatchi and J. Walter Thompson–Red Antler helps entrepreneurs build identities for their nascent companies.
Though this sort of brand-first approach is becoming commonplace today, even into the mid-aughts the notion of brand was often an afterthought, something to be developed as a company grew. But as supply chains and venture capital have become more accessible, entrepreneurs have flooded into consumer goods. More competition means more companies needing a point of differentiation. "There used to be a much higher barrier to entry," Heyward says. "Now there are at least three businesses in any category launching at the same time." (Keeps rival Hims, for example, debuted in November.) Meanwhile, the rise of social media has multiplied the ways that brands are expected to interact with consumers: One potent and expensive billboard ad or TV commercial will no longer suffice.
The Brooklyn-based Red Antler, which launches dozens of brands a year, offers an immense array of services: designing logos, digital experiences, and product packaging; producing content and advertising; and even coming up with names. It's especially active in the burgeoning world of direct-to-consumer goods: Allbirds, Casper, and Birchbox all bear the marks of Red Antler in their laid-back but direct messaging and clean design.
The firm has become so prominent in the startup ecosystem that venture capitalists now tap it to better position their portfolio companies. After Starbucks chairman Howard Schultz's venture fund, Maveron, invested in Keeps last summer, one of the firm's partners introduced Gutentag and Karagas to Red Antler. Within three months, the firm had formulated a core identity for the company. Led by Heyward's strategy team, Red Antler's consumer research had found that young men weren't proactively engaging in hair-loss prevention. Heyward advised Gutentag and Karagas to use straightforward messaging to give men in their twenties a sense of urgency and control.
By last November, Red Antler's designers, under the direction of chief creative officer Endres, had developed an entire suite of brand components for Keeps, from packaging (discreet, clean) and a color scheme (forest green, bright coral red) to a logo that was wry and just shy of cutesy (a wide-toothed comb standing on its side to resemble a crown) and a full-service website. When Keeps launched in January with the words don't lose it splayed in large type across its website, along with a "Hair Loss 101" page, it helped incite a conversation online about how millennial men think about their hair. "You come to Keeps, you use it, and you move on with your life," Karagas says.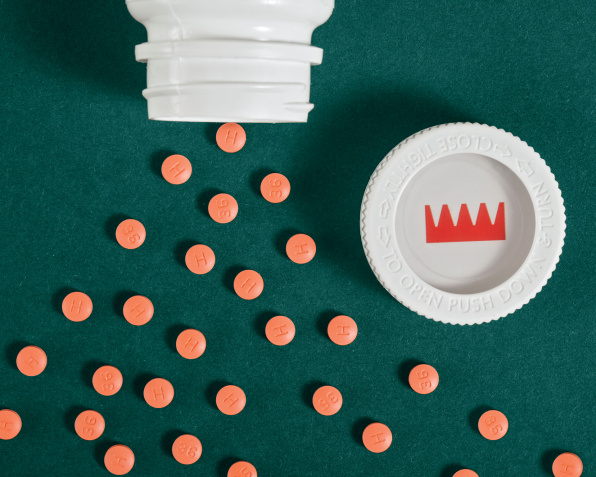 Red Antler's founders relish being able to develop a brand from the start. "In advertising, someone comes to you with a problem, but you can't actually fix it," says Osborne, who serves as Red Antler's CEO. "They just want you to layer a creative idea on top if it." In 2007, Osborne and his fellow principals had left their big-agency jobs and were a scrappy team trying to find business wherever they could. Something clicked during consultation meetings with ZocDoc; they realized that there was a surplus of upstart companies grappling with the challenge of branding before they'd even launched.
By 2010, the trio had developed the explicit mission of soup-to-nuts branding for new companies. One of the agency's biggest early clients was Casper, whose founders turned to the firm in 2013 before they'd fully developed their first mattress. Casper's modern typography, its soft and familiar one-word name, its focus on the consumer's lifestyle, and its conversational approach to service are now globally recognizable and widely replicated. (Caspercore, as some have called it.)
There are less obvious manifestations of Red Antler's work, such as Casper's growing number of retail stores. Red Antler's brand road maps often include big, ambitious transitions that unfold over years–such as brick-and-mortar plans for e-commerce companies whose websites haven't even gone live. "For every business we're working with," Osborne says, "we're looking at, does this [brand] stretch? Is it going to work as the business grows and scales?" And because Red Antler often takes equity in exchange for services, it is invested in its clients' long-term success. The rewards can be great: Red Antler won't reveal its stake in Casper, but the mattress company was last valued at $750 million.
---
Related: How Red Antler Shaped Three Breakthrough Brands
---
"Sometimes you do projects, and later you look back and think, What the hell were we thinking? But Casper has really held up," says Ben Lerer, founder of Thrillist and the venture-capital firm Lerer Hippeau, which backed Casper and a number of other Red Antler companies, including Allbirds and Birchbox. In the world of venture capital, discussions about brand identity are "100 times more important than ever before," Lerer says. "When we're investing in consumer companies, we're looking for founders who understand just how absolutely critical brand is."
And so Red Antler has become a kind of gatekeeper for entrepreneurs, who seek it out for pre-seed consultations and introductions to investors. The firm often finds itself in the position of backing one entrant over others in the same category. But as direct-to-consumer startups scramble to differentiate themselves, brand development can sometimes outpace product innovation. Red Antler worked on Maria Sharapova's high-end candy company, Sugarpova, in 2012. Sophisticated packaging notwithstanding, the company's sweets haven't taken off with the same velocity as lux-gummy pioneer Sugarfina.
Sometimes the brand itself is the innovation. Last year, Red Antler helped launch Brandless, a direct-to-consumer company that sells high-quality goods (dishwashing detergent, shampoo, cereal, and more) for $3 an item. For Brandless cofounder Tina Sharkey, the dilemma was how to craft a brand that is alluring and stokes consumers' appetites while stripping it of predetermined associations. "It's not generic, it's brandless, which stands for something bigger," says Sharkey, who developed the idea while she was CEO of the startup consultancy Sherpa Foundry. Early on, she connected with Red Antler. "I've always set out to meet the extraordinary pit crews," she says, "the people working with entrepreneurs and giving them an unfair advantage."
Red Antler responded with something of a mission statement–"Life, Liberty, and the Pursuit of Fairly Priced Everything"–and created the company's signature look. Each product is dressed in a single color and given a straightforward description. From the front, the only indication of the company is a simple trademark symbol, refashioned–by Endres's light touch–into a logo. "Simon and I laughed," Sharkey says. "This is like Zen and the art of branding."