Stock-trading app Robinhood is in talks with investors to raise about $350 million in new venture funding at a $5.6 billion valuation, according to the Wall Street Journal. The startup, which has raised $176 million to date, was valued at $1.3 billion last April.
The new round was led, the Journal reports, by DST Global, the firm run by Russian billionaire Yuri Milner, which also led the company's last funding round. The new valuation would make the startup worth about a third of the value of online brokerage E*Trade.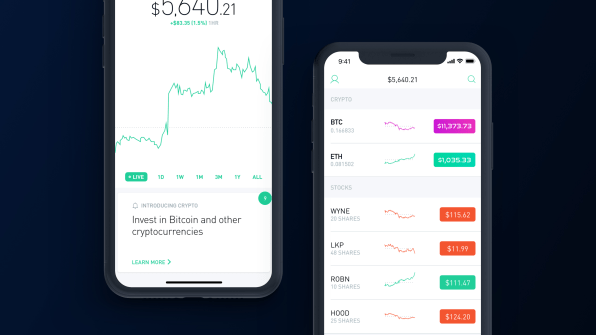 In just three years, Robinhood has attracted over 4 million users. With its slick mobile experience and attractive price (free), Robinhood has found a niche serving first-time investors eager to buy and sell their favorite public brands. The company makes money on its premium margin product, dubbed Robinhood Gold, interest on cash stored on its platform, and fees from market makers who pay for the company's "dumb money" order flow.
Over the last several months, with cryptocurrency trading app Coinbase on the rise, Robinhood made a mad dash to enter the crypto market. Robinhood Crypto went live in select states in February, a testament to the company's ability to rapidly ship product.
In the past, Robinhood cofounders Vladimir Tenev and Baiju Bhatt have hinted at their ambition to eventually offer customers a full suite of financial services. The company's new valuation suggests that investors believe they will be able to make good on that broader vision.