After the Parkland shooting, sales of bulletproof backpacks surged. Whether or not it's effective,  it's a potentially preventive measure that parents can take right now. The same isn't quite true of smart gun technology–though it's been hyped for years as a way to help prevent accidental shootings or unauthorized use of stolen guns (though probably not a mass shooting like the one in Parkland).
So why is there a scarcity of smart gun tech on the market? Our first instinct might be to lay the blame at the feet of venture capital firms—but perhaps that's a bit facile. A couple of VC firms told me they simply don't see too many pitches from smart gun tech startups. (That said, a number of investors I reached out to declined to talk to me or said that it just isn't a niche in which their firm invests.)
Related Video: Why Isn't There More Smart Gun Tech On The Market?
But there are people working on smart gun tech, despite the best efforts of the firearm industry to resist any such innovation. The Smart Tech Challenges Foundation launched in 2014 after the Sandy Hook shooting for the express purpose of investing in technology-based innovations that sought to make guns safer. "At the time there was a strong push for advocacy and legislative change, but we felt even back then, that there was political gridlock," foundation president Margot Hirsch said. "The best way to circumvent that gridlock was to make guns safer. We felt that was a really common sense approach."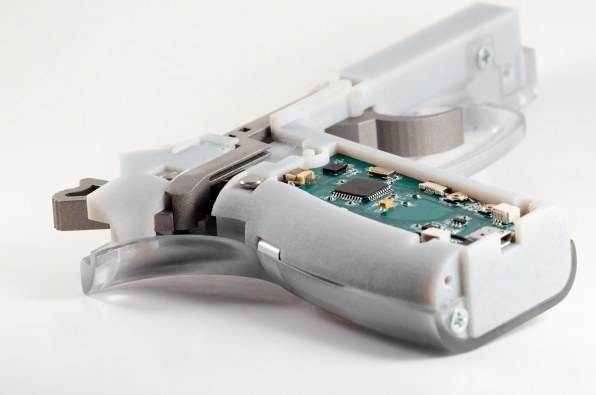 The foundation selected 15 innovators, most of whom were focusing on identification-based smart tech, and gave a total of $1 million in grants. Kai Kloepfer's smart gun, for example, requires biometric authorization, as does Identilock, the trigger lock Omer Kiyani created.
"My product saves lives"
If there hasn't been a flurry of investment activity, Hirsch tells me, it's in part because many of the people focused on smart gun tech are only now moving past the prototype stage and seeking funding. Kiyani's trigger lock is the first of the foundation's innovators to make it to market and just became commercially available in August. (Kiyani declined to provide sales figures, given the inevitable comparison to the number of gun owners, but said Identilock has been "fabulously well received.")
In fact, Kiyani—a gun owner himself—told me he didn't struggle too much with funding, though he knows his experience may be atypical. "My product saves lives," Kiyani said. "I haven't had trouble articulating that to investors." Hirsch points out there's a lower barrier to entry: A trigger lock requires less capital than a smart firearm, and there's a lower barrier to adoption on the part of gun owners, which likely assuages investor concerns.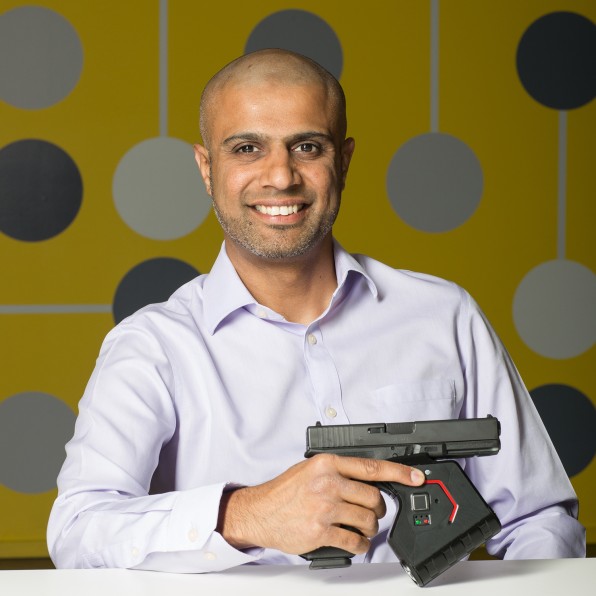 Meanwhile, the only smart gun currently on the market is the German manufacturer Armatix's IP1 pistol, which unfortunately is not immune to hacking. Hardware is a tough sell for investors—even more so if it's mired in politics. And the firearm industry has not put its weight behind smart gun tech. Just last week, American Outdoor Brands, the owner of firearm company Smith & Wesson, put out a statement that advocated for gun safety measures but dismissed investing in smart gun technology. "We are a manufacturing company, not a technology company," American Outdoor Brands wrote.
The statement was a response to investment giant BlackRock, which owns countless gun manufacturers and had reached out to "engage in a discussion of their business practices." As the New York Times wrote last week, the likes of BlackRock could use their influence to press firearm companies on exploring smart gun tech. The same could be said of Wells Fargo, which has a long-standing relationship with the NRA and is the bank of choice for many gun manufacturers.
The Cautionary Tale Of Smith & Wesson's Smart Gun Experiment
But there is precedent for the firearm industry's disinterest in smart gun tech. Nearly twenty years ago, after the Columbine shooting, Smith & Wesson pledged to adopt reforms like child-safe triggers, and yes, smart gun tech. The NRA responded swiftly with a statement, which didn't explicitly call for a boycott of Smith & Wesson products but nevertheless incited one. The fallout nearly shuttered Smith & Wesson.
If firearm companies aren't willing to rock the boat, it follows that tangible change will come from entrepreneurs and be most effectively shepherded by venture capital firms with clout. But maybe Silicon Valley isn't ripe for smart gun tech innovation. It's no coincidence that both Kloepfer—who broached investors in Silicon Valley—and Kiyani sourced funding from investors in Boston and Michigan, respectively.
"We started to talk to people here in Boston, and it's less hardware-averse," Kloepfer told me. "Boston has a lot of life sciences, which has even longer lead times than hardware, and a lot of hardware… Silicon Valley is so software-focused. They're used to companies that can push out a product six months after an investment, and that's just not possible in hardware."
Kloepfer posits that venture capital isn't the only avenue for funding, even if it might yield more capital. His company has crowdsourced funding from people who are passionate about the product and gun safety, and Kloepfer says some of the early innovation in smart gun tech was fueled by government grants. That might actually explain why some innovators struggle to score funding.
"It doesn't matter whether you're working on smart guns or the next image-sharing app—you have to make money eventually," Kloepfer said. "But in most cases, government grants don't require a business plan. They're not an investment . . . I think a lot of folks were sort of surprised when they had to transition from government grants to actual fundraising."
Kloepfer claims that investors he pitched usually were not put off by the firearms angle. (The VC firms I heard from insisted they were open to pitches from smart gun tech companies.) Some firms, he said, had a clause in their limited partner agreement that prevented them from investing in areas like pornography or firearms. The rising investments in cannabis, he noted, should serve as a model. "A lot of big-name VCs are playing in the cannabis space," Kloepfer said. "And firearms are legal. They're not questionably legal."
"I'm an engineer solving a problem."
But Silicon Valley types are familiar with weed. How many of them are gun owners? Kiyani believes one of the reasons he was rejected by Y Combinator—the only investor he approached in Silicon Valley—is that most of the decision makers likely didn't own a gun. Maybe they just don't have a grasp on the consumer base. (As we know well, this is the same line of thinking that withholds funding from women and people of color.) Kiyani ended up getting funding in Michigan, where gun ownership is far higher.
In talking to Kloepfer and Kiyani, I was struck by how they steered clear of politics. Both of them made clear that they weren't lobbying or trying to influence gun laws. "I'm not a politician," Kiyani said. "I'm an engineer solving a problem." Take note, investors.