Earlier this week a very questionable ad appeared on Snapchat. It looked like a game of "Would You Rather," asking viewers to vote which action they would rather do. But instead of two innocuous choices, it offered "slap Rihanna" or "punch Chris Brown." Brown, of course, is the rapper who pleaded guilty to assaulting to the pop star in 2009.
Is it just me, or is this ad that popped up on my Snapchat extremely tone deaf? Like what were they thinking with this? pic.twitter.com/7kP9RHcgNG

— Royce Mann (@TheRoyceMann) March 12, 2018
Once news traveled about the awful advertisement, Snap took it down and issued an apology. But that wasn't enough for Rihanna. Today, the pop star published a post on Snapchat that excoriated the social media application for publishing the ad. "You spent money to animate something that would intentionally bring shame to [domestic violence] victims and made a joke of it!!!" she wrote. "Shame on you," she concluded, "Throw the whole app-oligy away."
If she tells me to delete snapchat I'll do it @rihanna pic.twitter.com/yUW1UOzNc2

— Nicollette Williams (@nicollettemw) March 15, 2018
Interestingly enough, Wall Street isn't too hot on Snap today. The stock is down nearly 5%.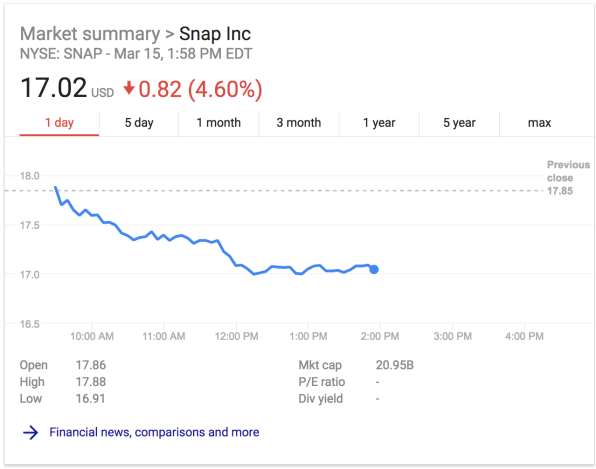 This seems similar to the time Kyle Jenner tweeted that she didn't use Snapchat, which also coincided with a stock price drop. Although, after further inspection, it didn't seem like Jenner actually had much of an impact on Snap–so we'll have to wait and see what the Rihanna backlash actually brings.