If you've invested in bitcoin, or other coins, this has been a rough few days. The price of the cryptocurrency has dropped significantly–especially over the last 24 hours. A week ago bitcoin's market capitalization hit $168 billion. Over the next seven days, the price wavered and ultimately sank a great deal, hitting a low of $131.9 billion early this morning. It has since ticked back up to $139 billion, but that's still a $29 billion drop in market cap.
With this, all cryptocurrencies are seeing huge drops. Last week, the market cap for every cryptocurrency hit a high of $402 billion. This morning that slumped to $309 billion. It's now crept back up to about $333 billion.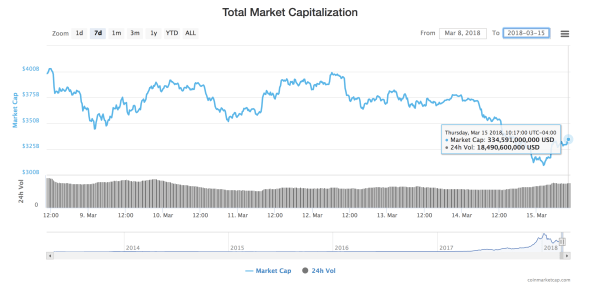 There are a few reasons for this steep decline. For one, Google announced yesterday it would follow Facebook's lead and ban all cryptocurrency-related ads. What's more, the trustee of the closed bitcoin exchange Mt. Gox, which has filed for bankruptcy, disclosed earlier this month that he sold off as much as $400 million worth of cryptocurrency. He plans to liquidate even more in the near future.
These factors, along with more increased public scrutiny, likely led to the price drop. If this continues, investors may have a reason to be worried.