When Nest shipped its first smart thermostat in 2011, it wasn't just a strikingly new take on the mundane matter of controlling a home's temperature. It also felt like a historic beachhead in the battle to convince consumers to wire up their households with smart devices—which helps explain why Google bought the startup for $3.2 billion a little over a year later.
As countless people have pointed out, Nest was slow to capitalize on the opportunity it had created for itself. It introduced a (problematic) smoke detector and bought security-cam pioneer Dropcam, and has released numerous updates and variants on its existing products. But its lineup remained small and the benefits of decking out your home with multiple pieces of Nest gear weren't all that obvious.
And then last September, the company had a big bang of a product unveiling, announcing Nest Secure (a security system built around a hub called Nest Guard) and Nest Hello (a doorbell cam), along with an outdoor version of its top-of-the-line Nest IQ cam. It also said it would begin integrating the Google Assistant voice agent into its products. In January, it built out its line a little further with the announcement of the Nest x Yale Lock, a smart front-door lock manufactured by Yale and designed to operate as part of the Nest Secure system.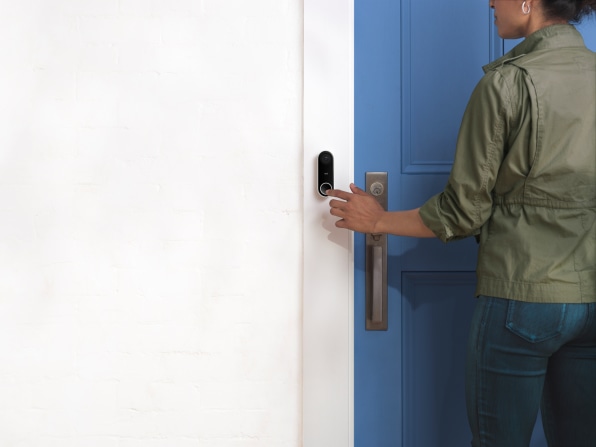 Only now, six months later, is the company completing the process of turning those announcements into shipping products. The two stragglers, Nest Hello and the Nest x Yale Lock, are now available, along with new Nest Temperature Sensors, which let Nest's thermostat monitor the climate in remote rooms (such as a child's bedroom). In addition, the Google Assistant integration promised for the Nest IQ indoor cam back in September has arrived.
The new stuff rounds out the Nest portfolio in some highly competitive categories. (Amazon recently paid a reported $1.1 billion for Ring, the best-known maker of smart doorbells.) More important, it starts to make clear why you might be happier purchasing all sorts of smart-home gizmos from Nest rather than mixing and matching items from multiple companies.
"We've had the same design team working on all of them, and they really feel like a family," says Nest director of product marketing Maxime Veron, who demoed the products for me recently. "Arguably, Nest is the only company out there that unlocks so many use cases in your home."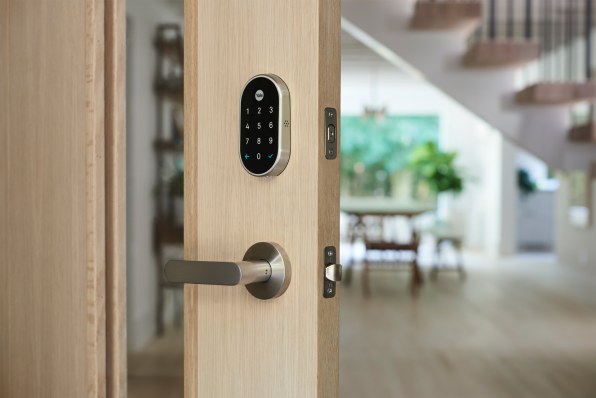 The More Gizmos The Merrier
The fact that Nest products look like a matched set is nice. Ultimately, though, what matters most is that they're aware of each other's existence and coordinate their behavior in ways that make sense.
In a fully Nest-equipped home, for example, unlocking the Nest x Yale lock using its keypad will disarm the Nest Secure security system, adjust the thermostat, and shut off Nest Cams to preserve your privacy. Though it's possible to orchestrate similar feats with products from multiple companies using methods such as IFTTT recipes, "we're not building for the IFTTT people," stresses Veron. "Very clearly, we're building for the average user."
The fact that Nest decided to work with lock kingpin Yale rather than design, manufacture, and market a smart lock on its own shows that the company sees boundaries to its skill set but doesn't want them to stand in the way of the experience it can deliver to consumers. "We debated this for a while when Tony [Fadell] was still our CEO," Veron says. "Our core comptency is not in building locks, in building highly mechanical products. Yale invented the deadbolt over 100 years ago and they know everything there is to know abour deadbolts." (For the umpteen categories that aren't as core to Nest's vision as a door lock, there's the Works with Nest program, which lets everything from Philips light bulbs to Whirlpool refrigerators talk to Nest's own products.)
Speaking of core competencies, Nest didn't have to build its own voice-assistant system for its growing line of products. Instead, it piggybacks on the Google Assistant, a service that leverages all of Google's vast investments in voice technology, AI, and search. That makes any device that supports the Assistant into a control point for Nest's platform. And now that Nest is adding the Assistant to its own products, it turns Nest hardware into an entry point into the greater Google ecosystem.
Google Assistant support doesn't turn the Nest IQ camera into a full-blown replacement for a Google Home: In fact, it can't stream music or podcasts or do anything else that requires sustained audio playback. But if you've got one or more Google Homes elsewhere in the house, you can control them from the Nest IQ—for instance, to start music playing on a Google Home Max. That's not a huge whoop, but it does hint at the increasingly symbiotic relationship that Nest's hardware and Google's voice service may develop as Google preps itself for an era in which people spend a lot of time talking to their possessions.
The groundwork for turning the Nest Cam IQ into a Google Assistant device was laid before the recent reorg, which ended Nest's time as one of Alphabet's "other bets," a group of ambitious-but-immature businesses that basically includes everything except for Google and YouTube. Now Nest is embedded in the same hardware group responsible for products such as Google Home and Pixel phones. That shift might be a demotion of sorts, but it also opens up the possibility of the company being even more strategically essential to Alphabet and Google's future than if it had remained a stand-alone entity. "We are closer than ever with every Google team," Veron says. "We're part of Google. We're not a bet anymore."