When Fitbit CEO James Park walked out onto the stage at a launch event for media on Monday, I'll confess I thought he was wearing an Apple Watch. He wasn't, of course–it was his company's brand-new Versa smartwatch, which he was about to announce. The Versa features the same rounded square shape as the Apple Watch, but with some angular lines running around the edges. From a distance at least, the device on Park's wrist was easily mistakable for an Apple Watch.
Not that there's anything wrong with that. No watchmaker ever claimed credit for the common round design language of traditional wristwatches–they're shaped that way because they have round gears inside that move the hands on the front in a circular pattern, points out Fitbit's VP of Design Jonah Becker. Smartwatches have to house square displays, so a square-ish design is logical.
The Versa is Fitbit's second smartwatch, the first being the Ionic, which launched last August. Design-wise, the Versa is a big improvement. The Ionic is not a bad smartwatch for the health-conscious, but its hard angles and overall size make it something you'd hesitate to wear out to dinner. The Versa's is a softer design that doesn't draw attention to itself.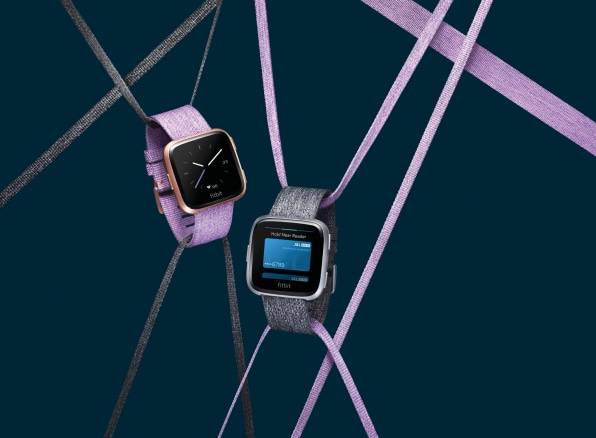 The new watch offers common smartwatch features like quick message replies and mobile payments, although the version with Fitbit Pay costs $30 more. But it's clearly focused on the same health-conscious consumer Apple is targeting. Fitbit gave the device a redesigned dashboard with a simpler way of displaying health and workout data. You can watch guided workouts on the display. The heart rate monitor tracks your beats 24 hours a day, Fitbit says, and aids in tracking your sleep stages at night.
The device will hold more than 300 songs in its memory. It also supports Pandora radio streams and Deezer playlists, Fitbit says.
I've yet to wear the Versa so I can't vouch for the software yet, but the watch's battery life and price may put it in position to attract consumers who want the features of the Apple Watch but aren't quite comfortable with Apple prices.
"We do strongly feel that there's a significant opportunity for us to gain share through the launch of more mass-appeal devices in the category," CEO Park said during the press conference Monday. "By 'mass appeal' I mean devices that are focused on health and fitness, that have a more universal design, long battery life, cross platform compatibility, and all at a low price point."
The battery, Fitbit says, will last through four days of "average usage" without a charge. It'll last only around 7 hours with continual music playback or continual GPS radio use.
Most importantly, perhaps, is Versa's $200 price. That puts it at $50 less than the least expensive Apple Watch available, the $249 Series 1, which has limited music storage and no GPS. The latest version of the Apple Watch, the Series 3, starts at $349.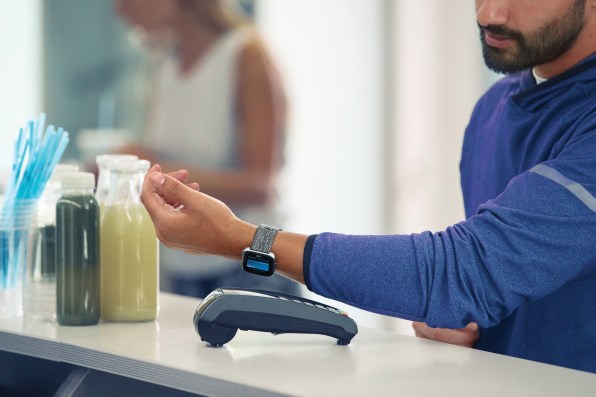 Fitbit says Versa will hit store shelves in April. It's available for pre-sale today on Fitbit.com for $199.95 in black with a black aluminum case, gray with a silver aluminum case, or peach with a rose gold aluminum case. Watch bands range from $29.95-$99.95. The Fitbit Versa Special Edition–the one that includes Fitbit Pay–will sell for $229.95.
The company is also rolling out new female health tracking software–including menstrual cycle tracking and related features–that will work on both the Ionic and the new Versa. That's coming later this spring, Fitbit says.