Google just unveiled a new feature where searching for a musician will unearth a comment from the artist themselves. "When you look up one of these musicians, you'll find updates from them in their Search results," Google explains in a blog post outlining the feature. "There, you can find images, videos, GIFs, and text posted directly by the artist you're searching for."
So far Lorde, Steve Aoki, Sia, Son Little, Sofi Tukker, Shakira, and Kygo have signed up for the service as a way to connect with fans looking for them through Google search. Other musicians should be receiving the internet giant's invitation soon to sign up for the service.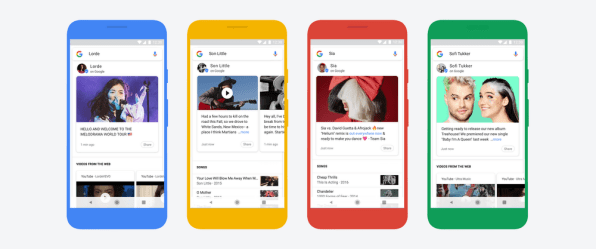 Here's how it works: When you search for, say, Lorde in Google, a box appears on the right side of the screen with a note from Lorde next to a blue checkmark that is similar to Twitter's verification mark. In fact, the whole thing looks a bit like Twitter integration into Google search results, save for the part that it's from Google instead. Still, it's a good way for artists to connect with new fans who may have just discovered the Lorde.