During a session of Civic I/O, the mayors' summit at South by Southwest, the mayors of 19 cities around the U.S. gathered to both imagine and plan for their cities' future challenges. Jake Dunagan, research director at the Institute of the Future, instructed the mayors in thinking like futurists–first assessing problems on the numbers level (for example: not enough housing), then contextualizing them in the prevailing culture to develop solutions that remain sensitive to place while driving change.
The challenge: During a two-hour session, the mayors used an interactive card game developed by the design firm Situation Lab to imagine an artifact–a newspaper headline, a monument, a document, a public service announcement–from their city at some future point.
For Oakland Mayor Libby Schaaf, though, the future is happening right now. Schaaf is a lifelong Oaklander, and she's witnessed the city's rapid transition in the past five years from underinvested to being near the center of tech-industry-driven gentrification and growth.
Oakland is known as one of the most diverse cities in the U.S.; it's long been a place with a strong multicultural backdrop and was, for decades, largely affordable for anyone who wished to live there. With the effects of the tech industry beginning to spill over from San Francisco and Silicon Valley into its neighbor, that's no longer the case: Rents have risen consistently in the past several years; a two-bedroom apartment now costs well over $2,000 per month.
Schaaf–who recently made headlines for enraging Donald Trump and heartening activists by tipping immigrant families off to an ICE raid–is acutely aware of what's happening in her city. "The market forces, the regional impacts of years of adding jobs to the economy without building housing at every income level, those impacts that are decades in the making are coming to roost now," Schaaf says.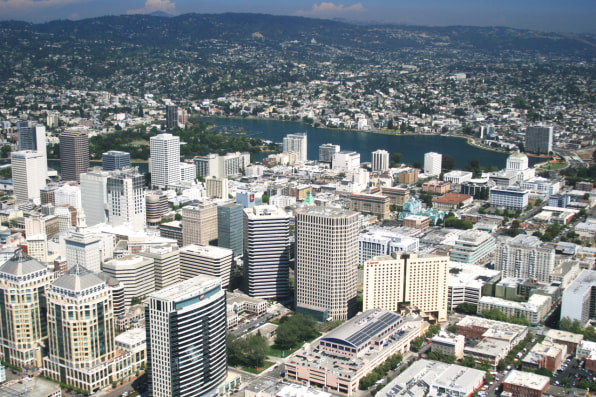 She is determined to maintain affordability across all income levels represented in Oakland, and is pushing for both new development and nonprofit partnerships to expand protections for existing low-income renters. "We are building at a rate we've never seen before," she says. "This year, we'll finish 3,600 new units of housing–that's three times our previous record." That's a testament to the fact, Schaaf says, that "Oaklanders are very generous voters." Last year, residents approved two bond measures to finance and build more housing.
But a truly equitable city, Schaaf says, is not possible without equal opportunity for all, regardless of race or economic situation. For Schaaf, that starts with access to education–and with reforming a justice system that has long worked to perpetuate economic and racial inequity in the city.
When Schaaf got up to present her idea for an artifact from the Oakland of the future, she described sentencing slips–not for jail terms, but for school, or community volunteering, or for participating in a local design process.
While hypothetical, the sentencing slips reflect how Oakland is preparing itself for the future by remedying some issues of the past. While Oakland has always been diverse, its law enforcement has not always operated from a place of equity. As recently as 2015, African Americans accounted for 77% of marijuana-related arrests, although just one-third of the city's population is black.
Now that the drug has been decriminalized, Schaaf is pioneering a way for the city of Oakland to pay reparations for its past mistreatments. Last May, Oakland launched the Equity Cannabis Permit Program, which gives marijuana entrepreneurs permits to set up businesses in 2018, when weed became legal. "We are requiring that half of the permits we give out for businesses will be for what we call 'equity applicants' to recognize that we have been discriminatory in how we have enforced these laws in the past," she says. She's also established a partnership with the microloans nonprofit Kiva to expand access to capital and small-business loans for low-income entrepreneurs.
Schaaf also imagines a future Oakland where division like race and socioeconomic status will no longer bear at all on one's opportunities. "My dream for a future Oakland is that every child, no matter their race, their country of origin, economic status, or whatever their identity or characteristic are upon birth–that should not inhibit them at all from being successful," she says. The majority of brain development in children happens before age five, but while around 82% of white, affluent kids in Oakland test ready for kindergarten, just around 29% of Latino, and 26% African American kids do. "That is outrageous," Schaaf says. Earlier in March, Schaaf filed a ballot initiative that would create a parcel tax to expand quality preschool access in underserved neighborhoods in the city.
She's hopeful that her moves will create a city that's diverse not only in demographics but in every sector–and whose institutions and businesses reflect that. Which goes back to the idea of sentencing slips: Schaaf is aiming for an Oakland that replaces old systems of institutionalized racism and closed-off opportunities with community engagement and true economic equity.
"Diversity is a fact; inclusion is a choice," she says.